Driving this car brings back memories. Memories of an event that turned me inside-out mentally as well as physically and left me staring blankly into space months after I returned... Where the hell had I just been? What was all that about? What am I doing here?
Those who have participated in the Raid de Himalaya would understand what I am talking about. One of the most gruelling and toughest motorsport events in the world, the second edition of the Raid de Himalaya in 2000 was an eyeopener (and a mind-opener too), especially for a spoilt city slicker like me for whom the horizon usually ends a few metres away.
But this story is not about the legendary Raid nor is it about the machine that accompanied me for 10 days during the event, a fuel injected Maruti Gypsy. But the Suzuki Grand Vitara did remind me of the Gypsy, which in turn made me all nostalgic about the Raid.
Yes, to me, the ghost of the Gypsy resides in the Grand Vitara's veins. The impression the new Suzuki gives is that it is a luxurious, more powerful Gypsy. I'll tell you why later, meet the car first.
The previous generation Grand Vitara, which Maruti Suzuki got to India was a full seven-seater with a delectable V6 motor... but it looked kinda previous generation, y'know.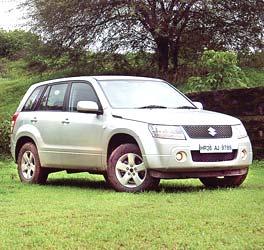 The new one is a smart looker, with clean, crisp lines that pay homage to Land Rovers and Range Rovers. Notice the clamshell hood, the little vent where the hood ends, the overall boxy appearance and you'll know what I mean. It is a good-looking SUV, no doubt about that, and has that "with it" look.
Unlike the XL-7, the new Grand Vitara is a five-seater and it fits well in the urban landscape, both in terms of appearance as well as size. Most SUV buyers would be disappointed with its lack of size and road presence, but I find it just right.
Again, unlike the last-gen Grand Vitara, this one gets only an inline-four. The 1995cc 16-valve DOHC motor produces 119.5 bhp at 5500 rpm and 17.4 kgm at 3500 revs.
The engine features a variable induction system, which essentially allows you better fuel efficiency and better throttle response. Yeah, that sounds good, but it ends there. Output is way too low for a 2.0-litre engine -- I would have preferred if it would have at least 15 horses more. It's not being greedy, it's just that the Grand Vitara needs that much to move the mass. This engine, in the UK-spec version for instance, develops about 140 bhp and almost 19 kgm of turning force. Suzuki seems to have detuned this engine for Indian applications, ostensibly to stretch that litre of fuel. Sad.
Then there is the refinement factor -- it doesn't come through as an engine that's good enough to wear that stylised S badge either. I mean it would have been okay doing duty in the Chevrolet Optra/Suzuki Forenza in the North American market, but Suzuki engines are supposed to be butter-smooth.
Forget the Grand Vitara XL-7's V6 (it was in another league altogether when it comes to silkiness), still, my expectation from Suzuki powerplants is more than what the new Vitara's inline-4 actually delivers, both in terms of output as well as refinement.
Our test Grand Vitara came with a five-speed manual transmission, while Maruti Suzuki offers a four-speed automatic option as well. Though the gears are decently spaced out, the shift quality is disappointing. It doesn't slot crisply enough, while the gearlever is also an ergonomic wonder -- it has a knob which is rectangular, like in the new Mahindra Bolero... not something that aids good shifting.
Now to the main bit that reminds me of the Gypsy. Driving the Grand Vitara on decent roads, it tends to bounce around a bit, just like its cousin. It's as if it needs to be filled up with passengers and luggage to improve ride quality. Damping is not felt at all and for a large SUV, it doesn't feel right.
The reason, as I see it, is the new architecture that the Grand Vitara featured when it debuted in 2005. Here Suzuki merged the traditional body-on-chassis construction used typically in capable 4x4s with monocoque construction that allows for car-like handling attributes.
Essentially, the Grand Vitara features a built-in ladder frame joined to a monocoque body -- a unique attempt to marry the advantages of both types of construction. Well, it's not that bad actually when it comes to taking corners, it stays firmly planted and doesn't have a tendency to roll, no problems on that front. It's just that I would be pretty tired by the time I reach my destination after a long journey in the car.
On the other hand, if there's one petrol-powered luxury SUV I wouldn't hesitate to take to the Raid, it would be this. Yes, on gravel, slush and muddy conditions, again, the Grand Vitara is Gypsy-like. It seems to tiptoe over rough terrain like a mountain goat, and those Gypsy genes mean that it's not uncomfortable in offroad or no-road conditions.
The Grand Vitara features full-time all-wheel drive, and you also get the option of selecting 4H or 4L with a centre differential lock manually via a rotary knob on the dash. That makes the Grand Vitara a bit serious compared to other SUVs and soft-roaders.
Yes, that's right -- calling the Grand Vitara a soft-roader just because it's a compact SUV is not fair. The car is an evolution of Suzuki's expertise in making compact 4x4s for about four decades now. Still, I don't expect the typical buyer to go Raiding in it, but at the same time, if he does encounter frequent rough patches on the way to his farmhouse, this machine can handle them with ease.
The Grand Vitara retails in Delhi for Rs 13.8 lakh (Rs 1.38 million) for the manual transmission version, while the automatic variant is a full Rs 1 lakh (Rs 100,000) more. That's not exactly cheap, considering it's not too luxurious inside. Besides who wants to see Swift bits in a car that costs three times as much?
I know parts bin sharing is a great concept, but seeing it in cars that cater to two diverse segments of the market is a bit much.
However, there is no doubt that the Grand Vitara will do well, considering everything that Maruti Suzuki's making in India seems to doing well in the market.
It may not have the road presence, it may not have the kit, it may not sip the right fuel for an SUV, it may not be too comfortable or spacious inside either, but it does have an attitude -- an attitude seen in its successful forbears. Stickers of the forthcoming ninth edition of the Raid won't look out of place on the flanks of the Grand Vitara, I'm sure.