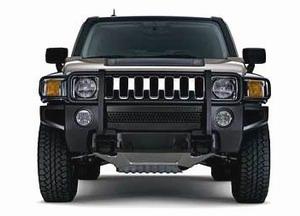 This is ridiculous, I thought. If I was to ever end up upside-down, I would rather have it as a result of something spectacular -- like entering too fast and hitting the kerbs on one of the Nordschleife's treacherous 147 corners for one.
Instead, I was piloting a Hummer H3, up a 45-degree incline with nothing apart from the cloudless azure Detroit sky filling my turret-like windscreen.
And travelling at approximately 0.4 kph and without a clue as to where I was headed. But trust me on this, when you are steering into a windscreen full of nothingness, your imagination conjures up things sinister. 'What if all this is leading to a bottomless pit?'
Anyway, with no reference of where I am supposed to be, things are getting a bit eerie. But suddenly I hear the spotter's voice and I'm jolted back to reality. 'Turn left,' he yells, and I start yanking the weighty steering wheel to the left. 'No! No! The other left,' booms the voice again.
He must be blind to the fact that I can't see. Anyway, as I finally inch my way up the crest with clenched fists and white knuckles, it suddenly goes downhill so sharply that it felt as if my stomach stayed back at the top.
Just in case you are wondering, these antics were all part of General Motors' H3 drive in Rochester, Michigan and the above depiction of the world's slowest but hairiest roller coaster ride was part of the programme.
An acid test of sorts. At the moment though, I was contemplating as to who the test was really for. The Hummer or me?
But first, a bit about the Hummer. You see, while other off-roaders were busy making lifestyle statements, this one was earning its keep in the first Gulf War. Until one day, a Hollywood star decided to put it to better use.
So he bought one from the military, to er... make a lifestyle statement. It did make a statement alright -- big enough to be put into production by the General. But being a military vehicle, it had issues.
Firstly, it was big. So big, that you had to sign an agreement saying you won't invade Poland on your way back home. Then, there was the transmission tunnel which was so wide that you would think there was a nuclear device hidden somewhere underneath. The H1 didn't sell much but it definitely made a sensation.
GM quickly realised that here was a brand that sold more on its affectations rather than its abilities. So to make it a bit more mainstream, they got along the H2, a more civilised version of the Humvee. However, the H2 was still very big. I mean, in Hong Kong they build skyscrapers on the amount of real estate that the H2 occupies.
But with its off-road capability, it could still cross the Rockies with the ubiquitous school-run mum at the wheel. However, the six-figure price tag and the gluttonous thirst for fuel meant it was still very unapproachable.
But the H1 and H2 were getting so much attention that GM knew they had to do more with the brand. And that meant using current platforms to make the Hummer more mainstream. Essentially to make something that all SUVs are really built for - the school run.
Which is exactly what the H3, apart from the getting dirty bit, can and will do. Although GM is calling it small, it weighs well over two tons. But remember, this is a country where the Accord qualifies as a compact car. So small is a relative term. And it may not look so, but the H3 is actually smaller than the BMW X5. Proportions hold the key.
Yet it looks like it was designed by someone who only had a ruler at his disposal. In fact, I am surprised they bothered to make the wheels round. When you look at it front-on, it looks like a bully that would go around beating people for no reason at all. But I really shouldn't be complaining.
The GM designers have done a brilliant job of making it look like a smaller version of the vehicle that occupies as much airtime on CNN as George Bush. Besides it was designed by a lady who's name is Lori Cumming. So there.
Back to our trail then, which, after having checked out the generous approach and departure angles of the H3, pointed us towards a heap of rocks. Suspension travel-test was next, I believe.
Now peering through the slit-like windows I could see that the terrain was something most people wouldn't navigate on foot, let alone an SUV.  However I really shouldn't have been worried. After all, I had the right equipment.
For one, the H3 has the largest tyres found on any SUV. It also gets an electronically controlled dual-range transfer case and an electronically engaged locking rear differential. Then there is the transfer case that can be ordered with either a 2.64:1 low range, or with a whopping 4.03:1 low gear.
Mine, as I was told, was fitted with the latter. While I have no clue how to make the best use of those low ratios, I do know that all that translates into a vehicle that can move slower over rocks than a glacier in winter. Now, if I couldn't get through the boulder-section with this kind of help, I should forget the car and walk instead.
But I also can't forget the first time I heard granite biting into sheetmetal as the hairs on the back of my neck stood up. The structure of the H3 is impressively stiff though and it was particularly evident as the truck slid off rocks to slam down hard on the skid plates with solid thunks and a few shudders. Suspension travel, er, is certainly very good.
Next up was a stream that looked like it was flowing with Dulux's Cairo Dust Emulsion. However, the H3 was up to this task as well and it took to it like a frog takes to a pond.
Surprisingly enough, the H3's platform mates with the Chevy Colorado and the GMC Canyon pickups. But you won't be able to tell. At least not from the off-road ability that it comes with.
On the open stretches of the trail (which were few and far between) the 220 bhp, 31.7 kgm, 3460cc, inline-five cylinder Vortec engine was adequate for on-road driving in five-speed manual form. With the four-speed auto, it was a bit anaemic. The H3 is good for a  0-to-96 kph time of 11.1 seconds.
Great. But bear in mind that you are draining a couple of oil fields every time you do so. However, the 20-valve I-5 is surprisingly willing to rev up to 5000 rpm.
Though responsive, the suspension makes no attempt to stop the body's natural tendency to lean towards the outside of bends. But drop your speed, relax into the Hummer way of doing things and life improves dramatically.
The wheel-at-each corner layout and the extremely wide track make you feel more planted on the road, and for it's monolithic girth, it is reasonably agile. The brakes though are mushy and take a bit of getting used to.
Besides, with the Hummer, you don't talk about 0-60 numbers, you talk of approach angles and drive ratios, or the fact that you can perhaps drive through a lake. Why? Well, as someone once said, it's not that you would, but that you could.
Maybe the H3 was impressive, reassuring and ego-swelling on the off-road trail, but it was all ultimately academic. I mean, it really is meant to do that sort of stuff, right?
Unfortunately, given the extremely focused nature of the drive, I can't tell you much about how easy it is to parallel park or commute in it. Or for that matter, how odd it would be to access the rear cupholder, which incidentally happens to be placed between the legs of the middle-seat passenger.
Hey, but why is it that I am blabbering on about its on-road dynamics and practicality? It's not like I am going to drive it around in India someday.
Or will I?
Well, if everything goes well and the SUV lovers amongst you remember to say your prayers, the H3 will actually make it over here. But there is one thing I can tell you.
That when it finally does arrive in 2007, it will make for a great 220 bhp traffic parting Moses. Bring it on then, GM.