'The smartest businessmen are shopkeepers as their return on investment is better than anyone else,' Sahil Vachani tells Surajeet Das Gupta.
Illustration: Dominic Xavier/Rediff.com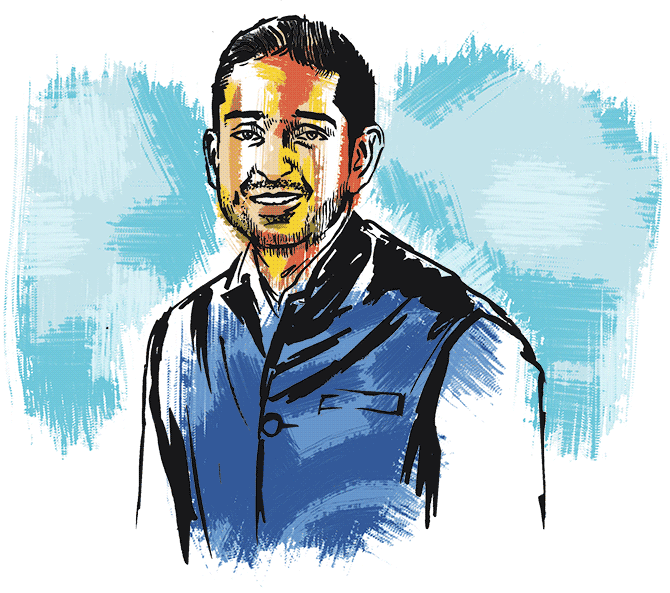 His famous father-in-law Analjit Singh, who built the multi billion dollar Max group from scratch, calls him his 'hand-brake' in a lighter mood.
In a way, the epithet is a fitting one for Sahil Vachani.
He is obsessed with cutting costs and boosting margins. He wants to instill the same culture in Max companies but he understands it will be a slow process and for him a "balancing act" each day, he says.
Meet the 34-year-old informal and enthusiastic new director on the board of Max Financial Services and its subsidiary Max Life Insurance, the core business of the Max group.
As the sole family member on the board, he points out his role is "to be a representative of the owner group and grow the business."
Vachani's tryst with Max began in 2016 when he was appointed managing director of Max Ventures and Industries, which has a real estate and an investment arm, two new arenas the group has now entered apart from the legacy business of specialty films.
We decide to meet on a lazy, hot summer afternoon at Dhaba, an Indian restaurant in south Delhi in which Max Ventures owns a stake.
It is really noisy on a Saturday and chock-a-block with guests, but we are able to wangle a seat in one corner where at least we can hear each other.
We order our drinks -- I have shikanji with sugar free, Vachani prefers jal jeera.
Vachani tells me he has learnt a lot seeing the ups and downs of his family business. His grandfather, Sunder T Vachani, set up Weston Electronics, when television was in its infancy and built it to be a major brand.
As a child, he remembers how his grandfather (a source for many of my stories) would entertain guests, from government officials, industry veterans to journalists literally every day at home and he would sit on his lap putting his fingers in the scotch whisky glass that was his daily poison.
"I got into drinking very early in life, maybe 3-4 years old," he says with a chuckle.
But he admits that the brand could not cope with the onslaught of the liberalisation phase in 1991-1992 and lost steam.
His father Ravi Vachani's (the eldest son) tryst with film production came as a cropper and they lost a lot of money. But Vachani who studied in New Delhi's St Columba's School says that despite the financial troubles, his parents somehow sent him to the University of Warwick, to study for under-graduation.
"I am not very educated and do not have an MBA, but working in the field has taught me much more," he adds.
Vachani, of course, came back home with a capital of Rs 4.5 million and entered Dixon Technologies, part of the family business to set up a new vertical to manufacture washing machines for third parties.
It was on his regular sales visits in towns across the north that he learnt his first lesson.
"I realised the smartest businessmen are the shopkeepers as their return on investment is better than anyone else. Even though they do not use any fancy systems, they know exactly which item is selling or not," says Vachani.
We order our food and choosing dishes was not much of an issue as we both are non-vegetarians -- an assortment of sole fish, chicken, prawn and paneer tikkas with some kaali daal and rumali roti.
And, of course, to beat the heat, we asked for another round of drinks.
Our conversation flows as we wait for the food. So what was it like to join a big group like Max after he sold off his shares in Dixon Technologies to family members?
Vachani says it was a quantum change from handling small time companies with limited capital.
Max on the other hand had resources, management depth and a strong governance culture, which meant "unlearning a lot of things", he says.
But did it kill innovation?
According to Vachani, it is always a balancing act so that you do not let loose and run wild but are innovative and do so in a 'ring fenced way'.
The tikkas now start arriving and he says he loves fish and prawns, just like me.
I ask him how is his relationship with the recluse Singh. Vachani says, he considers him as his father rather than a father-in-law and the relationship runs deep.
His business style is hands-off; he has empowered Vachani a lot, but also asks for accountability.
We dig into spicy prawns and succulent sole fish tikkas that disappear in seconds, so we ask for more.
Vachani says he and Singh have something else in common -- passion for real estate (Singh is doing it through his hotels foray abroad).
And that is why, when they were looking at new businesses in Max Ventures, they zeroed in on office real estate.
There was, of course, method in the madness when they did so: Max had a credible brand, while other developers were reeling from trust deficit in north India.
In insurance, he says, a consumer must have immense trust in you to give money regularly, after he dies, to those he has nominated.
In real estate, in many ways, Max was already implementing projects -- hospitals or senior living space in Antara.
The first project near the DND flyway is already ready for delivery, and if everything is on track, including some other projects, he says they will have over 2 million square feet of built-up space on offer.
And he could leverage land that is available with Singh through his private investment companies.
The kaali daal is pretty ordinary so I prefer to stick to the tikkas.
Vachani says he admires Singh for how he builds long-term relationships.
For instance, New York Life Insurance Company that exited the insurance venture of Max many years ago, did not bat an eyelid to put in money in Max Ventures.
"When you know the company has no choice but to sell globally it is easy for you to squeeze them. But Mr Singh ensured that Max made a handsome return on the shares. That cemented a relationship," he says while negotiating the prawns.
Yet is he worried about Singh being bandied about as a serial entrepreneur who builds business only to sell?
Vachani defends him vociferously: "Because we had a history of building and selling business, it is not necessary that we will continue doing it."
In his new avatar, Vachani says, his focus is to enable the growth of business and look at opportunities for consolidation in insurance.
He also reinforces that the alliance with Axis Bank to sell their products has benefitted both -- it is a substantial portion of the banks profit.
And now with the new rules that allow a bank to handle products of three insurance companies, it will be a net positive for companies like Max that don't own a bank.
We ask for a repeat serving of our drinks as our lunch nears its end.
Vachani delves into his role outside of business that includes mainly spending all the spare time with his five-month-old daughter and reading.
He adds that he reads at least two to three books a month, and hates the "Kindle" while preferring to make notes on the book.
Currently, he is reading a book about five great men that talks about how Abraham Lincoln, despite suffering from acute depression and suicidal tendencies, was able to change the US.
We decide to steer clear of the desserts. The food and the drinks are over and we are ready to wrap up our meeting.
Vachani tells me he does not see anyone in India who has been able to institutionalise sharing wealth like the way Bill Gates and to a lesser extent, Warren Buffet have done.
As I chew on his statement, we bid goodbye. He promises to meet again to hear more stories about his grandfather, whom I met often as a reporter.