Making woollen garments empowers women in two Uttarakhand villages, discovers Anjuli Bhargava.
Illustration: Uttam Ghosh/Rediff.com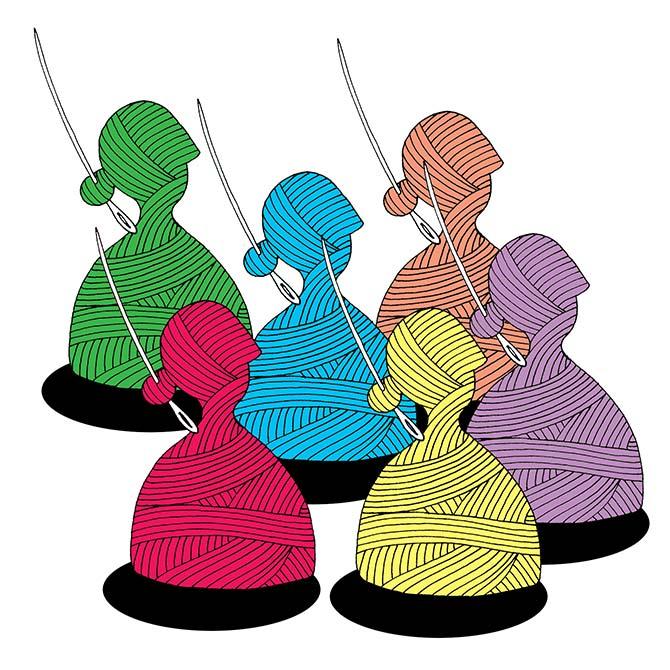 The villages of Guniyal and Chandroti in Uttarakhand are less than a kilometre from each other.
Yet, until Shubh Chopra came and settled down in Chandroti almost two decades ago, the women of the two villages had never met or seen each other.
For whatever reason, the two villages had a watertight divide. The residents lived as virtual strangers despite the proximity.
The birth of Chandroti Woollens changed all that.
Chopra moved to the village around 1992 and eight years followed without any upheavals.
In 2000, when she had her first grand-daughter she knitted a blanket for her and whoever saw it fell in love with it instantaneously.
Encouraged by the response, she asked one of the women working for her to ask around the village if there were any others interested in doing this on a larger scale.
Within a few weeks, one village woman turned up at her doorstep, saying she had come to knit.
Chopra found some nice pattern books and together they knitted a patchwork woollen quilt. She paid the woman for her efforts at the end of the month, pleasing her very much.
Word quickly spread and, within a couple of months, as many as 40 women expressed a desire to work with Chopra. Almost all of them could knit -- some very well, in fact.
Chopra started helping them with designs, colour schemes and raw materials, which she began sourcing immediately.
So involved was Chopra in the venture that she invested her own (and her husband's) savings to buy the yarn, needles (she bought around a hundred pairs) and other fabrics that the women required.
To start with, Chopra paid the women Rs 8 a patch.
"The women didn't have much time and no other avenue to earn any income. Most didn't want to do any domestic work as they were already doing that at home," she says.
As the number of women working with her grew, Chopra realised that she needed to find a market for her blankets and throws. However, she had been a housewife all her life and didn't know anything about running an enterprise of this sort.
She started with buying space for a stall at the Delhi Commonwealth Women's Association exhibition at New Delhi's Ashoka hotel in 2000, but not much sold there.
A friend of hers offered to hold an exhibition at her home, and that's where she managed to register stellar sales.
Soon after, she started selling her products during the winter sale at the British high commission almost every year; she also started getting orders from clients who were taking the products and selling them in other cities and even overseas.
Chopra added a whole range of new products: Scarves, caps, stoles, mufflers, ponchos to the blankets and throws, all with the goal of making her products available to a wider audience. She now has two employees who run a store from her residence.
But even as she added products, she ran a tight ship and kept a hawk's eye on quality.
Her blankets and throws began to sell well in Delhi and other urban markets and, slowly but surely, her products began to find a steady clientele overseas as well.
"Since we offer high quality, we are now getting orders from as far as Australia and Europe," says Chopra.
When I visit her workshop, the team is busy working on a high-end order -- the yarn has been sent from Australia and sweaters are priced as high as A$600.
She now keeps a small amount as a profit margin that helps her buy yarn and other products needed to run the entire operation.
The number of women participating varies from 40 to 100 and, when they have large orders, they are usually able to get more women to work through word-of-mouth.
Chopra says that when she -- at 43-years-old -- first moved to Chandroti from New Delhi's South Extension, almost everyone thought she was "mad". But life choices and "big changes", she says, usually work out for the best.
What delights Chopra is the spirit of camaraderie that her small enterprise seems to have sprung up in the community.
They attend each other's weddings and even offer support in times of financial distress.
They have started a kitty from which they take loans.
That, she says, is the single biggest joy for her -- the happy by-product that goes well beyond monetary considerations.