What explains Vijay Shekhar Sharma's optimism when other players have started to tread cautiously is Paytm's huge customer base: It has 120 million users and counting, says Nivedita Mookerji.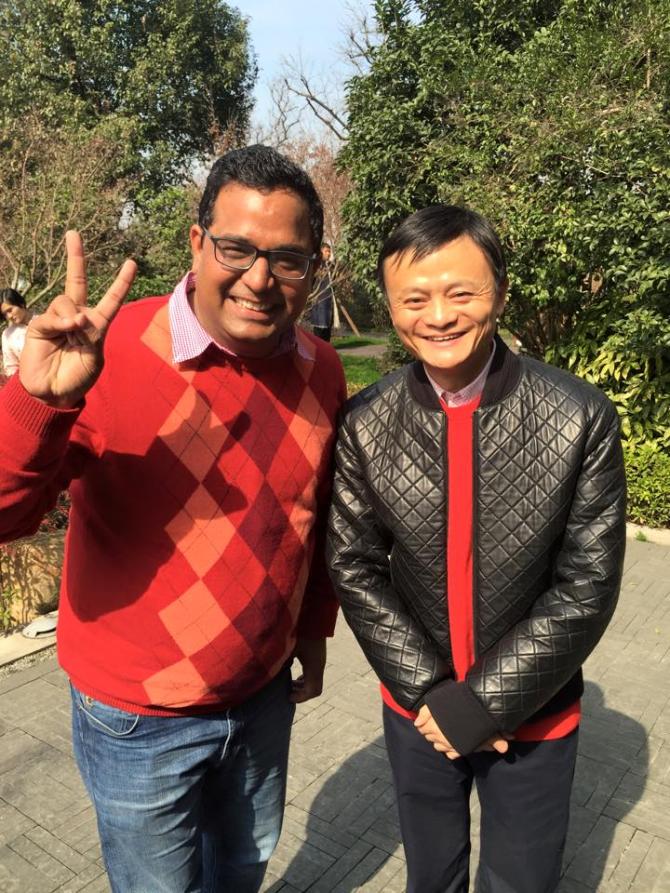 IMAGE: Paytm founder Vijay Shekhar Sharma with Alibaba's Jack Ma. Photograph: Kind courtesy, Vijay Shekhar Sharma/Facebook
From payments bank to e-commerce, as it adds new businesses to its core e-wallet offering, many feel its growth model is getting muddled
Paytm boss Vijay Shekhar Sharma sent out a message on Twitter last week, conveying to the world that he's a high-flyer. 'How do you know when you travel a lot? When air hostess at LAX (Los Angeles International Airport) without seeing your boarding pass says: Mr Sharma, that was a short trip.'
That tweet in a way captures the essence of the business under Sharma, founder and chief executive of One97Communications that runs Paytm -- a wallet-to-e-commerce firm with a potential transaction value or GMV (gross merchandise value) of Rs 1 lakh crore by April 2018.
His jet-setting ways hints at the frenzied activity under way at his company. He plans to grow Paytm at least five-fold from the current GMV of Rs 20,000 crore (Rs 200 billion) and mark his entry into new business areas.
Although the top man at Paytm has often chastised rival e-commerce majors such as Flipkart and Snapdeal for hyping up the importance of GMV, he has turned to the same currency to quantify the measure of growth that the group is eyeing.
He is, however, quick to point out that when its GMV versus customer loyalty, the latter wins.
Meanwhile, Flipkart and Snapdeal have dropped any reference to GMV, shifting to customer satisfaction instead as the prime benchmark of success as they strive to become profitable to impress investors.
Clearly, things are looking up for Paytm. Sharma told Business Standard in an interview last week that the company had started to make operational profit, a target that most others are still gunning for.
Also, when some top new economy companies deferred the joining dates of graduates from the Indian Institutes of Management and IITs to whom they had made job offers due to corporate restructuring amid a funding crunch, Paytm stepped up its game and offered to hire a large number of those benched for positions across services.
The Noida-based company, with China's Alibaba as the largest investor, needs to hire big as it expands into new businesses. With growth in mind, it has also announced a marketing spend of Rs 600 crore (Rs 6 billion) for this financial year.
What explains Sharma's optimism when other players have started to tread cautiously is the huge customer base of Paytm. It has 120 million users and counting.
While other e-commerce players have been paying big dollars to acquire payment wallets as an afterthought, the foundation of Sharma's e-commerce business was built on Paytm.
The customer base perhaps also explains the group's foray into a payments bank, even as three out of the 11 licencees have dropped out of the race.
At a recent presentation to the media on payments bank plans, Sharma had displayed the group's confidence in the new line of business. Dressed informally in jeans and a check shirt and sipping Chinese tea, he turned on A sky full of stars by Coldplay to lighten the mood in the large conference room.
Next, he went on to introduce the top hires for the payments bank, to be led by Shinjini Kumar who has joined from PricewaterhouseCoopers, before going through the slides and powerpoints on numbers, goals and visions.
The presentation looked picture perfect, except that the vision of the group is still hazy. Alibaba, the biggest driver behind Paytm, has announced its direct entry into the Indian e-commerce market, and it may well come on its own without a partner.
For now, Sharma is not concerned. "We have said clearly that Paytm will be known as a payments and financial services company. I haven't heard that Alibaba has plans in those areas in India," he said.
Without giving away the Chinese group's strategy, Sharma, who is believed to be close to Alibaba founder Jack Ma, said, "We are in sync. They are giving us ammunition in technology, resources and money as we demand and as we need."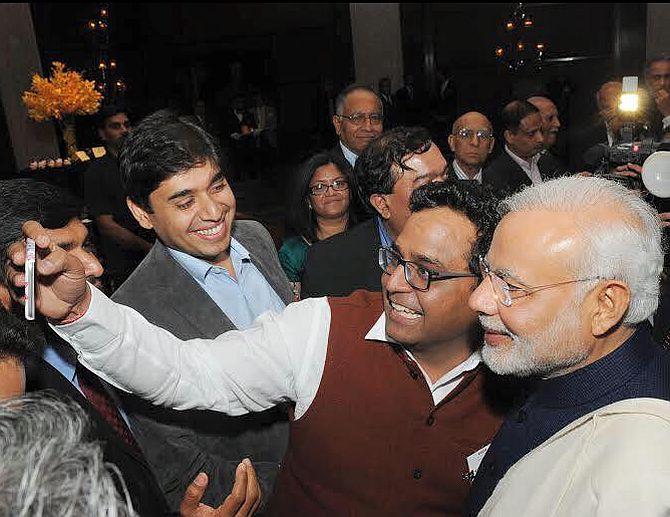 IMAGE: Vijay Shekhar Sharma clicks a selfie with Prime Minister Narendra Modi. Photograph: Kind courtesy, Vijay Shekhar Sharma/Facebook
Analysts believe there's confusion on Paytm's business model, especially as its e-commerce offering is yet to get as popular as it would like it to be.
"When you hear of Paytm, you think of payment and not so much shopping online," is how a consultant put it. Technopak founder Arvind Singhal, without naming any company, says, "A large number of payment wallet companies as well as e-commerce firms are yet to figure out what model to follow."
That's seen as one of the reasons why Paytm is experimenting with so many services.
However, for Sharma, e-commerce is as much a part of the group's core as the wallet business. "E-commerce is an incredible asset for us, like Amazon Web Services. It is a profitable asset in our business book. It is also critical for access to merchants," he says.
He adds that the recharge business may come down in percentage terms in the total transaction pie. It is 25 per cent now and may be down to 5 to 7 per cent in one year.
The group is not concerned that three players -- a consortium of Sun Pharma's Dilip Shanghvi, IDFC Bank and Telenor Financial Services, Cholamandalam Investment and Tech Mahindra -- have decided to drop out before launch.
"People have to discover their business models. Ours is sorted. We may bring a new banking business to the world along with RBI," says Sharma.
Paytm's payments bank is likely to focus significantly on allied services such as wealth management through third parties. Also, to make the banking model work, it is strengthening the wallet consumer base through tie-ups with supermarkets, cinema ticketing platforms like Bookmyshow, mass rapid transport and toll roads.
At present, the company's wallet is an established currency for instant payments for taxi rides, mobile phone recharges, direct-to-home television subscription renewals, money transfers, and transactions at small mom-and-pop stores. Many schools, colleges and petrol pumps have also joined the payment platform.
Aiming for a convergence between its wallet service and payments bank, the company plans to expand its customer base from the present 120 million to 500 million by 2020.
Over a period of time, Paytm expects its financial services to lead its business growth followed by e-commerce, treasury and payment.
Wallet or payment is at the bottom of the pyramid because the group wants to focus on 'incentivising merchants and consumers to join the platform' instead of generating profits.
Indeed, as long as that pyramid lasts, its stars will continue to shine.
THE ROADMAP
Targets five-fold growth in transaction value to Rs 1 lakh crore by April 2018.
Plans customer base of 500 million by 2020 from 120 million now.
To spend Rs 600 crore on marketing this year.
Employee strength at 4,500, up from 3,500 last year. To cross 5,000 next year.
Wants to start payments bank before Diwali.
Paytm's largest investor Alibaba to directly enter Indian e-commerce.
Group wants to be known as finance powerhouse, but will continue e-commerce.