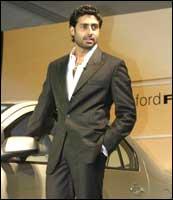 The pedigree is impeccable, the manners flawless, the acting forgettable. Aby Baby's Junior still has to learn a thing or three about running around trees and warbling in the rain. His intense brooding looks are reminiscent of his famous father, but Abhishek Bachchan isn't a patch on him -- yet -- or so say millions of fans of the Bachchans.
To a question posted on the Business Standard Web site about who is the more popular Bachahan, one angry fan reacted: "Abhishek is nowhere close to Amitabh. His comparison to his father is giving [him] very high regard that he does not deserve. There are better actors in Bollywood" (see box). But in Bollywood's ever-fickle tinsel world, Bachchan Jr is both style icon and star.
It helps that there's little competition for now. It helps that his fans are able to forgive him his strings of flops over the years. It helps that he had four hits last year. It helps that he's part of every large banner in 2006. And yes, it helps that he's Amitabh Bachchan's son. But most of all, it helps that he has some mysterious wow factor that's got the nation dancing to his awkward steps. 
THE 2005 'SMALL B' BLOCKBUSTERS
Film
 Budget*
 India 
collections*
US/UK
collections*
Bluffmaster
8-10
18.92
4.64
Bunty Aur Babli
13
43.56
8.69
Dus
20
21.35

2.72 (UK only)

Sarkar
13
29.29
4.06
* Rs crore                                                                      Source: www.ibosnetwork.com
FORTHCOMING FILMS IN 2006-07
Film
Director
Budget
Kabhi Alvida Na Kehna
Karan Johar
Rs 30 crore
Umrao Jaan
J P Datta
Rs 20 crore
Dhoom 2
Yash Raj Films
Rs 20 crore
Sarkar 2
Ram Gopal Varma
N/A
Sholay (remake)
Ram Gopal Varma
N/A
—
Shaad Ali
N/A
ENDORSEMENT FEES                      How they stack up
Face

Fee/year

Shah Rukh Khan
Rs 5 crore
Amitabh Bachchan
Rs 3.5-4 crore
Abhishek bachchan
Rs 4 crore
Saif Ali Khan
Rs 1.5 crore
Aamir Khan
Rs 4-5 crore
Sachin Tendulkar
Rs 5-6 crore
FILM FEES
How much they charge per movie
Abhishek Bachchan
Rs 2-2.5 crore
Shah Rukh Khan
Rs 5-6 crore
Aamir Khan
Rs 4-6 crore
Salman Khan
Rs 4-5 crore
WORLD TOUR RATES
Ever wondered how much the stars make as part of the live stage performances when they go touring? Check this out:
Star

Rate per city* 

Shah Rukh Khan
70,000
Akshay Kumar
60,000
John Abraham
40,000
Abhishek Bachchan

60-65,000**

* World tours are generally for 15 cities
** Notional. Abhishek Bachchan has never been on a world tour, but only done a few individual shows. This is what organisers are willing to pay him though
All figures are indicative, based on industry sources, but could vary widely depending on producer, banner, and relationship with the director
Producers are queuing up for dates, but he has none this year with half a dozen films on the studio floors. He's probably packing in more frequent flier hours than top grossers Shah Rukh Khan or Saif Ali Khan -- if he's shooting a romantic interlude in Lucknow's dilapidated Mahmudabad Quila for the remake of Umrao Jaan one day, he's off to picturesque Rio in Brazil the next day to shoot a fight sequence with Hollywood stuntmen for the sequel to Dhoom.
He may have been around since 2000, but he's the new kid on the block, the one everyone loves, back in the celluloid race with a vengeance. Producers this year are sinking in over Rs 100 crore (Rs 1 billion) on the 'Small B,' and every top notch production house and director (from two Yash Raj Films to Karan Johar's Dharma Productions, Ram Gopal Varma and J P Dutta) have roped him in.
Till 2004, at least, Bollywood's ruthless critics had dismissed him as a disaster who had failed to square up to his DNA. In 2005, Abhishek set about proving his detractors wrong with a series of superhits in a row.
His last four films, all hits according to portal Ibosnetwork.com, which monitors box office collections, raked in Rs 113 crore (Rs 1.13 billion) and counting -- more than double their producers' investment of Rs 53 crore (Rs 530 million) in the domestic market alone. With another Rs 20 crore (Rs 200 million) from box office collections in the United Kingdom and the United States, Bachchan has proved he has what it takes to survive in Mumbai -- drawing power, also referred to as the 'initial.'
Last year's chartbuster was Bunty Aur Babli. The film about small-town aspirations raked in Rs 43 crore (Rs 430 million) plus Rs 9 crore (Rs 90 million) in collections abroad), several times the sum Yash Raj Films had invested in it.
Says an elated Yash Chopra, producer, "He has all the makings of a big star, and his movies do well in India as well as abroad. He has arrived." Bunty Aur Babli is among the top eight grossers of all time in the industry (not adjusted to inflation), neck and neck with top-notch hits like Shah Rukh starrer Veer Zaara. It has been ranked fifth among the top grossers of this decade -- no mean achievement.
Even more significantly, the box office collections of movies that released around the same time and starred the badshahs of Bollywood, have paled by comparison.
According to Ibosnetwork.com, Aamir Khan's Mangal Pandey coughed up only Rs 29 crore (Rs 290 million) in the domestic market, while Shah Rukh's maiden production Paheli ended with a whimper, despite critical acclaim, garnering only Rs 12.77 crore (Rs 127.7 million). Only Salman Khan with his No Entry (gross collections of Rs 41 crore -- Rs 410 million) came close to Abhishek's runaway success, but producers had put in more money (Rs 20 crore -- Rs 200 million) to make the film, compared to Bunty Aur Babli (Rs 13 crore -- Rs 130 million).
Says film industry analyst Komal Nahata: "If he gets another hit this year, I see his rates soaring above Rs 3 crore (Rs 30 million) for sure. Currently he charges around Rs 2-2.5 crore (Rs 20-25 million) per film."
Abhishek has laboured to arrive at the same threshold as Shah Rukh or Salman Khan (Rs 4-6 crore -- Rs 40-60 million), according to industry estimates), or even Bollywood's constant superstar, Amitabh Bachchan (Rs 3-3.5 crore -- Rs 30-35 million) a film, despite usually bit -- but powerful -- roles).
Nor are they out of the stables yet -- Salman Khan and Amitabh Bachchan are said to have signed 10 films each, which are in various stages of production, while Shah Rukh Khan (with three movies) and Aamir Khan (one movie) are taking it easier. Even younger contemporaries like John Abraham have tied up six films this year.
But if 2006 is set to be Bachchan Jr's year, he isn't out of the woods yet. At least his critics argue that he still cannot carry a film on his own shoulders. Sarkar had a stellar performance by Amitabh Bachchan and Abhishek played second fiddle to him. In Dus, he had strong co-stars in Sanjay Dutt and Suneil Shetty. And even in Bunty Aur Babli, both his father as well as Rani Mukherji played anchor roles.
Admits ad maker Prahlad Kakkar: "He still cannot carry a movie on his own and needs support. That will change." And points out a director in Mumbai: "I doubt he can give a superhit on his own. All his forthcoming movies are either multi starrers or, like Umrao Jaan, centered on Aishwarya Rai. He is playing it safe."
Depending on how you look at it, that's either fair criticism or sound strategy. It is being argued, for instance, that the hype around him is too premature. Points out director Subhash Ghai: "You need to watch him closely for the next three years before he reaches the status of a superstar like his father, or Shah Rukh. And much will depend on the kind of movies he picks."
Eventually, it's the figures -- and not the acting -- that have turned him into such a hot property. His average box office collection per movie (around Rs 28 crore -- Rs 280 million) from the last four movies was higher than his competitors. It's as simple as that.
The last three movies of Salman Khan grossed an average Rs 22.5 crore (Rs 225 million) per film; Saif Ali Khan, with two major hits last year, averaged a gross collection of Rs 24 crore (Rs 240 million). Sanjay Dutt's four movies last year grossed only Rs 11 crore (Rs 110 million).
Buoyed by his hits, industry experts say Abhishek has doubled his endorsement fees for ads to Rs 4 crore (Rs 40 million). And "world tour" organisers who sign up stars to perform live before US and UK audiences, are negotiating with him on rates that only Shah Rukh Khan had commanded so far. It's another matter that Abhishek hasn't given the nod to any of these touring performances, but surely that's a matter of time.
Says Alliance Media and Entertainment boss, Sunil Doshi, who handles Abhishek's endorsements: "Today, companies are ready to pay him the same rates as Sachin Tendulkar and Amitabh Bachchan. And we have requests from over 12 to 15 different companies and even international brands which want to use him globally."
There are some offers for endorsements that want to rope in both father and son, and at least one where Abhishek might become a sports ambassador, but details are being strongly guarded.
Abhishek, meanwhile, has cashed in with two plum brands, car marker Ford, and Korean consumer electronics giant LG India. And talks are on with Swatch to use him as a brand ambassador for Omega (Swatch denies that he has been signed, but Doshi claims the deal is through).
His success has also emboldened producers who are confident of his growing ability to draw audiences.
Says Ronnie Screwvala, CEO of UTV Ltd, which distributed Bluffmaster and is talking to him for a movie under their banner, "He is among the top five stars in the country who can guarantee a stable opening for your movie in the first week. The rest, of course, will depend on the movie."
Screwvala also points out that he is choosing films prudently, preferring to work for big banners instead of just hiking up his rates due to his newfound fame.
More importantly, distributors are ready to pay money upfront for his movies. Argues Sandeep Bhargava, COO of Sahara One Motion Pictures, which co-produced Sarkar, "Today, distributors are ready to pay a minimum guarantee for his movies and block territory ahead of the completion of the movie, because they don't think they will lose money." He points out that apart from the three Khans and Amitabh, he is the only actor who can draw audiences in the UK and the US on his own merit.
So what makes the Small B suddenly big? After all those disasters behind him, what is he doing right? Ad man Kakkar has some answers, and says his failures have given him a key advantage.
"If every filmstar had a certain branding -- Amitabh Bachchan was the "angry young man" and Shah Rukh Khan the "romantic hero," -- then "Abhishek is positioning himself as the 'prince in waiting' who is coming out of the shadow to take centrestage. He has failed in a lot of movies so he is vulnerable and, therefore, human," says Kakkar.
Others say he shines out among the current crop of young and future superstars. Says Nahata: "Look at the younger actors -- Shahid Kapur has not made an impression, John Abraham is too urbane, only Abhishek can transcend the rural as well as the urban setting. He has a certain universal appeal. He is also choosing the right movies with big banners."
Companies are taking advantage of his "iconic" status, at least among the youth, to push brands. LG, for instance, wanted to consolidate its home appliances brands under one umbrella. However, in order to cut the clutter of advertising in which the homemaker (which most competing ads do) is glorified, they wanted a different spin: to use a male to appreciate the lady of the house for what she does.
Says Sundeep Tiwari, head of LG India's marketing, "We were looking for a celebrity who cuts across SEC categories and is easily identifiable for under-30 audiences. Abhishek was a natural choice."
Ford, on the other hand, found a perfect fit between his brand persona and that of the Ford Fiesta. The mandate was clear: the car was targeted at 27-35 year-olds.
Says Nakul Kapur, general manager marketing, Ford India, "Abhishek is macho, has style and class and the spirit to succeed. Those are the key attributes of the car." A dipstick study showed the ad had 70 per cent recall within three to four weeks of it being aired on TV. And it has transcended directly to bottomlines: the company had rustled up bookings for over 10,000 cars till the second half of February.
But there are others who are less sure about his advertising identity. Points out Preet Bedi, president, Rediffusion: "He is smart, you could use him to target the youth, and his persona is miles ahead of Yuvraj or Dhoni, but I am not sure what values he stands for at the moment. That is the key problem."
The jury might still be out on Bachchan Jr's newfound success. But Abhishek's finally got what it takes. The audiences. Nothing can beat that.
What people say

We posted two questions on the Business Standard website 1. Who is the more popular Bachchan -- Amitabh or Abhishek? 2. Abhishek is endorsing products like Ford and LG -- does he fit the profile? Here is what some of his fans and critics had to say:

With his suave looks and personality, Abhishek can help boost the sales of any product he endorses. Also, with his hot n sexy image, he will improve the product's market value
Abhishek Bachchan is a zero. People recognise him only because he is the son of super-megastar Amitabh Bachchan. Nothing else.
AB does not fit the profile because, after Dhoom, instead of a car he should promote a bike.
He fits these ads because he has the looks, screen presence and personality that matches his profile. He has all the ingredients of a perfect brand ambassador.
He doesn't deserve it because he is getting [all] this because of his father. I will not buy anything he advertises.
AB (Jr) is the celeb of today's world.
Undoubtedly, Amitabh is the more popular Bachchan. He is a living legend and one of the best actors India has ever produced. Abhishek is very good but Amitabh is the best.
Amitabh is the best, he doesn't have any competition. Abhishek is also the best, but he can't be compared with his father because the father is always the father.
More than lifestyle products, I believe he would fit better for personal care products -- shaving creams, razors -- and more masculine brands such as bikes, shoes, fitness related products.
Even if Abhishek will be born 9000000000000 times, he will still be a child in front of Amitabh.
Abhishek Bachchan, brand ambassador for Ford Fiesta. Photograph: Jewella C Miranda
Do you want to discuss stock tips? Do you know a hot one? Join the Stock Market Discussion Group.