Most remember him for old campaigns like Gloria Vanderbilt and Tommy Hilfiger, and the luxury brands he's bringing -- Murjani talks of what he wants to do now
On the day we're to have lunch, Mohan Murjani is playing tic-tac-toe -- in a manner of speaking, of course. We will dine at 360 at The Oberoi, I'm informed; then an SMS switches the location to the members-only Belvedere; back again to 360; then Belvedere again.

Finally, of course, it's at the original pick, 360, that we team up, and the reason is apparent: Mohan Murjani is really Brand Murjani, and you can't tuck a brand away when its eyeballs you hope to grab.

All the way to our table -- right next to the noisiest lot of diners I've ever experienced at The Oberoi -- Murjani makes his way pumping hands like a politician on the poll trail. By the time we meet, I'm just another pair of hands that needs to be shaken, writes Kishore Singh.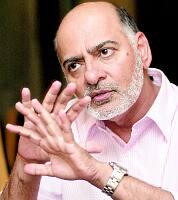 But I'm also a pair of ears to be told the Murjani legend all over again. It's like the national anthem, really: nothing changes in the telling, every nuance, every little fact recited verbatim whether to lifestyle hacks or business journos, down to the cadence of the words, the littlest detail of price.

I've read about it in society magazines since the eighties, and been reintroduced with renewed vigour to it ever since a Murjani scion, Vijay, shifted his base to try and recapture the Murjani legend all over again in a new century, in a new city -- Mumbai -- in a country his father and grandfather had left behind in search of their fortunes.
"But I'm a very proud Indian," insists Mohan Murjani, some time into our lunch, "we kept coming back on holidays, to the ashrams of Anandmayi Ma", whose disciples the whole family are, "to India." He also points out that though his name might sound Italian -- and was the reason, some claim, for doors opening to the Murjanis when they remained closed to other Indians -- he always retained his Indian passport. "It was at a time," he says, "when Indians were associated with low quality and cheap prices."
Murjani might live in New York but his heart, he insists, beats for India. Then, I ask logically, why did it take him -- or his company -- so long to set its sights on India? Over the last few years, the Murjani Group has begun the process of bringing premium and luxury brands to India, among them Gucci, Tommy Hilfiger, Calvin Klein, French Connection and Jimmy Choo, yet Murjani's major marketing successes, if I remember right, were in the seventies and eighties.
To expect a straight answer from Murjani is perhaps expecting too much. So, once again, he tells his story which, unless you happen not to be from Planet Earth, has of course been recounted several times before. By now, we've ordered: he and a PR professional who is keeping us company split a pizza, I -- keeping in mind that I'll be taking notes (and Murjani speaks really, really fast) -- opt for a baguette loaded with a variety of meats between its two layers.
It is clearly the wrong choice for it's too high to eat with any degree of elegance, and the dry crust chafes the palate so at the end of a long but mostly uneaten lunch, I will have an empty stomach and a scraped mouth to remember our meeting by.

In comparison, Murjani -- also hampered by speaking too much, too fast -- at least manages to nibble occasionally at his pizza, which is what I'm hoping to remember to order the next time I'm at the coffee shop.
So, just for the record, and to show I wasn't skimping on the notes, here's the story (again): Murjani Sr (BK) left Shanghai after the Korean war, deposited the young Mohan with four unmarried aunts and his parents in Pune, and settled down in Hong Kong where, in the 1950s, he built one of the largest apparel manufacturing businesses in the world, making jeans for virtually every known brand of jean maker. "By 1958," says Murjani Jr, "he had built a production capacity of 10 million garments per annum."
Mohan Murjani was bored by manufacturing, so he invested his energies in marketing and branding instead, launching Marco Polo with reasonable success, but building a career out of a women's brand of designer jeans called Gloria Vanderbilt that -- it must be admitted -- revolutionised how jeans were worn and, more importantly, advertised. Vanderbilt, for those of you who might not know, was a true-blue American socialite.
"When I spoke to her, there was the initial prejudice, yes," says Murjani, "but then we met and she was agreeable," and American women raided stores and stocks to have their fill of the first jeans designed especially for their figures. "Within a year it was a $70 million business," says Murjani, and though the group sold their US rights in the late '80s to liquidate some debts, they still hold its worldwide rights. "It's still a $1 billion brand in apparel and fragrances," Murjani points out, when I complain that it's mostly invisible now, "though obviously it's no longer in the same league."
His other success, a decade later, was when he launched an unknown designer, Tommy Hilfiger, with a high-voltage blitzkrieg. In an unparalleled marketing exercise that is now a case study, Murjani placed him alongside designers like Paul Smith and Calvin Klein, and both a designer and a brand were born.
So while Murjani was the lord of the marquee in Manhattan, India remained ignored because "the government was restrictive, the market was not there, the consumers were not there".

Things changed in the '90s. "In 2000 I made up my mind," says Murjani, and though he now spends more time in India conducting business rather than visiting ashrams, it was his son who translocated to the country. And the first to roll out of the group's stable in partnership with Arvind was a Tommy Hilfiger store, now replicated across the country.
"In each category," he explains, "we created licencees, which India was unfamiliar with," pairing with local partners for TH watches, fragrances, even underwear. Other brands followed "quite logically," he explains, "because we understood brands, we were both licensors and licencees, we were the only Indians that had built and launched major brands internationally."
A spiritual rather than a religious person, flamboyant ("as all Sindhis are") and deeply Indian in his thinking ("an Indian thinks nothing of going to a temple, a mosque, a church or a synagogue -- all gods are one to him"), how does he think the US now perceives India? "In different decades, different aspects of India have been noticeable -- the Beatles, marijuana, yoga, ayurveda… For the first time now they are seeing beyond India's culture and mysticism to a substantial economy," he says, "a serious country."
He finds the time, holding on to rather than eating his wedge of pizza, to deliver the spiel of every retailer, of "right location, right environment", of "in-store experiences" and "recruiting, training, visual merchandising". But does he, now in his sixties and a grandfather, fresh from his daughter's wedding at a three-day, intimate ceremony in Udaipur, see himself launching brands in India with the success of a Gloria Vanderbilt or Tommy Hilfiger? "What we're lacking," he explains, "what I'd like to do is build some strong Indian designer brands. I'd like to use my experience to turn some Indian designers -- and they are so talented -- into global brands," he says.
How does he propose to do that? Murjani is philosophical, as we each fight to pick up the tab for the meal: "Once you know where you're going, some roads will take you there," he says. "When you don't know where you're going, every road will take you there."
I, of course, take the short road back to office.