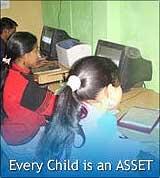 Sneha Gaikwad is telephone operator, Arpita A Salunke works with Aditya Birla Minacs, Shailesh M Gurav teaches swimming, and Uttam Das works with Cafe Coffee Day, all thanks to ASSET India Foundation, a registered non-profit foundation in the United States.
The organisation teaches English, offers computer education and other skills for girls rescued from trafficking and children of sex workers in India and helps them get jobs after the training.
The Foundation is now vying for a prize of $1 million in the JP Morgan Chase Giving contest. The Foundation was started in 2006 by Nita Umashankar, a PhD student in Marketing Strategy at the University of Texas in Austin.
"Besides training, we also provide placements for students. We have placed more than 150 students in companies such as FirstSource (BPO), Cafe Coffee Day, Phoenix Software etc with starting salary between Rs 2,500 to Rs 4,000 in Chennai and Rs 4,000 to Rs 6,500 in Mumbai," says Ray Umashankar one of the founders of ASSET India Foundation and assistant dean at the College of Engineering at the University of Arizona.
The Foundation has centres in New Delhi, Kolkata, Mumbai, Chennai, Bangalore and Hyderabad.
"In the current economy, fundraising for non-profits in the US has become very difficult. Hence Chase Giving, a US charity and others have organised contests to engage more young people to participate through social networks such as Facebook," Chetan Bhagat, says in his blog, requesting fans and readers to vote for ASSET India Foundation.
There are a number of research studies that have indicated that using social networks directly for fundraising has not been effective. Chase Giving therefore has organized the voting contest.
The winner gets the prize sponsored by Chase Giving, which is $25,000 in Phase I, $100,000 in Phase II and $1 million in Phase III. So here's an opportunity to bring a change in someone's life.  All you need to do is log in to Facebook (apps.facebook.com/chasecommunitygiving/charities/717045) and vote for ASSET India. The deadline for voting is December 11, 2009.
"The prize money will allow us to reach out to many more children in small towns and villages, pay for their education. This is help us hire more teachers and expand the program to many locations. ASSET will determine what skills are in demand and hire the instructors to teach those skills. A portion will be set aside for microfinance loans to students," Ray Umashankar says.
Major supporters of ASSET India Foundation include Dell, IBM, Intel, nComputing, Sooch Foundation, Saxena Foundation, SHG Foundation, Global Giving Foundation and thousands of individuals.