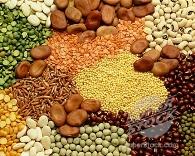 The global agricultural production growth is expected to be low at 1.7 per cent annually during 2011-20 as compared to 2.6 per cent in the previous decade, due to lower growth in oilseeds and cereals, an agri survey said.
According to a joint agriculture outlook released by Organisation for Economic Cooperation and Development (OECD) and UN body Food and Agriculture Organisation (FAO), farm production, however will increase in the short term.
"Global agricultural production is projected to grow at 1.7 per cent annually, on an average, compared to 2.6 per cent in the previous decade," the OECD-FAO Agricultural Outlook 2011-2020 said.
Slower growth is expected for most crops, especially oilseeds and coarse grains, which face higher production costs and reduced productivity growth.
Growth in livestock production will stay close to the recent trends, it added. "Despite the slower expansion, production per capita is still projected to rise 0.7 per cent annually," it said. According to the outlook, world wheat production is projected to touch 746 million tonnes by 2020. This is 11 per cent higher than the production in 2008-10.
The area under wheat cultivation would see a modest increase of 2 per cent compared to 2008-10 period with major expansions coming from
the Russian Federation, Ukraine and Kazakhstan.
Rice, another important food commodity, which is estimated to touch 528 million tonnes in 2020, will grow at an annual rate of 1.3 per cent in 2011-20 period as against 2.2 per cent annual rate in the last decade, the outlook said.
The projected increase in rice production will come from the developing countries, particularly India, Cambodia, Myanmar and African countries. China, a major producer, is expected to cut production by seven million tonnes, it added.
World sugar production is expected to reach over 209 million tonnes in 2020-21. The bulk of the output will come from the developing countries and the main burden of growth will continue to fall on Brazil, the outlook said.
India, the second largest global producer and the world's leading consumer, is expected to boost output to 32 million tonnes of sugar per year, on average, in the coming decade.
The global coarse grain output is expected to reach 1,321 million tonnes by 2020 with significant increases coming from Argentina, Brazil, China, Russian Federation, Ukraine and US.
The increase in sowing area of coarse grains is projected to be up by 6.6 per cent from 2008-10 period. The notable increase in area is expected from Brazil, Argentina, Canada and the Sub Saharan African countries. Coarse grains include sorghum or jowar, bajra, maize, ragi.