Reliance Industries (RIL's) annual report released on Sunday highlighted the company's focus on new energy solutions, with chairman and managing director (MD) Mukesh Ambani stating that the age of fossil fuels will not conti­nue much longer.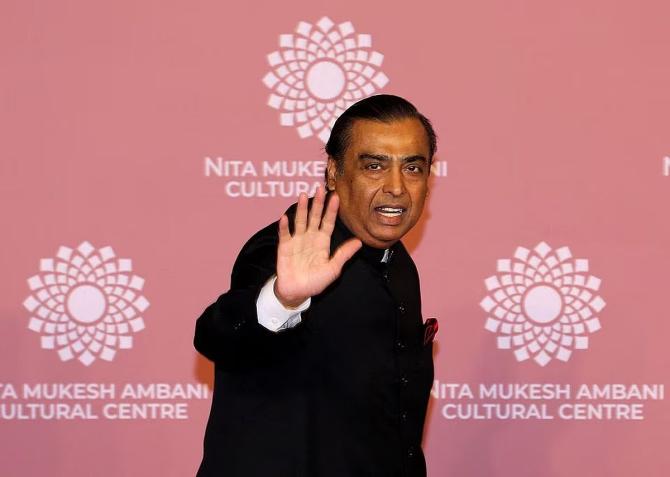 RIL has sought shareholders' approval to give Ambani another five-year term as MD till 2029 at nil salary.
The recently demerged Jio Financial Services, which "will leverage the prowess of digital and retail businesses", was expected to be listed soon.
Reliance Jio has received a $2.2 billion fund support from Swedish Export Credit Agency (EKN) to finance equipment for the 5G rollout, according to the report.
The company has largely procured telecom gears from Swedish firm Ericsson and Finnish company Nokia to deploy its 5G network.
In the report, Ambani said the company's initiatives in the solar value chain and green hydrogen were progressing well.
"The world is entering a new energy era, which is going to be highly disruptive.
"The age of fossil fuels, which powered economic growth globally for nearly three centuries, cannot continue much longer," Ambani was quoted in the firm's latest annual report for FY23.
The oil to chemicals (O2C) and oil and gas segments together contributed more than half of the company's total Ebitda in FY23.
Ebitda refers to earnings before interest, taxation, depreciation, and amortization.
Addressing this business segment, Ambani said: "Our O2C business is transforming.
"We are switching to renewable sources of energy and newer energy technologies, while promoting the concept of a circular economy, especially for our petrochemical products.
"Sustainable business techniques are rapidly gaining momentum."
Ambani said the company was making significant strides in establishing a world-class solar energy value chain and progressing on building a green hydrogen ecosystem.
"Our goal is to provide affordable green hydrogen as a viable alternative to traditional fuels," he said, noting that the first-ever green hydrogen production was achieved with the firing of torrefied biomass in gasifiers in FY23.
The report outlined that RIL is in the advanced stages of designing 50 TPD B2H demo plants to produce green hydrogen based on patented technology, offering the lowest operating costs for green hydrogen production.
RIL, in its annual report note, noted that after proving cost and performance targets, the company aims to progressively commence the transition from Grey to Green Hydrogen by 2025.
Ambani will address shareholders at the company's 46th annual general meeting (AGM) on August 28.
During the AGM, the company will also seek a re-appointment for Ambani as MD for another term of five years (starting from April 2024), as the billionaire will turn 70 in April 2027.
RIL's AGM serves as a key event for the street, which looks out for management guidance on financial metrics, such as debt and business strategies. Analysts have noted that developments in the new energy business will be a key focus at the upcoming AGM.
One of the key priorities for the O2C business, according to the report, is to transition from being a commodity product supplier to customer ownership through solutions and services.
Regarding its oil and gas business, the annual report noted that domestic production was at a 10-year high.
The company expects oil demand to remain healthy due to steady economic growth.
"New supply from upcoming refining capacities in the Middle East, China, and Africa will likely keep the market balanced," the report said.
On the recently demerged financial services businesses, Ambani said: "As various financial services are governed by different regulatory frameworks, we believe an independent financial services entity will allow us to access the opportunities available in the Indian market."
He said the business aims to provide simple, affordable, and innovative digital-first solutions.
The report said the new entity was expected to unlock value for shareholders and give them an opportunity to be a part of a new growth platform.