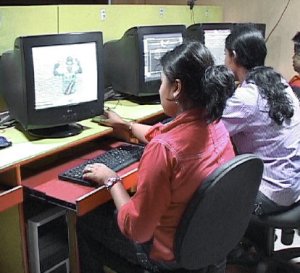 Till a couple of months ago, 30-year-old Divya Basu, who works as an HR consultant for a Delhi-based recruitment firm, used to frown at her investment banker husband each time he took out his Sony Playstation.
But her hubby's long-nourished hobby finally had its impact on her and now she is the proud owner of a Nintendo Wii. She devotes at least two hours a day to games on weekdays and spends her weekends almost entirely Wii'ing.
Basu is not alone. Gaming is no more a 'boys-only club' as more and more women are getting into it big time.
Jovan Fernandes is a classic example. Fernandes started off playing basic games like Solitaire and Freecell, but now she is completely hooked to it. From the basic PC games to mobile games, she is now into fantasy (role playing game) or simulation games.
"Before I joined the gaming industry, I never thought I could get so addicted, and it gives me a real high," she says.
Game developers and companies are also taking women gamers seriously, and are coming out with games specially designed for them.
They also feel that wooing women is a good strategy as they generally make decisions for their children. Though, at present, the ratio of men to women gamers is 80:20, experts believe that the number is bound to rise in the near future.
Zapak.com, in fact, has a dedicated portal for women called zapakgirls.com, which has games in various categories, including cooking. The portal claims to have 1.5 million registered users and that it gets a million hits per month. With close to 2,000 games to play, Zapak is planning to launch some new games soon.
According to Zapak's chief operating officer Rohit Sharma, the idea is to encourage more women to get into gaming. "The response so far has been fantastic and we hope to see the trend continue," he says. Sharma claims that women account for close to 20 per cent of Zapak's registered users.
Yashraj Vakil, COO of Dream11.com, an online gaming portal of fantasy cricket -- where players can choose their own team and scores are calculated on the performance of each player -- was surprised to see women among the top 100 winners during the T20 world cup tournament.
"We launched the portal during the T20 World Cup and since the game was on cricket, we were expecting to see only men. But of the top 100 winners of the fantasy cricket game, 20 per cent were women," he said.
More than playing games, women are also taking it up as a profession. Oindrilla Mitra's case is a classic example to illustrate this trend. The 21-year-old Mitra, who once participated in the India Gaming Championship, wants to make a career in gaming and excels at the game Counterstrike.
She has a network of friends who often match their wits at multiplayer games. Mitra loves console games and lists Need for Speed and FIFA among her favourite games. Like Fernandes, Mitra too realises that the industry is still in a nascent stage, but opportunities will come.
However, many feel that Indian women are yet to get into the console gaming segment. Even Zapakgirls.com has a majority of women playing casual games like makeover, cooking and fashion.
Pricing could be one of the reasons for low adaptability among women gamers but Ashim Das Mathur, national marketing manager, EDD, Microsoft India, believes that it is certainly becoming an entertainment platform. Mathur believes that Microsoft's new initiative XBox Live will make gaming even more appealing to women.
"With Xbox LIVE, one can play and chat with friends on the same sofa or on a different coast," he adds.
Indian women, of course, have to do a lot of catching up with their American counterparts. A recent report released in the US said that over 40 per cent of the gamers out there were women.
"For once, firms are coming up with games that are specially catering to women, so that should help. But Indian women gamers will take sometime to catch up with their Western counterparts. One of the reasons why Indian women are lagging behind is that the gaming industry in the West is ahead of us in terms of everything," says Vishal Gondal, chief executive officer, Indiagames.com.
Mitra, on the other hand, wants more women to take up console gaming and give it a bigger push. She believes that while online games are good, serious gamers will get into consoles sooner or later.
"This is where the real action is," she adds.
The future of gaming is bright and women want a bigger share of the pie. And if recent trends are to be believed, they are all set to make further inroads.
Adding to this frenzy is social networking sites, such as Facebook, that offer a multitude of games in-built on their platforms. Most women actually take up games that are easy to understand and require minimal instructions.
By 2012, Indian gaming industry is expected to touch $1,060 million, growing at a compounded annual growth rate of 50 per cent. And, going by the trend, women gamers would have certainly played a significant role in achieving this growth rate.