The 80-odd projects completed till now are already valued at Rs 14,000 crore.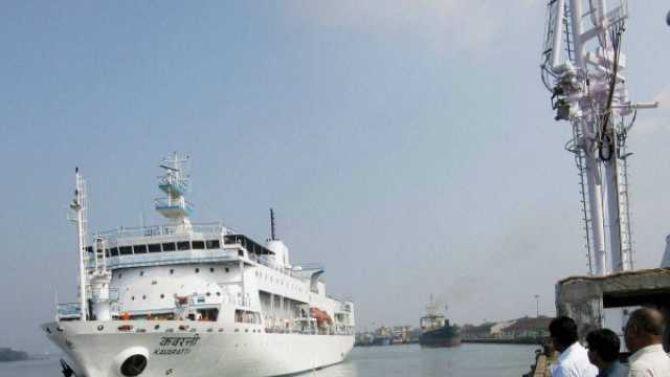 Less than a fifth of the ambitious Sagarmala project has been completed since it was launched three-and-a-half years back, revealed a Right to Information (RTI) query.
When the Union Cabinet approved it on March 25, 2015, it envisaged projects worth Rs 8.7 trillion that would connect 600 ports.
The 80-odd projects completed till now are already valued at Rs 14,000 crore.
Another 212 projects worth Rs 2.5 trillion are still under way.
The National Perspective Plan of Sagarmala envisions the potential to save around Rs 21,000-27,000 crore through coastal shipping of 230-280 million tonnes per annum of key commodities such as coal, cement, fertilisers, iron and steel, food grains, and POL (petroleum, oil and lubricants) by 2025.
The Ministry of Shipping has spent Rs 773 crore since 2015-16 (FY16) for the Sagarmala projects.
Another Rs 1.3 trillion has been spent to provide railway and road connectivity to the ports.
There are 12 major ports in India: Kandla, Mumbai, Jawaharlal Nehru Port Trust, Mormugao, New Mangalore, Cochin, Chennai, Ennore, V O Chidambaranar, Visakhapatnam, Paradip, and Kolkata (including Haldia).
The project has also identified 1,208 islands for development.
Ports handle 90 per cent of the country's export-import cargo by volume and 70 per cent by value.
Gujarat caters to 25-30 per cent of the cargo traffic. Connecting coastal areas to ports was planned as proximity brings down logistics costs.
The Sagarmala project is being funded by the government through various ministries and agencies as well as private sources.
The scheme also aims to provide access to new regions and enhanced connectivity with main economic centres and beyond through expansion of railways, inland waterways, coastal, and road services.
Sagarmala also supports port-led development through appropriate policy and institutional interventions, port infrastructure enhancement, including modernisation, and setting up of new ports, and efficient evacuation to and from hinterland.
The scheme focuses on industrialisation in the proximity of the ports and development of community living. Projects promoting coastal tourism and cruise tourism are also part of the Sagarmala programme.
The government intends to increase the share of coastal shipping in domestic cargo movement, currently only 7 per cent.
Better infrastructure for coastal shipping in terms of handling facilities will decongest railway and road networks, besides ensuring cost competitiveness and effective multi-modal transportation solution.
However, the shipping ministry did not answer the RTI query on land acquisition issues that port projects are facing.
Its answer was: "Information sought for is not available with the Sagarmala division."
Photograph: PTI Photo