The company's growth was driven by a decline in total expenses, lower finance cost and higher other income.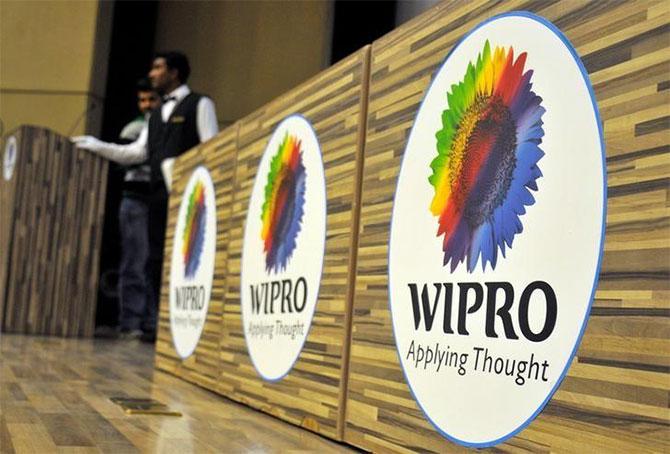 Wipro Ltd, India's third largest software firm, on Tuesday reported a 5.8 per cent rise in net profit for three months to September but gave a muted guidance for the third quarter earnings.
Its consolidated net profit (attributable to equity shareholders) in July-September at Rs 2,191.8 crore, or Rs 4.52 per share, was higher than Rs 2,070.4 crore, or Rs 4.28 a share, in the same period a year before, the company said in a statement.
The growth was driven by a decline in total expenses, lower finance cost and higher other income.
On a sequential basis, the profit was up 5.5 per cent, according to Indian Accounting Standards.
Its total income fell by about 1.9 per cent to Rs 14,134.8 crore and the company said the healthcare segment "continues to be volatile".
"The energy sector is slightly impacted by slow performance in Middle East in second quarter because of the holidays," said Abidali Z Neemuchwala, Chief Executive Officer and Member of the Board, Wipro.
IT services revenue in dollar terms grew by 2.1 per cent quarter-on-quarter to USD 2.013 billion in July-September, while constant currency sequential growth was 0.3 per cent.
This was higher than the company's revenue guidance range of USD 1.96 billion to USD 2.001 billion for the September quarter.
"We surpassed the milestone of USD 2 billion in quarterly revenues for IT Services on the back of rigorous execution of our strategy," said Neemuchwala.
For the third quarter, Wipro expects third quarter revenues from IT services business to be in the range of USD 2.014-2.054 billion, a growth of 0-2 per cent over Q2.
"Our Q3 outlook is 0-2 per cent which incorporates the seasonal impact of furlows. We are confident of meeting industry average growth rate in the fourth quarter," he said.
Last week, India's largest IT services firm, Tata Consultancy Services, had reported a 2 per cent dip in second-quarter profit because of sluggish growth in banking and retail services.
Wipro's numbers were announced after the close of market hours.
Sarabjit Kour Nangra, VP Research- IT, Angel Broking, said that Wipro "posted results below expectations on sales front (on Constant Currency terms)".
Reliance Securities, Analyst - IT Harit Shah said that the company's guidance of 0-2 per cent sequential revenue growth "is a disappointment".
However, on the positive side, there was a return in growth in banking, financial services and insurance, Shah added.
Commenting on the numbers, Wipro Chief Financial Officer Jatin Dalal said, "Productivity gains generated by our HOLMES automation suite and operational efficiencies overcame the incremental impact of wage hikes and expanded IT Services margin to 17.3 per cent."
Wipro's revenues from IT products segment was Rs 300 crore (USD 46 million) in the reported quarter.
The company saw its headcount coming down to 1,63,759 during the second quarter from 1,66,790 in the previous sequential quarter. Attrition stood at 15.7 per cent on trailing 12 months basis.
On the buyback, Dalal said: "Buyback was announced in the course of second quarter...We have got shareholder approval during the course of the quarter and we are on the track to completing the process".
He said the company is awaiting the "next steps in regulatory approval".
Photograph: Abhishek N Chinnappa/Reuters