The wait for paying passengers to see Earth from the vantage point of space looked a lot longer on Friday, following the fatal crash of Virgin Galactic's first spaceship, but aspiring space tourists did not appear to be lining up for refunds.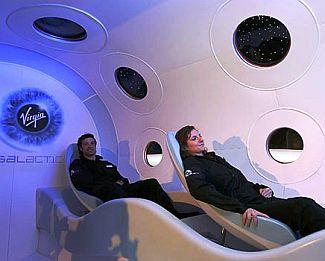 About 800 people already have paid or put down deposits for rides on SpaceShipTwo, a six-passenger, two-pilot suborbital spaceship owned by Virgin Galactic, an offshoot of Richard Branson's Virgin Group, which aims to be the first commercial space ride for tourists. Tickets sell for $250,000.
SpaceShipTwo broke up during a test flight in Mojave, Calif., on Friday, killing one of two pilots. The Virgin accident came three days after an unmanned Antares rocket owned and launched by Orbital Sciences Corp exploded 15 seconds after liftoff in Virginia.
Hours after the Friday crash, Carmella Sears, an accredited Virgin Galactic "space agent" at Mansour Travel Co in Beverly Hills, California, had not heard any customers asking for refunds, and she did not expect to.
Although Hollywood celebrities including Tom Hanks and Angelina Jolie have signed up for trips, her two customers are more ordinary people into extreme sports and adventures. Space flight, she said, "is definitely on their bucket list. It is something they really, really want to do."
One waiting passenger, XPRIZE Foundation Chairman and Chief Executive Officer Peter Diamandis, said he would trust Virgin to keep him safe when his turn arose. The precursor ship to SpaceShipTwo won the $10 million Ansari X Prize by sending the first privately owned manned ship into space in 2004.
"This is what exploring is all about. We risk our lives for what we believe in. This is the American way - the explorer's way. I for one, am proud to be a Virgin Galactic client," he said in a statement.
The accident may prompt Congress to broaden the Federal Aviation Administration's oversight of the commercial suborbital spaceflight industry, which lobbied hard for a moratorium on passenger safety regulation until October 2015.
The two accidents in one week also deepened concerns about reliance on private space companies for commerce and government.
"I still believe we have to move to a commercial model... but the SpaceShipTwo (accident) is going to make that difficult," said Joan Johnson-Freese, a space policy expert with the NavalWarCollege in Rhode Island.
"I think people are going to make a case for 'too much risk, too many shortcuts, not enough testing because profit is involved,'" she said.
Virgin Galactic promises travelers a journey lasting about two hours, with several minutes of weightlessness and a view of the Earth framed against the blackness of space. SpaceShipTwo is carried to an altitude of about 45,000 feet (13.7 kms) by Virgin's White Knight Two carrier airplane and released. The spaceship then fires its rocket motor to power it to about 62 miles (100 km) above Earth.
Virgin Galactic was considered the front runner among a handful of U.S companies pioneering the space frontier for well-heeled tourists.
A second US company, privately owned XCOR Aerospace, is developing a different type of suborbital spaceship that carries just one passenger seated alongside a pilot. Test flights of the spaceplane, called Lynx, are expected to begin early next year and rides sell for $95,000.
Branson had targeted starting service as early as next February, but now the company needs a new space plane. A second is more than 60 per cent finished, and it was not clear how Friday's accident would affect construction and the company's plans for passenger service.
Seven people have already travelled to the International Space Station as tourists, aboard Russian Soyuz rockets and paying tens of millions of dollars for journeys lasting up to 15 days.
David Logsdon, senior director of the Space Enterprise Council at technology industry group TechAmerica, said he expected the accidents to trigger congressional hearings and additional oversight of commercial human spaceflight and similar projects.
"It's a minor setback. It may slow things down a little - a few years," Logsdon told Reuters, noting that rocket failures were common during the early days of the NASA space program.
"We've become much more risk averse, but space flight is an inherently risky business," he said.