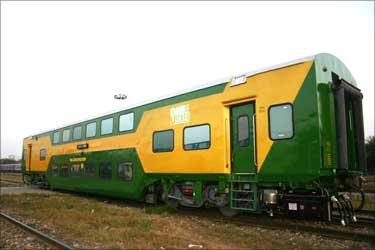 Passengers travelling in the soon-to-be introduced
AC double decker
chair car trains would be charged the same fare as that of a similar class in superfast trains.
"The fare of these trains will be levied at par with AC chair car class of superfast mail or express trains at the existing fares," said a senior Railway Ministry official, dismissing the possibility of passengers being charged a premium while travelling in these trains.
The concessions in fares as admissible in mail and express trains will also be admissible in double decker trains.
All warrants and rail travel coupons can be availed while travelling in these trains. AC Double decker trains have been envisaged to run on high density capacity routes. The first of such trains are expected to be introduced in Eastern Railway between Howrah and Dhanbad by Christmas.
The busy Howrah and Puri route is also being considered as another section where the AC double decker trains could be introduced shortly. However, the official said the clearance certificate from the Commissioner of Railway Safety for introducing the train between Howrah and Dhanbad would come through after an inspection is carried out.
He said problems encountered during trial runs like coaches touching the edge of the platform have been sorted out. These new design coaches are capable of running at a speed of 130 kmph.
The passenger carrying capacity has been increased to 128 passenger in comparison to 78 passengers in Shatabdi chair car, thus increasing the capacity by almost 70 per cent, the official said.
Besides, the coaches have many superior technical features like aesthetically pleasing stainless steel body, high speed Y-Frame bogies with air springs suspension for superior ride quality.
The chairs have been provided in face to face format, so that passengers can enjoy travelling with their families with better leg space. For better safety, fire retardant upholstery has been used in chairs.