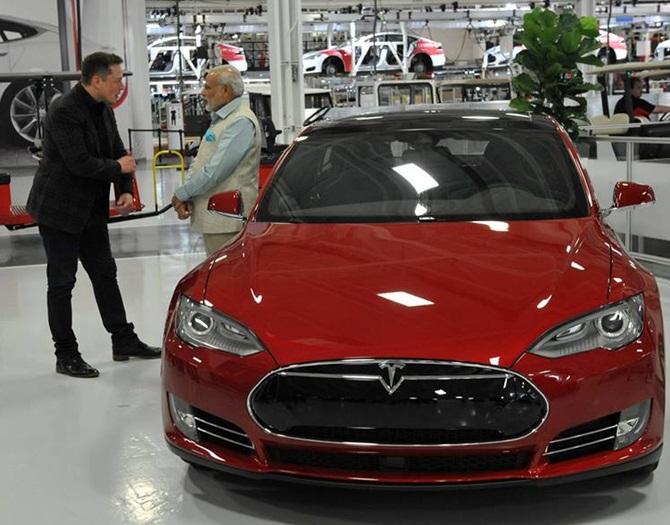 Tesla began taking orders for its $35,000 Model 3 sedan from Indian customers in April last year.
Silicon Valley-based electric carmaker Tesla is mulling to enter the Indian market this summer, a little over a year after it began taking orders for its new Model 3 sedan from customers in the country.
"Hoping for summer this year," said Elon Musk, chief executive officer, Tesla, to a query on Twitter about when the company planned to come to India.
Tesla began taking orders for its Model 3 sedan, priced at $35,000 (about Rs 25 lakh), from customers in the country in April last year.
It will go into production late this year, and come to India only in 2018. Tesla is planning a staggered global launch, starting with the US. The countries with right-hand drive are likely to get the cars a little later.
This year, Indian car aficionados are likely to get the older models of Tesla.
Musk's tweet, however, didn't provide any detail, such as whether or not the company would bring its Model S and Model X offerings to India before the Model 3 arrives.
In January, Tesla announced that it had sold 76,230 cars in 2016, narrowly missing its sales target of 80,000.
That India is on the radar of both the company and Musk -- not only as a market but also for manufacturing -- has been evident for some time.
During Prime Minister Narendra Modi's visit to Silicon Valley in September 2015, he took a tour of Tesla's plant and met with Musk to discuss the use of renewable energy in India's hinterland. The cost of storing energy produced from sources such as solar and wind is still far too expensive. Musk has been an advocate of lowering costs through mass production.
Soon after, in October that year, Musk hinted that India would be a great manufacturing base for the lithium-ion batteries that power Tesla's cars and its Powerwall energy storage units.
"Given the high local demand, a Gigafactory (extremely large lithium-ion cell manufacturing unit) in India would probably make sense in the long term," Musk had tweeted.
With growing concerns of rising pollution levels in large cities such as Delhi and Bengaluru, India is witnessing an increased push for zero-emission electric vehicles.
State governments of Delhi and Karnataka have eliminated all local taxes on electric vehicles, partly offsetting the high cost for manufacturing these.
Even at the Centre, subsidies for electric vehicles to boost sales across the country have been rolled out under the National Electric Mobility Mission Plan.
However, despite this, the country's only electric car manufacturer, Mahindra Reva, has struggled to drive sales of its e2o hatchback, and is instead turning to leasing its cars out to corporate cab companies.
When Tesla began accepting bookings for its Model 3 sedan in India last April, ownership of the futuristic car caught the fancy of India's new-age technology leaders such as Vishal Gondal, CEO, GOQii; Paytm founder Vijay Shekhar Sharma and venture capitalist Mahesh Murthy.
Image: Prime Minister Narendra Modi at the Tesla headquarters in California in September 2015.