Minister of State for Petroleum and Natural Gas Jitin Prasada has said state-run oil companies have the freedom to fix petrol prices, but the government will step in if rates shoot up "indiscriminately".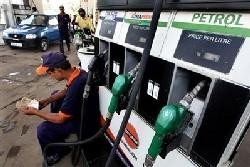 "Petrol prices had been exempted from government control and oil companies are empowered to decide the same," Prasada said on the sidelines of a health camp jointly organised by Steel Authority of India Limited and Petronet LNG Ltd at Mohammadi, in Kheri district of Uttar Pradesh.

"However, the government would intervene and take adequate steps if the prices shot up indiscriminately," he said.

Speaking at the function, the minister said the Centre intends to set up 'Sanjha Chula (common kitchen)' at every government hospital and medical college in Uttar Pradesh so that the attendants of patients can cook meals.

"However, this can be done only when the state government and the respective district administrations come forward. Till now, the 'Sanjha Chula' scheme is only available in a medical college in Lucknow," he said.