Analysts say that Republic TV has to hit the top spot in the shortest possible time if it has to make a dent in the ad market and break even, writes Vanita Kohli-Khandekar.
Illustration: Dominic Xavier/Rediff.com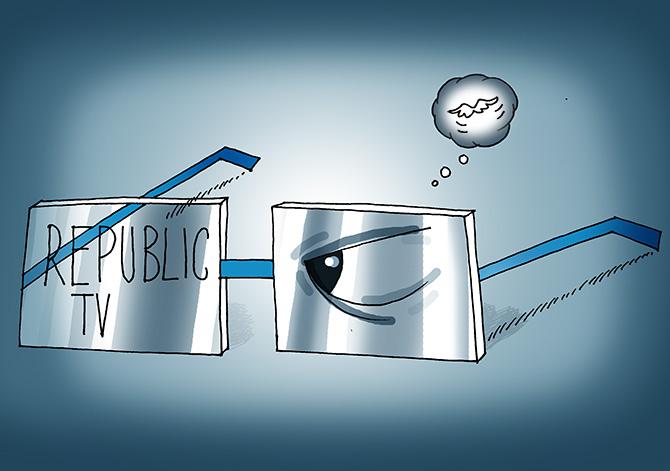 S A Hariharan of Thanthi TV was one of Tamil news television's star anchors. When he was offered a job at Arnab Goswami's much-talked-about and yet-to-be-launched Republic TV, an English news channel, he was hesitant because of his Tamil accent.
But Goswami was insistent because "we want journalists from all over the country, not just Mumbai and Delhi. Republic TV is about the emergence of a new generation of content creators," says he. It is a point the co-founder and editor-in-chief of Republic TV emphasises while talking about how the channel will be different.
It will need to be if it is to make a dent in the Rs 3,500-crore, hyper-competitive Indian news broadcasting market. Republic TV, being launched by ARG Outlier Media sometime over the next four-five weeks, will join over 390-odd news channels broadcasting in India, the world's most overserved news market.
The digital brand, Republic World -- website and mobile app, will be launched concurrently, says Chief Executive Officer Vikas Khanchandani.
To start with, the free-to-air channel will target India's 180 million TV homes. There are, however, plans to take it across the world -- to west Asia, the United Kingdom and the United States, among other countries.
The company has already hired 300 people, of whom 215 are on board. A state-of-the-art-studio is being built in Mumbai's Lower Parel area.
According to the estimates, the company has raised Rs 150-200 crore from a bunch of big and small investors (Goswami retains majority control, according to company sources). A senior news broadcasting person estimates Republic TV's capital cost at Rs 50-75 crore and operating costs in the first year at Rs 50-60 crore.
Analysts reckon that Republic TV has to hit the top spot in the shortest possible time if it has to make a dent in the ad market and break even.
Typically, the top two channels in a genre make money; the number three just about survives.
This then raises three questions about Republic TV's ability to crack the Indian news broadcasting market.
One is distribution.
"If Republic TV gets its distribution right, it has every chance of becoming number one," says the head of a TV research firm.
It costs anywhere between Rs 25 and 35 crore a year to get cable companies to carry a channel across India.
DD's Freedish, India's largest DTH service, charges a minimum price of Rs 4.3 crore to carry a news channel. Each of the private DTH operators charges Rs 3.5 crore. Add it all up and "there is no way their carriage fee will be less than Rs 30-40 crore," says the former CEO of a news broadcasting firm.
Those costs dampen most networks, which have several channels and, therefore, better negotiating power. For a standalone channel, they can be killing.
Khanchandani refuses to share details on which operators have signed on. All he says is that the firm is in talks with everybody. "If we had a network distribution would have been easier, but it is not impossible because there is a big void in the market," he says.
The second question then, is of the market opportunity. English news is a tiny proportion of the news TV Indians watch.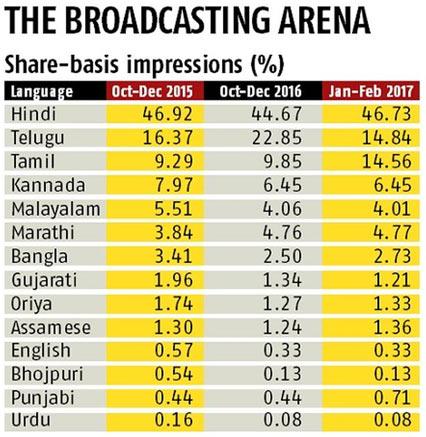 It reached an average of 4 million people every day, compared to 117 million people that Hindi news reached in 2016, going by the Broadcast Audience Research Council data.
Advertisers spent an estimated Rs 700 crore reaching those 4 million people. This tiny market already has 10 serious players with Times Now, CNBC-News18 and India Today TV in the lead.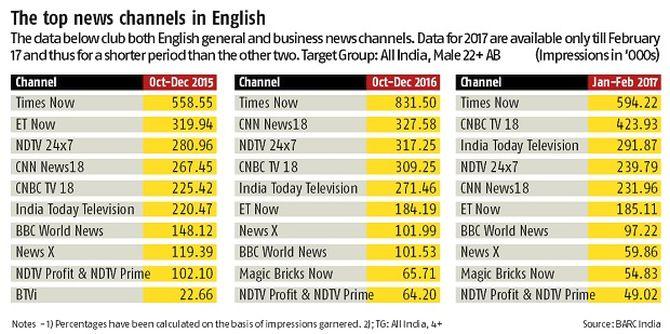 Here too, "like in any genre, it is a question of content," says Shailesh Kapoor, CEO, Ormax Media, a consulting firm.
The difference that Republic brings is Goswami and his blustering style, which has a fan following that gave Times Now its numero uno status.
"People like my journalism. There is a want/desire for this kind of news," says Goswami. "I don't agree that media is a challenged industry if you look at the viewership we got at Times Now. The channel made 20-25 per cent (earnings before interest, taxes, depreciation and amortisation) and ad rates were 50-60 per cent of the Indian Premier League," he adds.
It is true that Times Now ruled the English market in viewership and revenues, thanks in large measure to Goswami. But it is part of the Times Group, one of India's largest media firms. Its network (Zoom, ET Now, Movies Now, etc) and distribution and marketing strength made Goswami as much as Goswami made the channel. Note that Times Now continues to be the number one English news channel. It seems, then, that the company has weathered the storm of losing its star anchor.
That brings in the third question around Republic TV. Isn't it too dependant on Goswami?
"Yes, Arnab is larger than life. Republic TV is leveraging on Arnab to start with. But eventually content, anchors, format everything will get built up. We will have to work hard to build the brand. But the star will always be Arnab," says Khanchandani.
He points out that without spending too much money, the channel has got huge amount of publicity purely on the back of Goswami's equity. "Arnab has travelled for events to Chennai, Bengaluru, Jaipur, Mumbai, etc. The buzz is overwhelming," says Khanchandani. At the under-25 convention in Bengaluru this January, Goswami got a demi-god like reaction.
"He has a cult following with youngsters, even the ones who are not into news follow him," says Khanchandani. That will be a lever with advertisers who are obsessed with the young.
Going by the empirical evidence, news channels take four-five years to break even. How much time Republic TV has depends on the tolerance of its investors, says another analyst. If it was private equity investors, with a mandate to exit in four-five years, the pressure is greater.
"But, if it is a political investor or a semi-political one who is not seeking economic returns, they will be more tolerant to the channel's losses," reckons the person.
Republic TV's investors are a mixed bag, including MP Rajeev Chandrasekhar and businessman T V Mohandas Pai, known as supporters of the ruling Bharatiya Janata Party.
"My investors are my viewers. They have invested in my brand of journalism," says Goswami.
Khanchandani seems confident of meeting expectations on break-even and returns based on his discussions and deals with advertisers so far.
So far, Republic TV is coasting on hope and adrenaline. Its real test begins once it goes on air.