Vegetable, fruit prices to be on the rise over weak supply, crop damage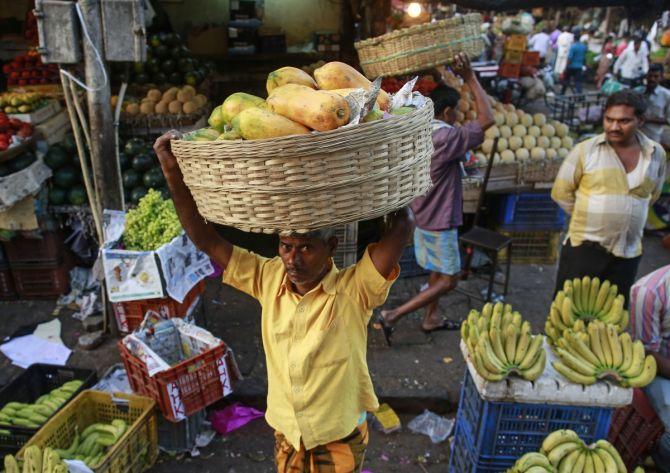 Vegetables and fruits have become costlier in select wholesale and retail markets since August due to weak supply following incessant rain and worry of crop damage in major producing centres.
National Horticulture Board (NHB) data showed okra in Delhi had jumped 77.8 per cent from Rs 13.50 a kg on August 1 to trade at Rs 24 a kg on Tuesday.
Prices of other vegetables have also moved up, but to a lesser degree.
In some markets, prices of select vegetables have declined but that was attributed to farmers' harvesting semi-ripe crops to benefit from rising prices.
Fruits have also become costlier in Delhi's wholesale markets with prices of papaya and pineapple up by 14.29 per cent and 34.78 per cent at Rs 12 a kg and Rs 31 a kg, respectively. Mosambi in Chennai and sapota in Bangalore have also moved up.
The increase in the prices of fruits and vegetables showed up in consumer price inflation (CPI) data in August.
With the trend likely to continue, the CPI numbers may stay elevated in September.
Vegetables have a 7.46 per cent weight in the CPI and fruits 2.88 per cent.
"Consumer price index (CPI)-based inflation rose to 3.4 per cent in August from 2.4 per cent in July, marking the second month of increase. Food inflation turned positive as the low-base effect waned.
The August print at 1.5 per cent marked a turnaround after three months of deflation. Inflation in fruits and vegetables surged to 5.9 per cent from a negative 5.6 per cent average for the preceding 11 months," said D K Joshi, chief economist, Crisil.
A Crisil report found the 5.9 per cent inflation in fruit and vegetable prices in August compared to a 1.7 per cent deflation in July.
"The months ahead could see some bump-up in prices at the retail level as producers price products and services in line with the good and services tax (GST) rates," Joshi said.
Traders said rain had caused damage to standing crops. As predicted by the India Meteorological Department (IMD), rainfall was above normal in August, resulting in floods.
"Rain played a key role this year in keeping prices of perishables up.
But the prices of fruits and vegetables are likely to decline by the end of September on resumption of supply," said Rajiv Tevtiya, managing director, RML Agtech, a farm advisory company.
Photograph: Rupak De Chowdhuri/Reuters