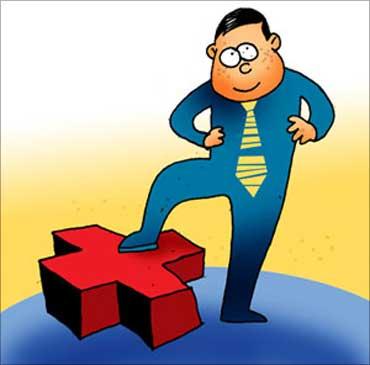 The advantage of reviving a lapsed policy is that the interest that is normally charged on unpaid premium is waived off.
Illustration: Dominic Xavier/Rediff.com
Life insurance companies hold special campaigns not just to sell new policies, but also to revive lapsed ones. They may have one or two such campaigns during the year.
The advantage of reviving a lapsed policy during such campaigns is that the interest that is normally charged on unpaid premium is waived off. Or the company may allow the policyholder to continue paying the same premium, without undergoing fresh medical tests.
Currently, Tata AIA Life Insurance and Bajaj Allianz are running special campaigns till November 30 to revive select lapsed policies. In case of Tata AIA, lapsed policies with premium due from January 1, 2012, can be reinstated, subject to terms and conditions.
"The time period during which you can revive a policy varies from one policy to another, subject to terms and conditions of each policy. It may be within two years of the last premium paid in case of some, or three to five years in case of others. It depends on product features and the rules allowed by the regulator at the time the policy was launched," says Amitabh Verma, chief operating officer, Tata AIA Life.
As part of the 'Revive' scheme, customers will be given waivers on health certificate and interest charges for select lapsed policies.
Similarly, during the Special Revival Campaign, Bajaj Allianz Life Insurance will offer customers a 50 per cent waiver on the interest amount on lapsed traditional policies. Revival of a life insurance policy will ensure continuance of life cover, tax advantages and bonus for the period during which the policy was lapsed.
Such campaigns help insurance companies show a higher persistency rate, which is an indicator of their health. On an average, 20 per cent of all policy revival happens during such campaigns.
A policy lapses if the premium is not paid during the grace period. For policies with monthly premium payment, the grace period is 15 days, while in case of policies with half-yearly or annual premium payment the grace period is 30 days. But companies usually allow revival within six months.
Typically, you have to fill a health-related questionnaire and some other documents. "Usually there would be no medical test or underwriting within six months. But if you revive after six months there will be underwriting, both financial and medical. This means that the premium could go up, in most cases.
"But if something happens to your health during this period, there are chances that you may even be denied the policy," says Santosh Agarwal, head of life insurance, PolicyBazaar.com.
Except Unit Linked Insurance Policies (Ulips), where there is no interest, there is a nominal interest payable on traditional plans when the policyholder wants to revive it. "It is better to revive a life insurance policy because most policies are designed to be held for the long term. Only then do policyholders get the real benefits of the policy," says Verma.
It may not make sense to revive all kinds of lapsed policies. For instance, if it is a pure term plan, then chances are that the current premium is lower than when the policy was purchased.
"We have experienced that in term products premium reduces every year due to better underwriting. So, it may make sense to purchase a new policy. But if you had purchased it at a younger age, say 25-30 years, your premium would have been very low. And now if you are 45 years or above the premium for a new policy will be higher. So it is better to revive your old policy,'' says Agarwal.
In case of a participating product, or a savings product like an endowment plan, whether you should revive the policy depends on the number of years for which you have paid the premium.
"If a participating product or a traditional plan lapses, the policyholder will lose the money accrued till that point of time. Also, if you are 40 years and above, it may not be otherwise possible to reinstate your old policy. Hence, special revival campaign come in handy," Agarwal adds.