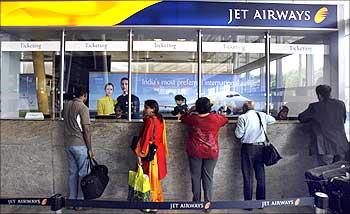 The Union civil aviation ministry has in the last few days met domestic airlines twice over "high prices of air tickets", which are giving the industry a "bad name".
Civil Aviation Minister Ashok Gajapathi Raju has flagged the issue, though he has said that fares are "within the basket in all sectors".
His junior minister, Mahesh Sharma, has said that the government could impose a cap on fares if the airlines refused to act.

This is an exercise in futility.
It is time the ministry stopped fretting about airfares and started applying itself to issues like air safety and passenger amenities through an effective and efficient regulatory organisation.
It so happens that airfares are at an all-time low because of the sharp fall in crude oil prices, which has brought down aviation fuel prices significantly.
Most projections say that prices of aviation turbine fuel will remain low for some more quarters. Thus, there is little chance of a cost-push escalation in airfares.

The government's anxiety seems to stem from the fears expressed by some non-residents to Prime Minister Narendra Modi that airfares climb steeply during festivals, which discourages them from travelling to India.
But there is no sign of that this time round.
The difference between the airfare and train ticket (Rajdhani, 2nd AC) between Delhi and Mumbai towards the end of October is just Rs 500 -- the same as what prevails now.

On the contrary, capping airfares at this juncture will impede the recovery of the whole sector, which has benefitted from low aviation fuel prices as well as a pickup in traffic.
Both Jet Airways and SpiceJet, the two airlines listed on the stock market, posted an operating profit for the quarter ended June 30, as against a loss in the year-ago period.
State-owned Air India, which has been mired in losses for several years, hopes to report a marginal quarterly profit towards the end of the current financial year.

The recovery is still tentative: if aviation fuel prices climb up because of unforeseen reasons, the industry could well return to the red.
Price controls can be justified only when there are super-normal profits; by all indications, in spite of the recent improvement in fortunes, the industry will still end the current year with a loss.

In fact, the ministry plans to carry its obsession with airfares further.
According to a recent news report, it wants to improve air connectivity between small towns, where the travel time is an hour or so, by offering tickets at Rs 2,000 to Rs 2,500 per person for an onward journey.
If the airline makes a loss on these services, it will be made good by the government through a fund that will be put together through a two per cent cess on domestic and international tickets.
This is cross-subsidy by another name, and ought to be discouraged at all costs. Apart from being a tax on other travellers, it will lead to the usual problems attached with all such schemes.
Airlines and the government are bound to bicker over costs and losses. It is a mess that the government should avoid getting caught in.
Image: Passengers speak with employees at the Jet Airways ticketing counter at the domestic airport in Mumbai on Sep 8. Photograph: Punit Paranjpe/Reuters
The image is used for representational purpose only. Photograph: Reuters