Traders say prices will remain elevated due to increased demand, lower availability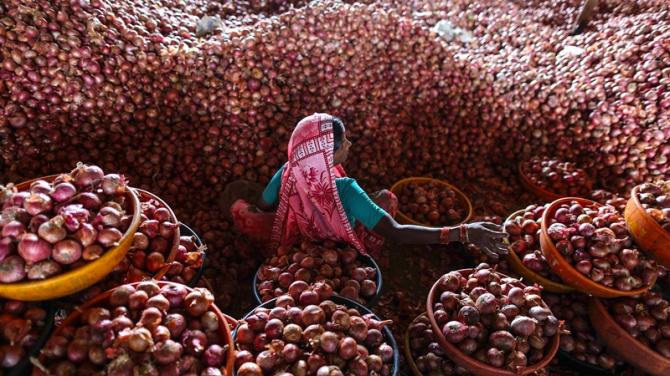 Onion prices saw a remarkable jump, hitting an eight-month high on account of a sharp increase in demand by stockists in both, domestic and overseas markets amid reports of low arrivals in the country's major mandis.
Data compiled by the National Horticultural Research & Development Foundation (NHRDF) showed that the model price of onion in Maharashtra's Lasalgaon mandi almost doubled to Rs 8.70 per kg, from its earlier low of Rs 4.50 per kg.
Prices of agricultural commodities usually increase around this time on account of supply disruptions due to rain and a sudden spurt in demand from stockists, ahead of a festive season including Diwali and Dussehra celebrations.
Two years ago, onion prices had hit the record high of Rs 80 a kg in the wholesale market, while rates had gone up to Rs 100 a kg in retail markets.
The spike in prices prompted the government to allocate Rs 500 crore for the creation a buffer stock.
Consequently, government agencies like the Small Farmers' Agribusiness Consortium (SFAC) and the National Agricultural Cooperative Marketing Federation of India (Nafed) accumulatively procured nearly 30,000 tonnes of onion during the last season.
"The buffer stock of onion is generally created during the April-May period every year. However, the central government refrained from creating a buffer stock for onion this season due to a bumper production.
Even private traders did not stock up as much as they do every year since expectations were of low prices.
Due to an existing lack of a buffer stock, the government is unable to intervene and stabilise market prices, even as supply has started to decline in major markets across the nation," said Rajiv Tevtiya, Managing Director, RML AgTech, a city based farm advisory company.
"Last year's stock in Madhya Pradesh has been exhausted. So, there is a demand pressure on Maharashtra from all across the country including West Bengal, Assam, Bihar and Uttar Pradesh, among others. Regular demand from Delhi and other regions continue with the festive season spurring demand further," said Atul Shah, Director, Pimpalgaon Agricultural Produce Market Committee (APMC).
In terms of supply, onion arrivals in the benchmark Lasalgaon mandi declined to 1,200 tonnes on Monday, after hitting a record high of 2,917 tonnes in early June, this year.
On Tuesday, arrivals stood at 14,000 tonnes.
Lower storage by large stockists across the country contributed to the decline in supplies further.
Onion stocks witnessed a decline on account of a lower output of 19.71 million tonnes in 2016-17, marking a decline of 6 per cent over last year's output of 20.93 million tonnes.
"Sowing scenario for the current year appears to be grim. Farmers are unwilling to sow and re-plant onion pods in the field due to lower realisation throughout this year.
During the early harvesting period in the rabi season, farmers released the entire quantity of their produce, thereby reducing prices by Rs 1-2 a kg.
Around half of quantity stored in cold storages got spoiled due to a weak infrastructure," said Sanjay Swarup, who is the owner of Shivkrupa- an onion wholesaler in Nashik.
He added that farmers suffered a major loss this year as prices remained below the estimated cost of production of Rs 5 a kg. As a result of this, sowing area under onion was less this year.
Swarup also rued the fact that the government was not willing to pay adequately to domestic farmers, while it was ready to encourage imports and pay higher to overseas farmers.
Photograph: Reuters