Government officials favoured compulsory biometric identification but said it did not happen because of the Supreme Court judgment on Aadhaar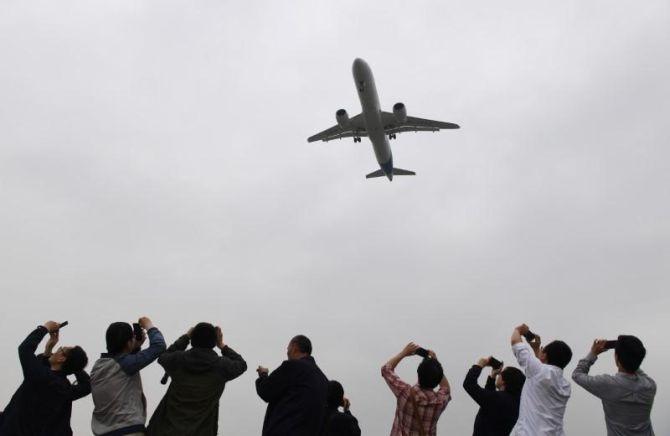 Remember Ravindra Gaikwad, the Shiv Sena member of Parliament who became the first person to be barred by airlines from flying?
The incident prompted the government to revise guidelines to handle unruly passengers by allowing airlines to ban them. But India's no-fly list is yet to take off as airlines find it difficult to identify offenders and the process too cumbersome.
Further, public cases like Gaikwad's and the resultant fallout have not completely stopped incidents of objectionable behaviour from flyers.
On Sunday, singer Udit Narayan's son, Aditya Narayan, allegedly got into an argument with the IndiGo ground staff and abused them at Raipur airport after he was asked to pay Rs 13,000 for excess baggage.
Singer and actor Aditya Narayan was flying from Raipur to Mumbai. At the time of check-in, he was asked to pay for extra baggage weighing 40 kg, which led to an argument between him and the IndiGo staff, the airline stated.
While reports say the alleged incident involving the actor-singer does not come under the purview of the current mechanism to deal with unruly passengers, as it occurred on the airport premises and not onboard, airlines have found it difficult to enforce the no-fly list rules that deal with such behaviour onboard flights, too.
While the Centre had plans of making a government identity card mandatory for booking air tickets, it was dropped from the final list of regulations.
"It is impossible to identify a habitual offender and blacklist him if we don't have the details. Just like the passport is mandatory for booking international tickets, identification details should be made compulsory for domestic bookings," a senior airline executive said.
According to the minutes of meetings reviewed by Business Standard, the problem of identifying an offender was repeatedly raised by airlines while framing the regulations.
"It is pertinent to note that details such as Aadhaar number, passport number, and voter ID are not taken from passengers. The success of preparing a no-fly list is only possible if details of identification are mandated," airline lobby group Federation of Indian Airlines said.
Moreover, the airline booking system is not prepared to stop an offender from checking in at the counter.
"A single identification card should be mandated. What happens if a passenger who has been barred is inadvertently allowed because of multiple identity cards he possesses, not available with the airline database?," asked an Air India executive.
IndiGo said that a barred flyer should be stopped while booking a ticket itself.
"We need to consider situations where a flyer may not even report at the check-in counter and simply board the flight. Better technical integration is required at the booking stage itself," the air carrier said.
Airline executives also highlighted the operational difficulty in carrying out the entire process - from reporting an offender to the cost of forming an enquiry committee.
The government has proposed an appeals committee to be headed by a retired high court judge with members from passenger associations or retired consumer dispute forum officers and airline executives.
"Forming an internal committee will have cost implications as the members may not want to be a part of the committee without compensation," said a SpiceJet official.
Government officials favoured compulsory biometric identification but said it did not happen because of the Supreme Court judgment on Aadhaar.
"We were deliberating on making Aadhaar compulsory but did not take risk as the case was sub-judice," said an aviation ministry official.
Photograph: Greg Baker/Reuters