Without strong storage facilities, bumper harvest has resulted in price crash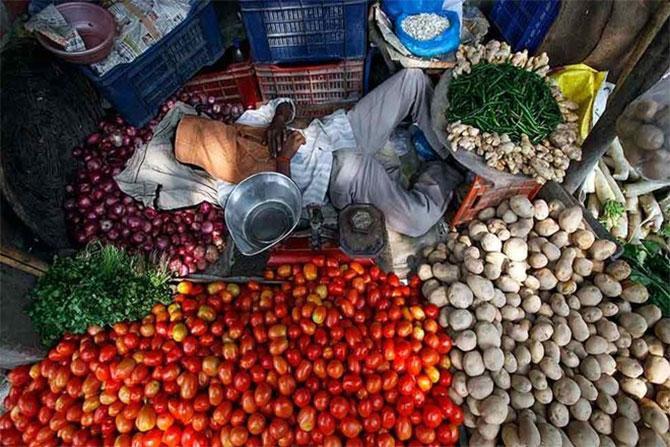 Madhya Pradesh Chief Minister Shivraj Singh Chouhan's stellar achievements in agriculture - successive years of double-digit growth since 2011-12 - have turned sour.
The same farmers whom the state feted not so long back are now questioning the state's policies and their impact on the ground. The escalating protests resulted in police firing on farmers on Tuesday, killing five.
G S Kaushal, former director, agriculture, Madhya Pradesh government, said the current agitation of the farmers in the state had been largely fuelled by two reasons: Years of bumper harvest of onions, potatoes and tomatoes resulting in an unprecedented price crash; secondly, the government policies on ground did not show any impact though a lot of noise was made about them.
For example, the absence of strong storage and processing facilities has proved to be a big gap as a lot of this bumper harvest is being sold at dirt-cheap rates.
Experts said the state raised the production of cereals, but what became problematic was the rise in output of horticulture, livestock, and other activities.
Vegetable production in the state has risen from 3.6 million tonnes in 2010-11 to 14.2 million tonnes in 2013-14, making the state the fourth-largest vegetable producer in the country. Overall, horticulture production in the state has jumped by a massive 69 per cent between 2006-07 and 2014-15.
The area under horticulture crops in the state has risen from 2 per cent of the gross cropped area in 2005-06 to over 6 per cent in 2014-15.
A study by Indian Council for Research on International Economic Relations (ICRIER) showed that almost 43 per cent of area under horticulture crops in the state is devoted to vegetables alone. This means from a marginal player in the country's horticulture scenario, MP is now a key producer.
"The big focus of the administration seems to have been on the numbers, particularly production. Otherwise, what explains a farmer unrest demanding a better price for fruits and vegetables in the middle of peak summer season when supplies usually dwindle?", a local farmer said.
"The state government spent crores to publicise its achievements in agriculture, but in reality nothing came in the farmers' hands and their produce did not fetch the right price in the market," said Kashmir Singh Uppal, retired principal of a government college in Itarsi, a key hub for agriculture goods in the state.
The extent of the problem is such that the state government has been forced to buy onion and pulses from farmers long after the peak harvest season ended. The scenario is the same with milk.
The images of farmers dumping gallons of litres of milk on the streets or vandalising milk-processing units is a fall-out of consecutive years of bumper harvest without commensurate returns.
The state's milk production has risen from 6.4 million metric tonnes (MMT) in 2006-07 to 10.8 MMT in 2014-15. An ICRIER study showed a rise of over 69 per cent.
Milk prices have crashed in summers, which incidentally is a non-peak season for the commodities product. The flush season for milk ends around March and most of the demand is met from stored powered milk.
In Bhopal, Indore, Gwalior and Jabalpur, prices of vegetables have fallen when they should have been rising.
The unrest is also because of the fact that farmers suffered losses in cotton and soybean. Since a little over a year, they have been expecting to recover some losses during the summer season by selling vegetables. When this failed, it created a rising demand for loan waivers along the lines of farmers' agitation in Uttar Pradesh.
However, many among farmers say they are more interested in right prices of their produce, rather than loan waiver.
Echoing this sentiment, Mahindra Patidar, a farmer from the Pipliya Mandi locality, said, "We just want good prices for our produce and not a loan waiver or anything else. All that achievements of the government does not mean anything for us."
Pipliyamandi is the area where the five farmers were killed. It is 15 km from Mandsaur, where farmers have been protesting for over a week.
The agitation in is being led by big, rich farmers from the fertile Malwa-Nimar belt, considered a hub for a variety of crops including soybean.
If farmers can feel the pinch of low prices, the condition of those in the tribal belt is worse.
Some experts said that when farmers of a state considered as a role model for agriculture are demanding loan waivers and relief packages, then something is seriously wrong with its approach.
In fact, deteriorating relations between India and Pakistan also played role in fueling the unrest.
"Earlier 200 trucks of tomatoes used to go to Pakistan from Malwa. All these stopped due to tension between the two countries," Uppal said.
Photograph: Danish Siddiqui/Reuters