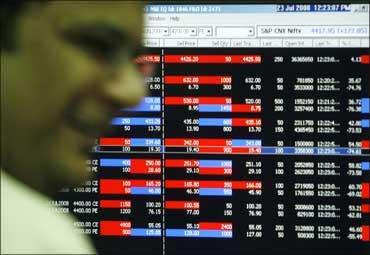 But they outperform benchmark indices Sensex and Nifty
Indices have shown a downtick over a year; as a result, large-cap mutual funds are feeling the heat.
Returns for two out of three large-cap equity schemes in the past year are negative.
Large cap is used to refer to companies with a large market capitalisation value.
Market capitalisation is calculated by multiplying the number of a company's shares by its stock price per share.
Large-cap schemes invest in the country's top 50-100 companies.
Their performance is benchmarked against Sensex and Nifty, which are down 4.7 and 3.4 per cent, respectively, in the past one year.
Fund managers are finding it difficult to generate healthy returns due to weakness in several blue-chip stocks.
But some large-cap schemes have outperformed the indices.
There are nearly 43 schemes in the large-cap category (excluding exchange traded funds or ETFs and index funds).
Of these, only 15 schemes sent investors' money into positive territory over the past year.
The rest were down as much as 12 per cent during the period.
On average, the 43 schemes gave negative returns of 1.43 per cent over the past year -- outperforming Sensex and Nifty, which lost 4.7 and 3.4 per cent, respectively.
Some of the well-known schemes in the segment include Franklin India Bluechip Fund, Birla Sun Life Frontline Equity, DSP BlackRock Top 100, ICICI Prudential Focused Bluechip, UTI Mastershare, HDFC Top 200, and HDFC Equity.
Interestingly, these schemes have collective Assets Under Management (AUM, or simply put, fund business) of Rs 76,000, 20 per cent of the total equity AUM (fund business) of Rs 4 lakh crore (Rs 4 trillion).
In other words, a fourth of equity assets -- a category which saw robust inflows from domestic retail investors over the past year -- hasn't made money for investors.
To be fair, one year is too short a period to judge the schemes' performance.
Generally, top holdings of large-cap schemes include stocks like HDFC Bank, ICICI Bank, Reliance Industries, Axis Bank, Infosys, L&T, Maruti Suzuki, ITC, and IndusInd Bank.
The country's fund managers are bracing themselves for a challenging phase as valuations remain high due to lukewarm growth in earnings.
Funds say investors should have reasonable expectations of returns and should not expect very high returns.
With subdued consumer inflation at four-six per cent against double-digit figures in the past few years, fund managers say any return beating the inflation should be accepted by investors.
Large-cap schemes have done poorly versus peers in the last decade -- across tenures.
In the past 10 years, large-cap schemes offered annualised average returns of 8.43 per cent. In the same period, multi-cap, mid-cap, and small-cap funds made between 10 and 12 per cent annualised returns.
In the past three years, the situation looks more grim as large-cap schemes could give a return of 11.75 per cent (annualised) while the other categories (multi-, mid- and small-cap) made robust returns -- 16 to 32 per cent.
Image: A stock trader. Photograph: Reuters