Except for wheat and rice, for which we have huge inventories, overall commodity prices will remain high this year.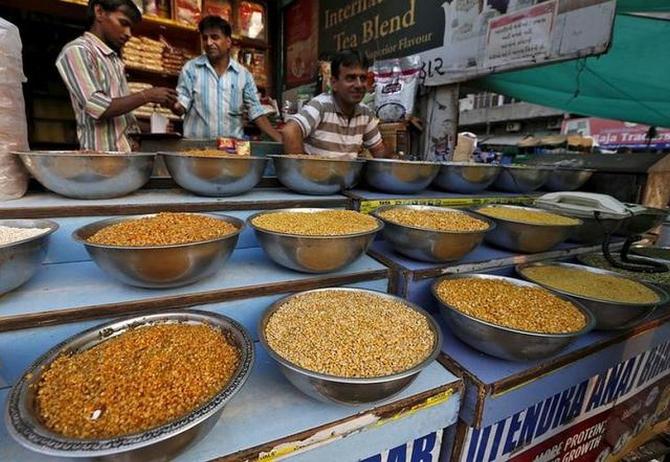 Photograph: Amit Dave/Reuters
As India looks to mend its Covid-battered economy, one thing that will grab the attention of all concerned is the path that both wholesale and retail inflation will follow.
Even the Reserve Bank of India in its latest policy statement said, "Going forward, the inflation trajectory is likely to be shaped by uncertainties impinging on the upside and the downside.
"The rising trajectory of international commodity prices, especially of crude, together with logistics costs, pose upside risks to the inflation outlook."
WPI and CPI in April 2021
In April 2021, the wholesale price index-based inflation rate rose to an all-time of 10.49 per cent YoY, primarily due to a rise in prices of crude petroleum and mineral oils, the commerce ministry data showed.
On a month-on-month basis, the WPI inflation rate rose 310 basis points against 7.39 per cent in March.
Surprisingly, for the same month, India's consumer price index-based retail inflation rate eased to 4.29 per cent, mostly due to reduction in food prices, the data released by the ministry of statistics and programme implementation (MoSPI) on May 12 showed.
It stood at 5.52 per cent in March.
"Food inflation will moderate after the harvest but how long they will remain low remains to be watched because global commodity prices are seen strong in the coming months.
"Except for wheat and rice, for which we have huge inventories, I feel that overall commodity prices will remain high this year," S Mahendra Dev, director of the Mumbai-based Indira Gandhi Institute of Development Research, told Business Standard.
Domestic scenario
Two food commodities that have seen a big surge in prices in the last few months have been pulses and edible oils.
The data sourced from the Department of Consumer Affairs showed that in the past one year, the retail price of groundnut oil rose by Rs 30-80 per kg, while mustard oil had become costlier by Rs 30-70 per kg.
Similarly, in the case of soybean oil, prices in the retail markets have become costlier by Rs 40-70 per kg in the past one year.
"This year pulses, including chana and masur, which has just been harvested, will be scarce because production has been less than expected.
"We have told the Centre to take steps so that prices don't skyrocket," Bimal Kothari, vice-president of the Indian Pulses and Grains Association (IPGA), said at a recent media event.
Kothari said that though India's pulses production had risen sharply in the past few years from 15-16 million tonnes to 22-23 million tonnes now, domestic demand was growing and this year "we are expected to consume 25-26 million tonnes of pulses".
Food secretary Sudhansu Pandey, though, is hopeful.
"In the case of edible oils, prices have started softening in the international markets, while domestically too demand is down 15-20 per cent due to the lockdown.
"In the case of pulses, the Centre is monitoring the situation and will take steps when required," Pandey told reporters while giving an overview of his department's work.
Calibrated imports
In the case of both edible oils and pulses, India is heavily import-dependent.
Rough estimates show that on average the country imports Rs 1-1.1 trillion of these, with edible oils forming the bulk of it.
A well-calibrated swift, import strategy could lower the price burden while not affecting growers.
"We want the Centre to have a tariff value on pulses which is based on MSP," Kothari said.
The Solvent Extractors Association (SEA) in a representation to the government has suggested that though the duties need not be reduced, tariff values could be frozen.
Not misusing Essential Commodities (EC) Act
Both the Pulses and Grains Association and the SEA are unanimous in their suggestion that the Centre or state governments should not misuse the draconian provisions of the EC Act.
Long-term measures
There is a need to have a long-term policy to wean farmers away from grains and cereals to pulses and oilseeds.
The SEA says there should be a higher MSP and a buffer stock of edible oils could be created to stabilise prices.
In the case of pulses too, most industry players and experts agree that the only solution to the recurring shortage problem is incentivising farmers to shift from wheat and paddy to pulses and oilseeds.
"You cannot have a situation where India every year keeps on importing edible oils and pulses worth over Rs 1 trillion due to low domestic production while millions of tonnes of grains lie unused in warehouses due to over production," a leading industry expert said.
The Centre has started working on it. Agriculture Minister Narendra Singh Tomar said the Centre, along with states, was working on a road map to boost production.