Engine snag forces IndiGo to ground 7 new aircraft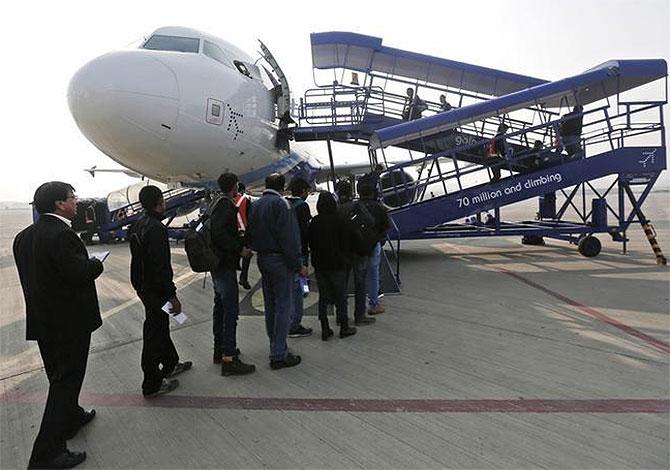 The continuing problem with Pratt & Whitney's A320 neo engine has resulted in the grounding of seven brand new planes of IndiGo, forcing the airline to reschedule many flights.
A Delhi airport official said seven A320 neo aircraft, some barely months old, were parked at the hangar of the airport over the last 10 days due to faulty engines.
"The engines had to be replaced but there has been some delay in providing spare engines which has forced the aircraft to remain on ground," the official said.
The aircraft that have been grounded by IndiGo are VT-ITN, VT-ITS, VT-ITC, VT-ITJ, VT-ITK, VT-ITO and VT-ITF.
Confusion over the recently rolled out Goods and Services Tax (GST) on aircraft engines added to the problem as the engine manufacturer faced difficulty while importing spare engines.
The government last week clarified that airlines would not have to pay taxes on import of aircraft and engines on lease if the GST was already paid on lease rentals.
IndiGo has cancelled more than 80 flights and rescheduled many over the last one week.
For instance, while the airline's original schedule shows 12 non-stop departures from Bengaluru to Kolkata for Thursday, it is selling tickets for eight flights.
Similarly, four flights between Bengaluru and Hyderabad, and three flights between Ahmedabad and Bengaluru have been removed from the Thursday schedule.
When asked about it, IndiGo president Aditya Ghosh said, "It is bound to happen statistically."
An IndiGo spokesperson confirmed that the airline is facing operational issues with the neo engine.
"While this has caused operational disruptions, both Pratt & Whitney and Airbus are working to address the issues.
In the meantime we continue to receive the necessary operational and technical support including the provision of spare engines to help mitigate the operational impact on us," the spokesperson said.
He also added that with the government clarifying that leased aircraft and engine would be exempt from customs duty, the situation would improve.
An aviation analyst said the engine snag coupled with delay in delivering spare engines could result in severe challenge for airlines.
"Delayed deliveries and aircraft on ground (AOG) will challenge IndiGo and Go Air to hold on to the slots and meet commitments to passengers.
The large fleet of the airline allows it to accommodate passengers on other flights with smart network planning," said Devesh Agarwal, chief analyst of aviation blog Bangalore Aviation.
The problem with the turbofan engine has been persisting since late 2015, when A320 NEO launch customer Qatar Airways refused to take delivery.
It subsequently specified competing engines on a number of deliveries.
Aviation regulator Directorate General of Civil Aviation (DGCA) in March decided to conduct inspections on engines with more than 1,000 flight hours, after multiple reports of snag including an incident where a GoAir aircraft landed with an engine failure.
On preliminary examinations, DGCA found that the engine, which is known for fuel efficiency, is facing multiple problems like bowed rotors and premature deteriorating component.
Pratt &Whitney said it was constantly supporting the airlines.
"One example is the upgrade in third carbon seal which got certification in April and was deployed to customers." the spokesperson said.
Photograph: Adnan Abidi/Reuters