"The return fare on economy class to most European capitals from Mumbai are close to ₹50,000 plus. If an LCC can offer direct connectivity for a basic fare of ₹25,000 with additional top ups for meals, baggage and blankets, which further takes the fare to, say, ₹35,000, it is still a value deal."
"Indian customers will lap it up," sector experts tell Aneesh Phadnis.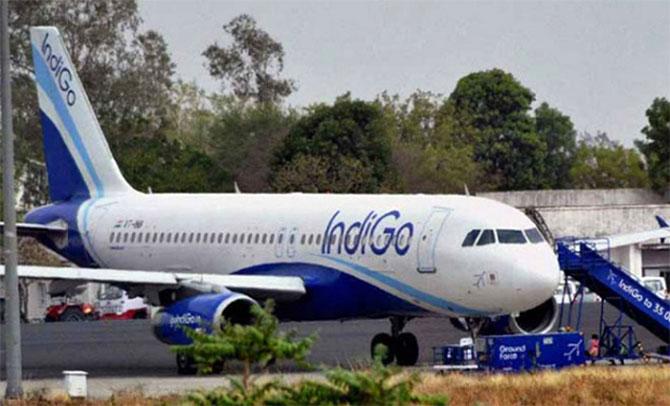 Photograph: PTI Photo
In over a decade since its launch, IndiGo has become the biggest Indian carrier, with a track record of consistent profitability, riding on its low-cost model. Now, the airline is keen to repeat its domestic success with long-haul flights abroad.
While IndiGo already flies overseas to short-haul destinations such as Dubai, Kathmandu and Bangkok, it is eager to pilot its way to cities in the United Kingdom and Europe that have an in-flight time of longer than seven hours. That explains Indigo's unsolicited bid for the debt-laden and loss-making Air India last month, after the Union cabinet gave its in-principle nod to the national carrier's strategic disinvestment.
Air India and Jet Airways are the only two airlines that fly long-haul flights from India. Yet Indigo is not relying solely on Air India to give wings to its dreams. Last fortnight, IndiGo co-founder and promoter Rakesh Gangwal said the airline will launch long-haul flights -- with or without Air India.
What's fuelling IndiGo's long-haul plans?
IndiGo's new ambition will pit it against European and Gulf carriers, which dominate India's international traffic. Around 53.6 million passengers flew on international routes from India in 2016; over two-thirds of them on a foreign carrier.
The two Indian carriers, Air India and Jet Airways, currently operate long-haul flights to Europe, the United States, Japan and Australia. The long-haul market accounts for over 40 per cent of India's international traffic, and typically the flights are routed via one or two stops.
So, what is driving IndiGo's long-haul plans? With over 40 per cent share at home and a wide network, the airline's management feels it is in a position to funnel passengers on international routes from various parts of the country.
At the same time, the Indian market is significantly underserved on non-stop international destinations.
"Success is not dependent on developing these international markets. In fact, we would take passengers from connecting international hubs, high-cost non-stop operators and fly them on our low-cost flights," Gangwal said last week.
Analysts believe IndiGo could look at connecting price-sensitive markets with high leisure and NRI traffic.
"There are a lot of routes which see untapped potential -- from North India to cities in the UK, like Manchester and Birmingham, and the west coast of India getting connected to African cities like Nairobi, Johannesburg and Addis Ababa," says Ameya Joshi, founder of aviation blog, Network Thoughts.
IndiGo's strategy, say analysts, could rely heavily on low fares, aircraft with dense cabin configurations (300 plus all-economy seats), operations to secondary low-cost airports, paid meals and a point-to-point service to compete with others in the market, such as SpiceJet, which, too, has plans for long-haul.
---
Recommended for you
---
Both Indigo and SpiceJet are looking at a stripped down version of long-haul flights to keep the fares low.
SpiceJet Chairman and Managing Director Ajay Singh has announced plans to introduce direct Delhi-London flight at ₹30,000 for a round trip, far lower than the ₹40,000-Rs 45,000 offered by other airlines on this route.
Managing costs will be crucial to IndiGo's long-haul success, and it may opt for less expensive Gatwick or Stansted airports for its London flights, instead of Heathrow. Joshi says even if IndiGo acquires Air India, it will look to induct fuel-efficient Airbus A330neo or the Airbus A350 aircraft.
"If IndiGo takes over Air India's international operations it will look at latter's Boeing 777s and Boeing 787s as a stop gap arrangement before introducing its own planes," he says.
Sector experts, however, believe IndiGo may have to develop more short-haul international destination to feed its long-haul flights.
"There are not enough routes between India-Europe to sustain daily flights with only point to point traffic," they say.
London, which is the biggest long-haul destination from India sees an annual traffic flow of around 2 million. Within Europe, Paris comes a distant second with around 0.5 million passengers to and from India annually.
Over 70 per cent of passengers from India travel onward from hubs such as Paris, Frankfurt or Amsterdam. On the other side, too, a lot of traffic from Europe travels via India to Bangkok, Colombo and Kathmandu.
Other low-cost airlines like AirAsia X and Scoot (a subsidiary of Singapore Airlines) do not rely on point-to-point connections alone, and have managed to successfully poach traffic on India-Australia route with low fares. IndiGo will have to do something extra to wrest traffic from them.
Indigo may have to tweak its low-cost model to add additional frills to woo passengers. "Passengers look for overall good experience. They are willing to pay for meals and luggage and will expect onboard Wi-Fi service on long duration flights," says an aviation analyst.
Yet everyone believes there is enough room for low-cost players on long-haul destination.
John Nair, head (business travel) Cox & Kings, says, "IndiGo's plans to launch an LCC model for long-haul flights will be received quite enthusiastically. The return fare on economy class to most European capitals from Mumbai are close to ₹50,000 plus and goes up during the holiday season. If an LCC can offer direct connectivity for a basic fare of ₹25,000 with additional top ups for meals, baggage and blankets, which further takes the fare to, say, ₹35,000, it is still a value deal. Indian customers will lap it up," Nair says.
However, aircraft acquisition cost and seat density will be the key drivers to profitability, say industry experts.
"The cost per seat can be high or low depending on the choice of aircraft, how it is financed, configuration and services which are offered on board on a fee," says an expert.
Also read: IndiGo shares worth Rs 120 crore sold!