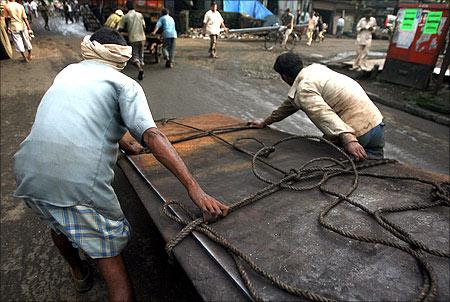 Image: Workers pull a cart laden with metal sheets at an industrial area in Mumbai. Photograph: Arko Datta/Reuters
India's economic growth slowed to a lower-than-expected 7 per cent in the three months through June from 7.5 per cent in the previous quarter, government data showed on Monday.
Analysts polled by Reuters had forecast annual growth of 7.4 per cent in the quarter.
Comments
Indranil Pan, group chief economist, IDFC, Ltd
"The 7 per cent number will get better in the next few quarters on the back of expected government expenditure and consumption demand because of lower inflation on anticipated rate cuts by the RBI.
"Agriculture and mining were the big surprise this time, while government spending was not as per expectations."
Sujan Hazra, chief economist, Anand Rathi Securities
"GDP data is clearly showing that growth has not accelerated much and also the difference between the nominal data and the yearly data is suggesting that there is a very low inflationary situation.
"Either way you look at it, it indicates scopes for further monetary easing."
Devendra Kumar Pant, chief economist, India Ratings and Research
"The dismal electricity sector performance pulled down 1QFY16 industrial growth to 6.5 per cent from 7.7 per cent.
"GDP growth this year will be led by consumption growth (backed by falling inflation and monetary easing), investment growth revival will take place once capacity utilisation starts increasing.
"Weak global demand also attributed to lower growth in first quarter."
A Prasanna, economist, ICICI Securities Primary Leadership
"The 7.1 per cent gross value added number is misleading and should not be compared to global growth.
"Growth conditions are still weak and are picking up in a very, very gradual manner.
"The main reason for GVA to be higher than expected is due to the surprise agriculture growth. Going ahead we expect agriculture growth to weaken due to the uneven monsoon, which will pull down the growth number."
Shilan Shah, India economist, Capital Economics
"At face value, today's GDP figures for Q2 suggest that India matched China as the world's fastest-growing major economy last quarter.
But the GDP data remain inconsistent with numerous other indicators which suggest that, at best, the economy is in the early stages of recovery after three years of tepid growth.
"The official GDP data are overstating the strength of the economy, most probably by a significant margin.
"For now the key point is that they remain inconsistent with a number of other activity indicators that point to a slowdown in the economy over much of the past three years, and only a modest improvement more recently."
R Sivakumar, Head of fixed income, Axis Asset Management
"Certain sub-sectors have expanded quite sharply, consistent with the pick-up in manufacturing activity. Overall, I'll say it looks like a good number.
"I would, however, say that this new series has proved a bit difficult to work with. Conceptually the biggest questions in the new series is inflation.
The GDP deflation seems to indicate a level of inflation that is much lower than the inflation we have seen in the last few years, so that projects a much higher real rate of growth.
Jyotinder Kaur, Principal economist, HDFC Bank
"Perhaps expectations are getting ahead of themselves at this stage.
"There's a lot of emphasis that's being put on the opportunities that lie ahead for India and not too much attention is being paid to the challenges that remain today.
"From the looks of it, it seems to be suggesting a further deceleration from last quarter, which in our view clearly paves the way for two more repo rate cuts before the close of the financial year."
Madhavi Arora, economist, Kotak Mahindra Bank, Mumbai
"The GDP number is disappointing, but overall, going ahead we expect India's economic growth to be driven by domestic demand.
"With commodity prices falling, there should be a boost to corporate margins going ahead and household spending should also go up.
"We expect RBI to cut interest rates by 25 basis points in September as global growth concerns still continue and India is importing low inflation thanks to easing commodity prices."
(Reporting by Suvashree Dey Choudhury, Karen Rebelo, and Himank Sharma)