India serves as the company's R&D hub as it morphs into a health tech major.
Sudipto Dey and Sangeeta Tanwar report.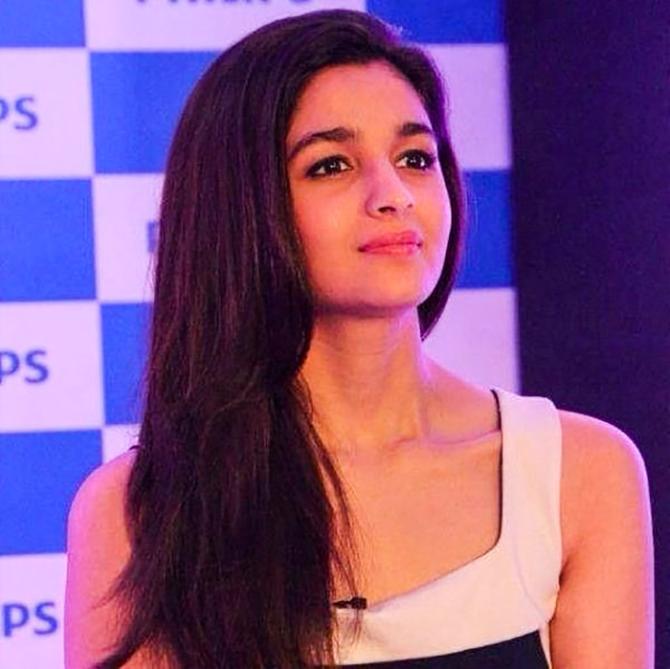 Actress Alia Bhatt is a Philips brand ambassador.
Photograph: Courtesy Philips.
The last seven years has been a marathon of sorts for Frans van Houten, a 30-year plus veteran of the 126-year old Royal Philips, the Netherlands-based health-technology major.
He says rising healthcare costs is a big challenge facing all markets across the globe. The answer to that, he believes, is technology.
"Technology can play a big role in delivering health care and diagnosis at a lower cost," he says.
And that is what he wants to drive out of India.
Two manufacturing facilities in India develop and export products for the local market and global markets alike. "We export medical equipment from our Pune facility to about 80 countries. Again, Chennai serves as a facility to manufacture consumer products covering nutrition and personal care segment," he says.
Since 2011, when he was made chief executive officer, van Houten took the then electronic and lighting conglomerate on a massive transformation drive.
En route the group moved away from its historic roots in manufacturing light bulbs, television sets and CD players.
It first divested its consumer electronics business, and then, in 2016, hived off its lighting business into a separate company.
Last year, van Houten announced that the group has pivoted into a healthcare technology company with $18.3 billion of annual business, largely from health technology.
India is a major R&D hub for Philips globally.
Of the 6,000-odd people in its India operations, 3,500 are into R&D.
"We plan to add another 2,000 to that number going forward," says van Houten.
So, why would India be so important for Philips' transformation?
Explains Chandru Chawla, head (corporate strategy, M&A and new ventures), Cipla, "India is important for Philips for the following reasons.
"It's an easy and cheap place to experiment with new innovations and to pilot those innovations.
"Also skilled technology manpower is easy to get and is inexpensive.
"Also there is an increasing need for Indians to take more control on their health conditions. That's why the market for glucometers exploded.
"Private hospitals are coming up in tier-II and tier-III towns which offer sophisticated facilities and as a result companies like Philips, GE and Siemens are benefitting from the boom."
What excites van Houten most about India is the prospect to drive out of India value-based healthcare.
Van Houten explains that the health technology space is not a high-volume but a high-value business.
"We need scale for manufacturing. We are developing products that fit the Indian market and can also be exported globally," he says. The focus is on performance over price. "We would develop products that can serve large markets as it helps keeping costs in check," he says.
Ultrasound equipment is a great example of a low-cost machine. "It sort of democratises ultrasounds. We are also looking at opening up whole new markets with such affordable devices," he says, visibly excited.
Home care medical services that Philips launched in 2016 is another area that van Houten is excited about.
Currently, serving around 2,000 patients, the service is set for ramp up to five cities across the country.
Philip's experiments in affordable assisted healthcare is something many global healthcare majors are keeping a close tab on, say experts. As part of effort to build strong consumer relationship on the ground, Philips has entered into scores of partnerships with government and private hospitals, says van Houten.
"For a health-technology company like Philips to be successful devices that it develops need to be compact, portable, battery-operated," says Chawla. "There is a growing market for devices that could even send feedback to the patients' doctors for those conditions where regular monitoring is needed."
Van Houten concedes there are some challenges in the India strategy.
"We are looking for more government support to encourage exports," he says.
There are many components that need to be imported to manufacture a medical device. "An offset scheme will go a long way in boosting exports," he says.
Agrees Siddharth S Singh, associate professor, marketing, Indian School of Business: "Healthcare manufacturing ecosystem is a complex one and is still evolving in India. Infrastructure and talent could be a challenge."
Singh is of the view that the government needs to play a proactive role to help develop the ecosystem for world-class manufacturing in the country.
Van Houten is a running freak. He may well figure how to crack that bit on his next long-distance run.