Coca-Cola's acquisition of British coffee chain Costa, its biggest acquisition of a brand in history, faces three challenges in India.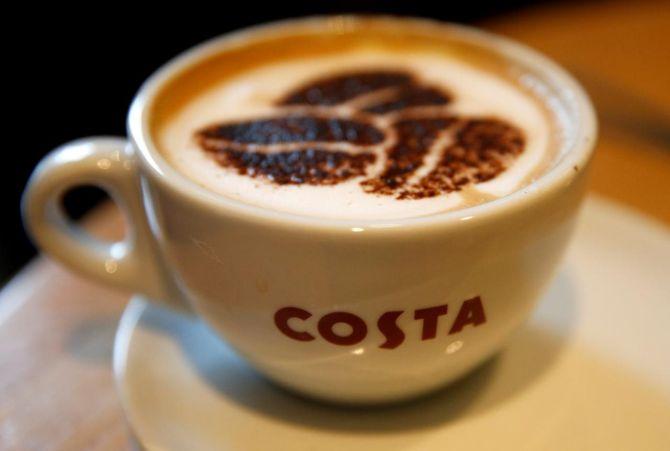 It's no rocket science to understand why Coca-Cola Co paid a staggering $5.1 billion to buy British coffee chain Costa, its biggest acquisition of a brand in history.
With increasingly health-conscious consumers moving away from sugary beverages, Coke is betting big on coffee as one of the alternatives.
With over 3,800 Costa outlets worldwide (Coke does not have an F&B retail chain) under its belt, it will be up against Starbucks (with over 27,000 outlets), the world's largest coffee retail player that has just signed a mega-deal with Nestle, to sell its ready-to-drink beverages in retail and grocery stores across the world.
What is not clear, however, is how the acquisition will pan out in India, a key market for the beverage maker and where Costa also has a presence through a franchise agreement.
Coke India executives do not have any official comment to offer.
But insiders, analysts and those in the business say that they face three challenges.
For starters, Costa in India is a small player, ranked fifth in the pecking order (based on number of outlets), and has been making financial losses annually like many other coffee chains.
Two, unlike in the US and other markets, Coke already has a reasonable presence in hot coffee market, dispensing the "Georgia" brand through vending machines, and India is one of the key markets where it has expanded.
So does it need Costa? Coke CEO James Quincey announced that while it had Georgia mostly in the ready-to-drink segment, it wanted to get into the larger hot coffee market through Costa.
Third, the Costa franchise in India is held by a company owned by Ravi Jaipuria -- the largest bottler for rival Pepsi and responsible for half its volumes.
Japuria, however, said he has no intention of discontinuing with the Costa franchise and will hold discussions with the new owners.
That could be a very sensitive issue to tackle.
So what does the acquisition offer for Coke India?
With revenues of around $300 million, the coffee and tea bar business is a tough one and accounts for just 8 per cent of the food and beverage chain market.
Many companies are facing financial stress due to over expansion.
Costa, for instance, has drastically reduced the number of outlets from 100 a few years ago to 46 currently to cut its losses, which stand at Rs 46.8 crore (in March FY 2017).
Competitor Barista, controlled by Carnation Hospitality, part of the packaging and foods services company Rollatainers Ltd, has followed a similar strategy of shutting down outlets to pare losses.
Costa is a very small player in the business with a market share (based on outlets) of just over 2 per cent of the over 2,300 branded coffee bar chains in the country.
It is far behind market leader Café Coffee Day (about 1,742 outlets excluding its express outlets) which seemed to have cracked the code of the business, Starbucks, Barista and the growing McCafe, according to data from consultancy firm Technopak.
Even the two tea bar chains, Chai Point and Chaayos, have more outlets.
Of course, Coke could push for a major expansion and invest money, but that is not easy.
For one, it does not have the experience of running F&B retail chains and sells its products through distributers, stores, restaurants and kirana stores.
Two, it cannot even push its own beverages in the coffee outlets, because the franchise is owned by its rival bottler.
Even assuming it was able to resolve the franchise issue in its favour (get a new franchisee or decide to run it on their own), it is not an easy business to expand.
"The biggest stumbling block is the high cost of real estate to set up outlets, which is as much as 30 per cent of the revenue.
"And with the high price of coffee (over Rs 150) on offer it is very challenging to scale up as the outlets are viable only to a few areas where consumers can afford the high price," says Arvind Singhal, chairman of Technopak.
Singhal also says that unlike in western markets there is a very small on-the-go market for coffee, which again limits growth and volumes.
Typically, the café model incurs one of the highest revenue-to-rent ratios in the organised sector with all the players in the food and beverages retail business vying for the same space, pushing rentals up.
Also Coke has been able to successfully expand the "Georgia" coffee brand through its vending machines offering freshly ground hot coffee to restaurants, retailers, institutions as well as big chains, the biggest of it being McDonald's.
So even if it were to sell ready-to-drink cold coffee in the market to consumers, it already has a well-established brand and does not require Costa, say experts.
Analysts, however, say that with Costa in its fold, Coke could potentially become a major rival to McDonald's rather than a partner in India -- and that might not be an advantage.
That is because McDonald's through "McCafe" a coffee house-styled F&B chain, offers freshly brewed coffee at a separate counter (it does not offer Georgia in these stores) in some of the Mac stores and their numbers are more than double that of outlets of Costa already.
Third, it has to resolve the franchisee issue. Jaipuria is clearly in no mood to give up, and insiders in Coke say that it is a matter of time before the agreement is called off.
But experts in the business say that such a deal would mean that they have to negotiate a price for the Pepsi bottler to hand over the outlets as well as the franchisee.
And he might ask for a steep price to recover his losses.
Whether it is Jaipuria or someone else with expertise in running cafes, those who know the business say the franchisee route supported by Coke could be the best way forward for the beverage company to leverage Costa.
Even Quincey admitted that retail was not Coke's area of expertise and that is why they would continue with the Costa management.
The final call is still awaited.
Photograph: Phil Noble/Reuters