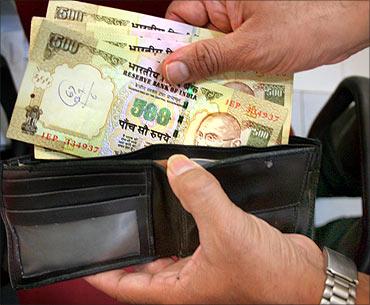 Pulses, wheat, milk, sugar and oilseeds are 10-21 per cent costlier since May
Food prices have flared up over declining output after two years of drought and with new arrivals still a few months away.
Reports of the monsoon being delayed have added to market jitters. Government price-control measures in sugar and pulses have not helped much.
Sugar, pulses and wheat have seen a decline in production from the previous season and traders are estimating an output lower than the government's earlier projections.
Pulses, wheat, milk, sugar and oilseeds are 10-21 per cent costlier since May, when the first monsoon forecast was issued by the India Meteorological Department.
The monsoon arrived in the southern coast with a week's delay.
"A delayed monsoon arrival could lead to lower sowing area, delayed sowing, and low crop productivity," said Ajitesh Mullick, associate vice-president, retail research, Religare Commodities.
The Reserve Bank of India said in its latest monetary policy that the upsurge in inflation in April was led by food and commodity prices.
Inflation based on wholesale prices rose 0.34 per cent in April against a 0.85 per cent decline in March.
Inflation based on retail prices rose to 5.39 per cent in April from 4.83 per cent in March.
"The impact of an expected improvement in the monsoon on food inflation is likely to be felt in the second half, once produce reaches markets.
"Crops with lower irrigation coverage and, thus, higher monsoon sensitivity, such as pulses, are likely to pull food inflation lower," said Kanika Pasricha, an analyst with Standard Chartered Bank.
Most food prices in India are firming up in tandem with global markets.Short supply and higher seed demand from farmers have hoisted groundnut oil prices to a two-year high.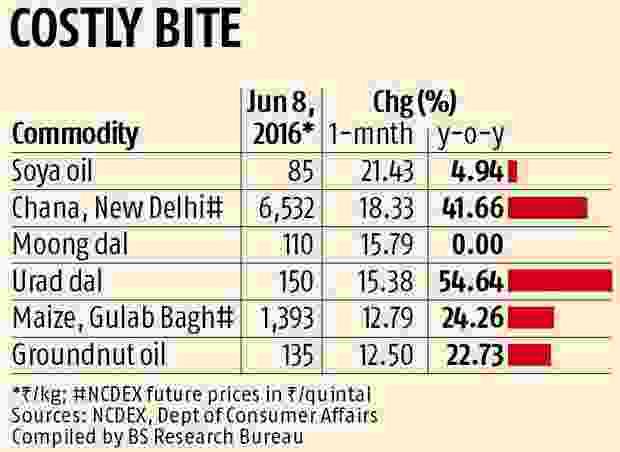 The price has reached Rs 2,130 per 15 kg and could touch Rs 2,500 in the next two months.
"Farmers are buying groundnut for sowing, which has caused a shortage for crushing mills. Prices will continue to firm up," said Ravji Mandanaka, president of the Gondal Oil Mills Association.
Pulses prices have jumped 16 per cent since May, despite several measures by the government to restrict the spike. Moong, urad, gram and masoor have been climbing for around five weeks on a sustained rise in demand.
"Pulses production has been lower this year globally.
Prices are rising across the world. Since the next crop is expected to arrive after four months, there is unlikely to be any respite," said Bimal Kothari, vice-chairman of the India Pulses and Grains Association.
Sugar prices in the wholesale market have almost doubled on low production from a recent bottom of Rs 1,900 a quintal last September.
Raw sugar futures for delivery in July on the Inter-Continental Exchange have risen 35 per cent since mid-April on concerns of tightening global supply.
This makes exports attractive at a time when the government is trying to control retail prices around Rs 40 a kg.