Arvind Subramanian was appointed CEA in October 2014 and got a year's extension in September 2017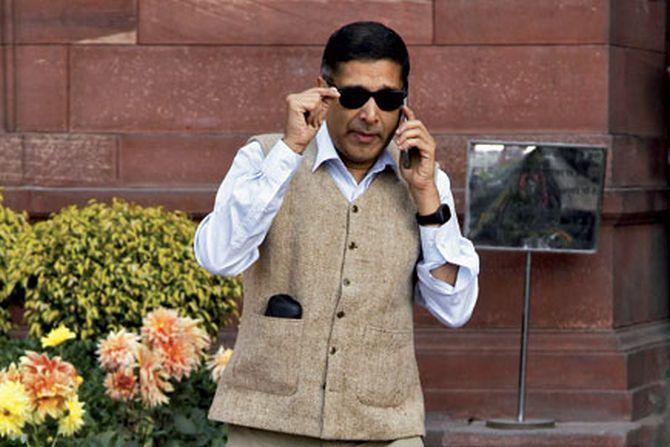 Chief Economic Advisor (CEA) Arvind Subramanian is in contention to be the next chief economist of World Bank, Business Standard has learnt.
This is with the backing of the finance ministry; a very senior official from there has sent a letter of recommendation to the bank.
If appointed, Subramanian will be the second Indian chief economist of the Washington-headquartered global institution.
Former CEA Kaushik Basu had that job in 2012-2016.
The CEA is expected to meet the World Bank's brass in Washington DC at the International Monetary Fund (IMF) and World Bank's annual spring meeting in late April. An announcement is expected only after that.
Business Standard reached out to Subramanian and the World Bank for their comments. The CEA has not responded.
"The search for Chief Economist has just commenced. We will not engage in speculation and will only make an announcement when the Chief Economist has been selected," said David Theis, the World Bank's press secretary, in an emailed reply.
The position has been vacant since January, when American economist Paul Romer left the post after 15 months.
According to a report in London's The Financial Times newspaper, the "outspoken" Romer had been in a battle with staff economists at the bank almost since his arrival in October 2016.
"Areas of dispute have included everything from Mr Romer's diktats on grammar and brevity in reports to serious questions about methodology," the paper said in a report earlier this year.
Adding some at the bank were upset by what they saw as his abrasive nature.
Subramanian was appointed CEA in October 2014 and got a year's extension in September 2017. His economic surveys have stood out for starting debate and discussion on a number of issues including providing targeted government services through the 'JAM trinity' of Jan Dhan-Aadhaar-Mobile, a state-owned bad bank to take over Rs 7 trillion worth of toxic assets in the banking system, and Universal Basic Income for the poor.
Subramanian has also been a member of a high-profile panel which was tasked with recommending a medium-term fiscal road map for India.
He had authored a lengthy dissent note to the committee's recommendations, in which he suggested that the focus of policymakers should be on reducing primary deficit rather than fiscal deficit.
At one point of time, the CEA was also one of the most vocal critics of the Reserve Bank of India's six-member Monetary Policy Committee, and its inflation modelling.
The second part of his 2016-17 economic survey, released in August, said that there is a 'considerable' case for monetary policy easing given that retail inflation is at historical lows and there is a wide divergence between headline numbers and inflation targets.
In his latest 2017-18 Economic Survey, the CEA had presented data to show that there are 21 million 'unwanted' girls in India, in that there is something called "son meta-preference".
"You infer that not by looking at sex ratio at birth but by looking at the sex ratio of the last child. Is the last child male or female? That data is striking. The last child is mostly male, and when it is not the last child, it is mostly female," he has said.
Subramanian is an alumnus of the Indian Institute of Management-Ahmedabad and the University of Oxford.
He has also served as an economist at the IMF, and is currently on leave from his position as a Senior Fellow at the Peterson Institute for International Economics in Washington DC.
Photograph: Vijay Mathur/Reuters