According to the company, 200,000 handsets have already been shipped in the country for the first phase of delivery.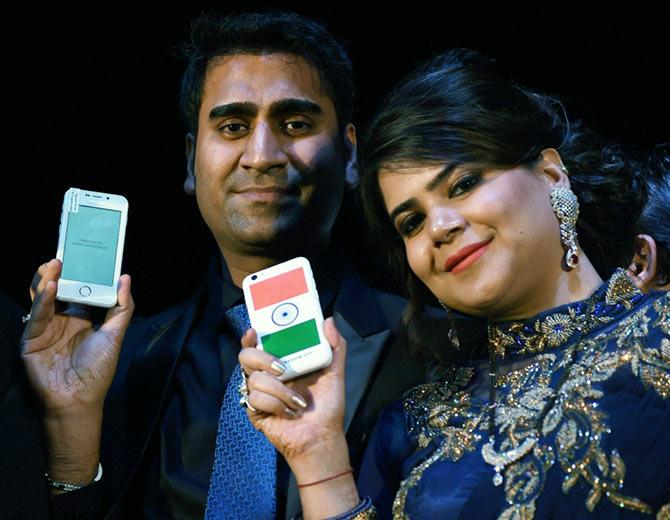 IMAGE: Mohit Goel, Director of Ringing Bells, with CEO Dhaarna Goel.
Photograph: Manvender Vashist/PTI
After almost two months, Freedom251 is again creating a stir.

The smartphones, however, are still some time away as delivery of handsets may begin after June-end.
This is not the first time Ringing Bells, the company offering the Rs 251 smartphones, has altered plans.
The story of Freedom251 has been full of twists and turns. The latest being the delivery date of the devices.
Mohit Goel, chief executive officer and one of the promoters of Ringing Bells, told a news agency last week the company was ready to deliver 200,000 handsets. "We will start delivery from June 30," Goel had said.
When contacted by Business Standard, Goel on Tuesday said, "We will showcase Freedom251 handsets to the press within a week. Delivery will begin afterwards."
The company had earlier said it would begin delivering the devices from mid-April.
Doubts have been raised by analysts on various aspects of Freedom251 from its origin and manufacturing locations to viability of the project.
Goel said the smartphones were being manufactured in two plants in Mumbai and Haridwar.
"We have imported components from Taiwan and are producing the phones in the two plants," he added. The handsets would be "fully made in India", he said.
Days after announcing Freedom251, Goel along with Ashok Chadha, president of Ringing Bells, had said the devices would be imported from Taiwan.
A fortnight later, the company said the handsets were being produced by third-party manufacturers in plants in Noida and Delhi.
The Noida police have booked three persons behind Freedom251, Mohit Kumar Goel, Dharna Garg and Ashok Kumar Chadha, based on a first information report filed by M P Kirit Somaiya, accusing Goel and Ringing Bells of cheating.
The Enforcement Directorate and the Income Tax Department have issued notices asking the three not to leave the country.
The initial 200,000 handsets, according to a report, will be sold to customers by lottery in various states.
How the company plans to cater to the rest of the 2.3 million customers who had booked phones during the initial registration is not clear.