Urjit Patel said said the process of remonetisation was on and estimation of costs was a complex exercise.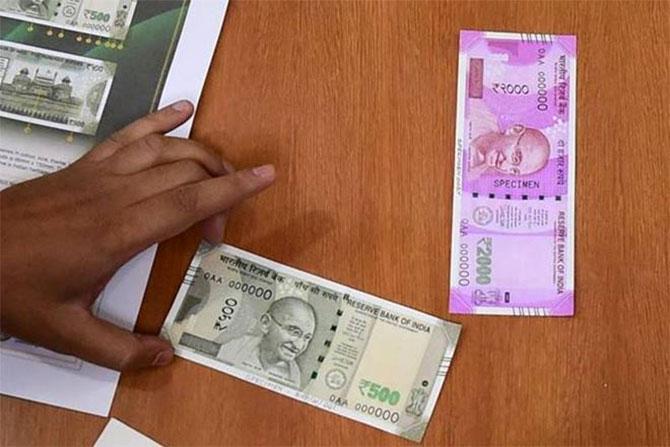 The government approved the new design currency notes of Rs 500 and Rs 2,000 denominations on June 7, 2016.
This was five months before Prime Minister Narendra Modi announced, on November 8, demonetisation of the earlier Rs 500 and Rs 1,000 notes, Reserve Bank (RBI) Governor Urjit Patel told a parliamentary panel.
Patel had appeared on January 18 before the Standing Committee on Finance and made a verbal presentation on the controversy. However, as several members were not satisfied, the panel had asked Patel for written responses to these concerns.
A copy of these, given recently to the panel, have been accessed by this newspaper. Sources said Patel has been asked to reappear before the panel on May 25, there being some perceived gaps in the written responses.
The panel met on April 20, to review issues related to the Ministry of Corporate Affairs. Opposition party members such as former prime minister Manmohan Singh and the Biju Janata Dal's Bhartruhari Mahtab wanted to summon Patel on May 25.
Bharatiya Janata Party members Nishikant Dubey, Kirit Somaiya and S C Udasi opposed this, saying demonetisation was now a non-issue.
To a query from Somaiya on whether demonetisation would help curb undisclosed money, the RBI governor had said the government was best placed to reply on this.
To another Somaiya query on fake currency, Patel said estimating counterfeit notes in the hands of the public was difficult.
However, a study by the Indian Statistical Institute estimated fake currency in circulation at around Rs 400 crore (Rs 4 billion), with Rs 70 crore (Rs 700 million) being pumped into the system annually. Patel also said RBI found counterfeit notes in the denomination of Rs 500 and Rs 1,000 in circulation, and that it was getting increasingly difficult to identify these.
To a query by panel chairman Veerappa Moily, a Congress member, the governor said the process of remonetisation was on and estimation of costs was a complex exercise.
Another Congress member, Jyotiraditya Scindia, wanted to know the views of former RBI governor Raghuram Rajan on demonetisation, as consultation for the exercise appeared to have begun in January 2016.
Patel said no minutes of conversations with his predecessor were available.
Much to the annoyance of opposition MPs, the governor said the central bank was still counting the amount of money that had come back into the system after demonetisation.