We are certainly for digitisation. I do not have opinion about demonetisation. I still don't, says Bill Gates.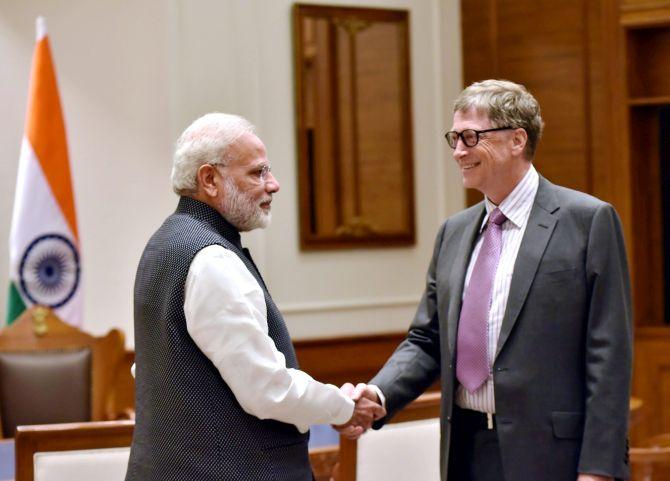 Image: Prime Minister Narendra Modi with Bill Gates, co-chairman of the Bill & Melinda Gates Foundation, during a meeting in New Delhi on November 16, 2016. Photograph: PTI Photo/PIB.
A day after calling the demonetisation of Rs 1,000 and Rs 5,00 notes as an "important step to move away from a shadow economy" and a "bold move", Bill Gates did a U-turn on Thursday and said, "I have no opinion about demonetisation".
He avoided commenting on the government's move despite repeated queries even as he put his full weight behind the growing digital economy.
On Wednesday, the founder of Microsoft and now the co-chair and trustee of the Bill and Melinda Gates Foundation at a public lecture, hosted by NITI Aayog, had said: "The bold move to demonetise high-value denominations and replace them with new notes with higher security features is an important step to move away from a shadow economy to an even more transparent economy. And digital transactions really, I think, will rise dramatically here."
But on Thursday, speaking to a select group of journalists, Gates avoided making a comment on demonetisation one way or the other.
One of the journalists asked: "We saw today morning some comments in the newspaper that you supported Modi's position on demonetisation. Do you think making people stand in queues to access their money is good governance?"
He replied, "I had nothing to do (with it), I had no advanced notice, no involvement. Nobody asked my opinion."
When asked yet again to clarify on his statements on Wednesday, he said, "I already answered that. Nobody consulted us before or after. All I knew is that a few days before, I read about demonetisation in newspapers. When I was at the airport, there was a long queue. Someone pointed to it and said that is demonetisation. I do know that independent of demonetisation, digitisation is a good thing."
"We are certainly for digitisation. I do not have opinion about demonetisation. I still don't...You know what it is, better than I do," he added.
"If you want Rs 50 transactions to happen on less than two per cent overhead, be able to send money to your relatives at a distance, sell your crops and save a certain amount for the next season, the digital platforms will let us to do great financial services for the poor people in a way that the non-digital system will not let you do," he said.
He noted the digital economy, running on payments banks, mobiles and other forms would be more cost-efficient than micro financing, which had provided modest benefits but not as dramatic as people had expected.
"As you digitise those things, the interest rates, the transaction rates go down and the ability to make savings go up. So, we have been dealing with the government with payments banks. Those we think will be activated very soon."
He also extolled the virtues of digitisation for delivering health benefits to people. He gave the example of the foundation's efforts to eradicate polio in Nigeria. Gates noted that GPS-based tracking had helped the polio teams reach the right villages and only through that the country had been able to come close to eradicating polio in the country.
On how cashless a society could turn through digital transactions he said, "It is very modal. There are countries where cheques have reached a critical mass and countries where cheques are a joke. In Nordic countries, there is very little cash today because their debit cards have very little fee. Those debit cards are now moving on to cellphones."
---
Gates-Prasad discuss Microsoft's role in 'Digital India'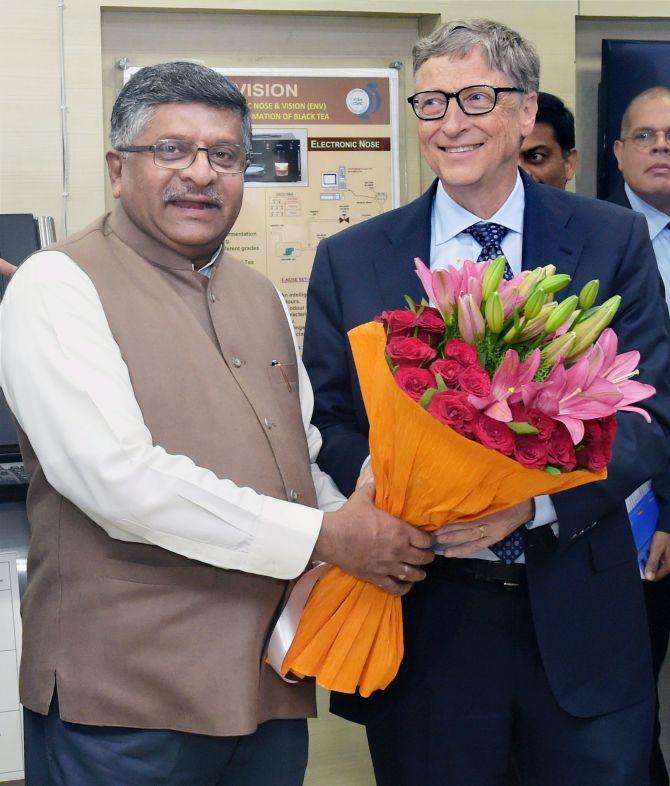 Image: Union Minister for Electronics and Information Technology and Law & Justice Ravi Shankar Prasad with Bill Gates, co-chairman of the Bill & Melinda Gates Foundation, in New Delhi on Thursday. Photograph: Manvender Vashist/PTI Photo.
Sources said Gates is interested in getting into the payments bank application as he wants to streamline digital payments system for economically weaker sections. Karan Choudhury reports.
Aiming to work with the Indian government on various issues, including e-payments, digital health, digital literacy and e-agriculture in India, Bill Gates, US business magnate, philanthropist and Microsoft founder met Minister of Information Technology, Law and Justice Ravi Shankar Prasad. From cyber security to social issues, Gates wants to partner with the Indian government on a number of initiatives.
The meeting, which went on for 45 minutes, was attended by senior officers of the IT ministry as well as Gates and members of the Bill and Melinda Gates Foundation.
Sources said Gates was interested in getting into the business of e-payments in India as he wants to streamline the digital payments system for economically weaker sections in India.
Industry experts said Microsoft was anyway providing back-end support to a number of payments bank in India, which are set to launch in the next few months. The ministry has requested the foundation to be part of the digitising process.
Reviewing the Digital India programme, Gates after the meeting said the Foundation is keen on working in various areas along with the government.
"It's a very exciting time in India and some of these digital platform opportunities are really quite amazing. The government has invested manpower and the payments banks and payment infrastructure. It is now a case of building the applications on top of those. We need to work on health issues, health applications. Our Foundation is committed to working on those areas – relationship with this ministry will be very critical for us," Gates said.
Gates also discussed issues around cyber security. Microsoft has already set up a cyber security engagement centre in the Delhi-NCR region that helps to respond to cyber threats in the country. Sources said Gates wants to increase collaboration with the Indian government on these issues.
Specific to health in India, Gates went on to say that there is a question of having a health record, what it looks like and how one can ensure it is standardised and kept private. "There is a lot of experiences around the world and with great efficiency, having a health record will be important," Gates added.
Sources also said Gates is interested to be a partner in the digital village scheme, where the government has identified 1,000 villages for digital education. Gates told the ministry that the foundation wants to work with start-ups, which can build applications and value-added services for Aadhaar and UPI. The ministry would identify such start-ups and refer them to the Foundation.
"We had a very profitable meeting, Bill Gates is a true friend of India. He is working enormously in India through his Foundation. It was exciting to hear his deep interest for digital payments in India and also digital health. I disclosed to him the entire nature of Aadhaar-enabled payments on other platforms and also digital health, and also gave him an outline of entire digital India programme," said Prasad.