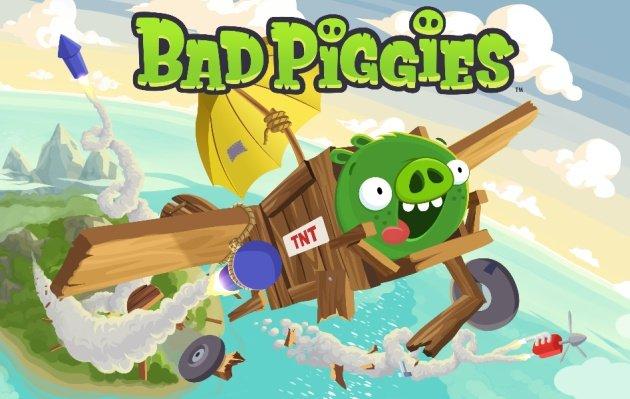 Most smartphone owners would know about Rovio Entertainment's ludicrously popular game franchise, Angry Birds.
The company, which first launched the Angry Birds iOS game in 2009 and went on to add three more titles in the same series, is now out with a new game called Bad Piggies.
Having spent a week trying out the various stages of Bad Piggies, we must admit that it is definitely not an easy game like Angry Birds.
This physics puzzler is set in the Angry Birds' universe where the green pigs take centrestage and not the birds. Pigs are not grabbing eggs here, but the player has to create modular vehicles to cart them.
These carts then roll, tumble or fly across the level - according to the rules of physics - getting the pig onboard to the final score. As you get on with this build-a-vehicle puzzle, each stage will require optimal use of whatever parts (to build the cart) the player is given at each level.
There are more than 30 types of add-ons to build the cart, ranging from simple blocks, wheels, umbrellas, helium-filled balloons, boxes of TNT. So, it takes a few minutes to figure out the right combinations before completing a stage.
We found that higher
levels can get frustratingly difficult for the average Angry Bird lover. It is nice that the player has to place the tools to build the cart within a strict grid, thereby making it a tad easier.
In the early levels, it is relatively obvious to build and score, but soon enough the options grow and you'll find yourself rebuilding the cart several times to complete a level. We liked the fact that load distribution is an integral element of the game - placing the pig at the front, middle or back of the cart for example can yield starkly different results.
Sandbox mode is a fun add-on. Here, the player gets to experiment with various combinations of parts on the cart and see what they can do when used together.
Once stuck on a level, gamers get help from 'pig mechanic' to build the correct vehicle (just like the Mighty Eagle of Angry Birds), but Rovio now sells limited set of pig mechanics for a price unlike Angry Birds where the use of Mighty Eagle was unlimited once purchased.
Rovio also has an option of giving out free mechanics as the player progresses through the game, and it is a welcome addition since Bad Piggies is decidedly tougher than its predecessors.
Don't let the game's cartoon-like graphics and childish soundtracks fool you, because Bad Piggies is anything but a children's game.