Six months after it closed its factory in Chennai, the company has promised to set up 10-12 plants and employ 1 million workers in India by 2020. But this time round, it is treading cautiously.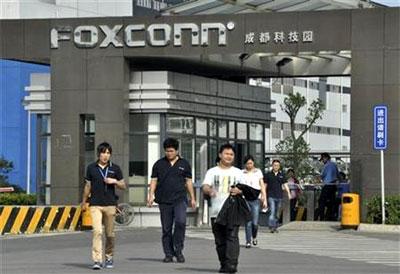 In the first week of April, Terry Gou, the founder of Foxconn Technology Group, had visitors from India. A delegation led by Ram Sewak Sharma, India's IT and electronics secretary, had called on the 64-year-old self-made electronics tycoon to pitch India as a manufacturing destination.
Only in February, Foxconn had shuttered its factory that made Nokia phones on the outskirts of Chennai - three months after Nokia closed its factory nearby.
In April 2014, Microsoft, which bought Nokia's devices and services business globally, did not include the Chennai factory in the transaction due to tax litigations with the government.
With no mobile business, it was a matter of time before Nokia had to close shop, and its vendor, Foxconn, followed soon.
Foxconn is the world's largest contract manufacturer for electronic goods and makes iPhones for Apple and smartphones for its Chinese rival Xiaomi.
It is the biggest exporter from China. Sharma, who spearheaded the world's largest biometric identification programme, Aadhaar, along with Infosys co-founder Nandan Nilekani, had done his homework.
With him were industry leaders to bat for the India opportunity story.
The evening with Gou, scheduled for one hour originally, stretched for a good six hours at the Foxconn headquarters in New Taipei.
While the Indians made the pitch, the Taiwanese side expressed concerns: infrastructure, policies and their Chennai experience of dealing with trade unions.
Finally, when the marathon discussions ended just after midnight, the Indians, though exhausted, were smiling.
They had extracted a promise that Foxconn will look at India to set up factories for its customers.
"This prepared the ground for Gou's visit to India," says M N Vidyashankar, president of the India Electronics & Semiconductor Association.
The India opportunity
Even before India began making its pitch, Foxconn, which faces a slowing Chinese market and uncertain global economy, had already set its eyes on the country, especially taking note of its rise as the fastest growing smartphone market in the world and its demand being completely met with imports. In 2013-14, India's electronic imports stood at $33.5 billion.
A government task force on the electronics industry estimates that the demand for electronics goods will be $400 billion by 2020, out of which as much as $300 billion will be spent on imports.
Foxconn knew that most of its customers would look at some local manufacturing.
The other trigger was the change in guard at the Centre. Ever since Prime Minister Narendra Modi took office in May 2014, six delegations from Foxconn have visited India with the latest in July led by the founder chairman, Gou.
"The trips were to understand the technology capabilities and entrepreneurial ventures which really impressed us. It is vital for us to come to this part of the country and start to know people," Vincent Tong, chairman of FIH Mobile, a unit of Foxconn, says. "We are in love with the nation's creativity"
Modi's Make in India call and the Digital India campaign has added to the attraction.
Gou, who will return in August to New Delhi to meet Modi, announced that Foxconn will look at 10-12 factories and employ one million workers in India by 2020.
Foxconn has said it will begin shipping smartphones for India's Micromax and China's Xiaomi from its factory in SriCity campus in Andhra Pradesh.
It has also promised to set up a venture fund for Indian start-ups and an incubator to groom them.
"Two years ago, Gou had programmed one of our business models called IIDM, or innovated, integrated, design and manufacturing. We have a lot of competencies in this. We want to implement this model in India." says Jacob Chen, president of FoxconnUniversity.
Replicating the auto story
"When Foxconn comes to India, it will bring in the ecosystem partners. This will help electronic manufacturing grow," says Vidyashankar.
Drawing a local analogy in automobile manufacturing, Karnataka's decision to get Toyota's plant near Bengaluru over 15 years ago made the Japanese car maker bring 40-50 vendors that built a good base for car manufacturing. "Now, we (India) are large exporters of cars," he says.
While India is wooing Foxconn, the latter's smaller global rivals, Jabil and Sanmina, are already making electronic goods locally for their customers.
India also has local players such as Centum Electronics which builds hardware for both corporate and strategic customers.
"Foxconn coming is good. We should have more companies manufacturing in India," says Sanjay Nayak, chief executive of Tejas Networks.
Tejas makes optical fibre networks for telecom companies globally and plans to invest Rs 1,700 crore to manufacture telecom equipment in India.
"We can't have a better partner than Foxconn, with its huge expertise, for Make in India and also to go digital," Ravi Gururaj, chairman, Nasscom Product Council, says.
"We want Foxconn to sense there's real opportunity here. We want it to explore and understand what kind of companies we have, how wonderful entrepreneurs we have, how big is the market in India and how we want to Make in India."
While Indian business and political leaders are excited about Foxconn setting up facilities in the country, there is a word of caution.
Mike Buetow has followed the global electronics manufacturing industry from his perch as the editor-in-chief of Circuits Assembly, a US magazine for electronics industry. Beutow says Foxconn does not have a healthy record of following up on its investment announcements.
"Foxconn probably employs 1 to 1.2 million workers across all its subsidiaries. Logically, it would have to triple its size in order to hire one million more workers in Indonesia and one million more workers in India," he writes in an email.
"But Foxconn already has roughly 50 per cent share of the worldwide ODM/EMS market. Even if Foxconn were to have a monopoly, the markets simply aren't big enough to sustain those projections. That just does not seem feasible to me. Moreover, Foxconn continues to expand in China".
Foxconn officials say that the company is yet to finalise its India plan. "We are still in the process of forming our complete plan for expanding in India and will visit quite frequently. Let us wait till we have a more complete picture before our briefing to you," Tong writes in an email.
Till then, India might well prepare the ground to revive the country's hardware manufacturing, an opportunity it lost to China and Southeast Asian countries in the last two decades.