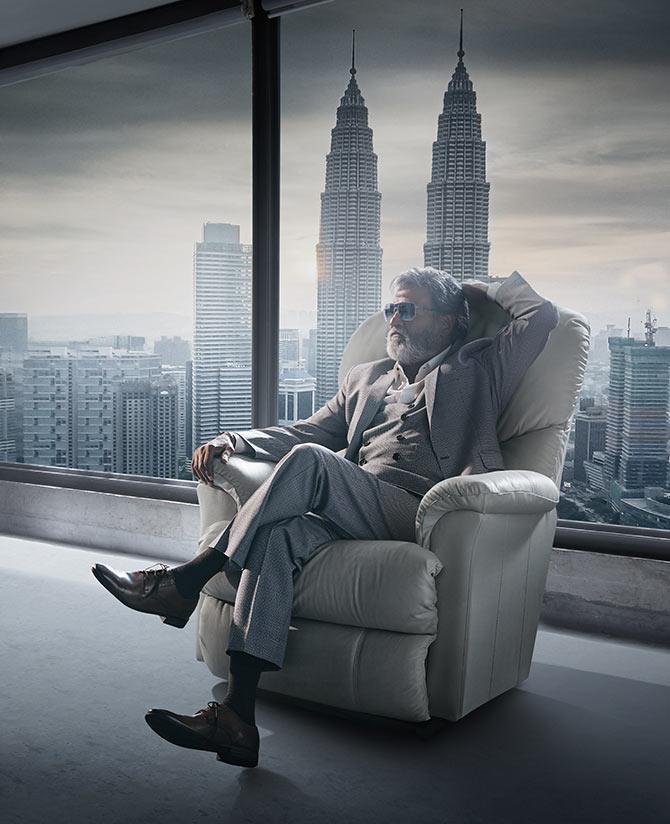 The superstar refuses to endorse any label except for one regional cola brand at the start of his career almost four decades ago, reports T E Narasimhan.
Rajinikanth's reputation is the stuff of myth.
His jokes are legend and people flock to the theatres for his movie trailers and then queue up nights to catch the first show.
But believe it or not, the god who walks the silver screen is more than that.
His steadfast refusal to endorse any label (except for one regional cola brand at the start of his career almost four decades ago) has counter-intuitively made him the most sought after celebrity brand.
Companies will go to any lengths to get a piece of the star, associating with his movies, his fan clubs and the multiplexes at the time of his film's release.
For his latest release, Kabali, close to 10 to 15 brands came on board and many intend to keep their association going even after the movie goes off the screens.
He is seen as the brand with the Midas touch. Muthoot Fincorp introduced special Kabali silver coins and within a week, 102 kg worth of coins were sold raking in close to Rs 75 lakh (Rs 7.5 million) for the company.
It has extended the sale of its Rajinikanth embossed coins for another month.
So eager are companies to plug into the star's aura that there is no attempt to align their brands with the actor or the character he plays in the movies.
Emami, for instance, is advertising its Fair and Handsome cream using the actor's Kabali character.
Many have also got creative with their promotional schemes. Air Asia, apart from branding its aircraft with Kabali posters, is offering special offers on flights between Chennai and Bangkok and Kuala Lumpur (a route that is part of the superstar's journey in the movie).
Both Ola and Uber have launched special offers as have Foodpanda and Mobikwik.
According to industry sources the movie has crossed Rs 400 crore (Rs 4 billion) so far, around Rs 200 crore (Rs 2 billion) in box office collections and the balance from sale of music rights, etc.
The overseas collection in the opening weekend was around Rs 90 crore (Rs 900 million), of which around Rs 28 crore (Rs 280 million) was from the US where it was one of the top 10 films watched in the country.
The Kabali gravy train is just too lucrative to pass up.
The recluse with mass appeal
He is Garboesque in his determination to stay out of the public eye, does not endorse brands, politicians or social causes.
And yet the 65 year old is the second highest paid Asian actor after Jackie Chan and even his movies that do not do well at the box office bring in over Rs 100 crore (Rs 1 billion) say experts.
No wonder then that for brands, Rajinikanth is gold dust.
In the past Pepsi, Hindustan Unilever, India Cements, ITC, and Asian Paints have been part of his films while Kabali had AirAsia, Cadbury 5 Star, Amazon, ShopCJ, Muthoot and Airtel among others.
According to AirAsia India, the plane painted with Rajini's picture will keep flying across India for another 12 to 18 months.
Rajinikanth's demand as a brand endorser has risen even as he has refused to play the endorsement game.
Unlike Amitabh Bachchan, the Khans of Bollywood and other regional superstars, he has never lent his name to products and campaigns.
Many believe that his reclusive status is his unique selling point as that makes his films the only way companies can leverage the power of his brand.
"The key point is that Rajinikanth is beyond brands," said brand consultant Harish Bijoor.
Two chartered accountants-cum-authors, P C Balasubramaniam and Ram N Ramakrishnan, who have co-authored a book called Grand Brand Rajini, believe he is unequalled in his screen power.
'His twist of glasses, cigarette to the lips, and crackling punch lines ensured instant brand recall. They were as powerful as Nike's Just Do It or Intel's signature jingle,' they write.
Loyal fans, brand loyalists
Brands hope to gain from the cult-like following the star has.
According to the authors, Brand Rajini sells itself.
'The products are secondary. His fans don't go to watch the films. They go to watch him.'
Neither his acting chops nor the script matters.
It is this fanaticism that companies hope to tap into.
An interesting insight comes from a senior executive with a Tamil magazine.
He says that whenever the magazine has had the actor on the cover, sales have soared.
Still these numbers are not a patch on what the magazine makes when it has Rajinikanth playing a character from his movies on the cover.
They are hooked to his larger-than-life image.
"You don't even need the face of Rajinikanth, you just need the name or a cartoon impression," said Bijoor.
Companies are attracted to this relationship he has with his followers as few brands can command such loyalty.
Interestingly, the actor's superhuman status is a result of his all too human frailties.
The authors of the book say that he is different from the rest because he is real.
He wears his baldness with pride, repays his distributors for losses incurred on his films and never goes back on his word.
In a world of make-believe, these are rare qualities that make Rajinikanth a brand that lives beyond the pale of human existence.
For companies, this is the mark of a supra-human superbrand.
STAR POWER
Rs 75 lakh (Rs 7.5 million) worth Kabali silver coins by Muthoot Fincorp sold within a week of their launch
Foodpanda said it had seen a 30% jump in visits after it associated with the movie
Ola, Uber have a lot of takers for their special Kabali fares and offers
Mobikwik, a mobile payments company, said transactions are up 3 to 4 times after its special Rajini promotion
All seats on Air Asia's 25 Kabali aircraft sold out