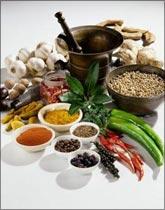 Baba Ramdev and the Tata Group are poles apart in their area of operations, but they have one thing in common: both have been quick to spot the money-spinning potential of Ayurveda's healing touch.
If the spiritual guru's Patantjali Yog Peeth Trust has set up one of the world's largest centres for Ayurveda in Hardwar with facilities for treatment, research and a university, the Tatas aren't far behind.
India's largest conglomerate has tied up with an NGO, the Foundation for Revitalization of Local Health Traditions (FRLHT), to set up the Indian Institute of Ayurveda Integrated Medicine (IIAIM) at Yelahanka near Bangalore.
Planned on the lines of Indian Institutes of Management (IIM) and Indian Institute of Science (ISC), the ayurveda centre will act as India's premier finishing school for qualified ayurvedic doctors, post graduates, physiotherapists and Yoga experts. It will also have a 100-bed Ayurveda and Yoga hospital, besides research and development centre and drug production units. The Tata Group's Sir Dorabji Tata Trust is putting in over Rs 34 crore (Rs million) for the project.
"The IIAIM hospital will take off by March next year in the first phase and rest of the facilities will come up in the next few years," said  G G Gangadharan, joint director of FRLHT.
The Sir Dorabji Trust has also invested Rs 15 crore (Rs million) in the Ayurvedic major Kottakkal Arya Vaidyasala in Kerala to set up an advanced drug research centre and medicinal plant screening facility.
Ranjit Puranik, general secretary of Ayurvedic Drug Manufacturers Association (ADMA) and chief executive of Ayurvedic firm Shri Dhoopeshwar, says, "When serial entrepreneurs, trusts and corporate houses begin to invest in a sector, it shows the future potential. Such investments are helpful in mainstreaming and integrating Ayurveda to the global healthcare practices and standards."
It's no longer an Ayurvedic doctor's ultimate fantasy. Consider this: the Ayurvedic business has grown much beyond just spa and massage parlours to a Rs 8,000-crore (Rs 80 billion) industry, which includes drugs, over-the-counter and wellness products, treatment and herbal extracts. The industry is growing at almost 20 per cent annually.
Given the potential, can mergers and acquisitions be far behind? Just two months back, serial entrepreneur and former head of PepsiCo India Ramesh Vangal-owned listed company Kerala Ayurveda Ltd (KAL) announced its plans to merge with Coimbatore Arya Vaidya Pharmacy (AVP), the second largest such firm in south India, to become the largest Ayurvedic company  in India.
"The merger will help leverage the strengths of both companies in production, marketing and treatment capabilities. We are now conducting a detailed business diligence to evaluate the overall business opportunity in the merger," K Anilkumar, executive director of KAl.
The 65-year-old KAL currently has 30 centres in the country, including its flagship wellness resort in Bangalore named Ayurvedagram, besides four treatment centres in the US. Soon it will start 10 more treatment centres and five to 10 training centres.  It is also floating a subsidiary in Singapore named Nutraveda, which will globally market natural value added wellness and nutritional products, says Anilkumar.
The 66-year-old Arya Vidya Pharmacy makes over 400 Ayurveda formulations and has over 50 hospitals and clinics in South India.
A few months ago, business tycoon Yash Birla acquired a majority stake in the 30-plus ayurvedic therapy centre chain, Kerala Vaidyashala, through a joint venture and renamed it Birla Kerala Vaidyashala. The group plans to invest over Rs 50 crore (Rs 500 million) to have a pan-India presence, including about 200 centres across Maharashtra.
Even private equity and fund managers have jumped on the bandwagon. Ayurvaid Hospitals, promoted by Kochi-based Kerala First Health Services, received equity investment of Rs 4.5 crore (Rs 45 million) last year from the US-based Acumen Fund, a philanthropy fund that invests in social enterprises in South Asia and Africa.
The business potential of India's 5,000-year-old natural healing tradition have attracted spiritual gurus in droves. Apart from Ramdev, Sri Kanchi Kamakoti Peetam runs an Ayurveda college with an advanced research centre and hospital at Poonamalle in Chennai, as part of the Sri Chandrasekharendra Saraswathi Viswa Mahavidyalaya, which is a  deemed university.
Mata Amrithanadamayi's Amrita group is planning a new mega complex exclusively for Indian System of Medicine (ISM), mainly for Ayurveda.