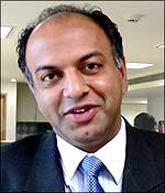 Sanjeev Bikhchandani, Founder & CEO, Info Edge (India), and B S Nagesh, CEO, Shoppers Stop, say hiring is not taking place in companies the way it was happening two to three years earlier. Excerpts:
How do you describe your operating environment? There was pressure in the first quarter, even on the operating levels, over the margins picture. Do you see that easing from Q3 onwards or will it take a little longer?

Bikhchandani: We will go with what we said six months earlier, that we will have a difficult first half. From the third quarter, we are expecting and hoping for a bit of a recovery and we expect to intensify our order flows.
How is the hiring environment on the retail side?

Nagesh: I don't think there is much of hiring happening, because we have reached very good productivity levels. But since there will be a lot of new store openings, we might add more employees.
Close to 42 per cent of companies have increased hiring. Is that a correct way of looking at it?

Bikhchandani: It is a sign that the worst is over. But it will take a while before we come back to where it was a year ago.
Where is demand predominantly coming in from the hiring side? Junior, mid-management levels or is it more of senior professionals?

Bikhchandani: The largest lot coming in are those with 2-10 years of experience. A lot of that, currently, is replacement hiring. There is a lot of expansion, and hiring, as it was happening two-three years ago, will take a little while... it is more of a replacement hiring now.
Image: Sanjeev Bikhchandani