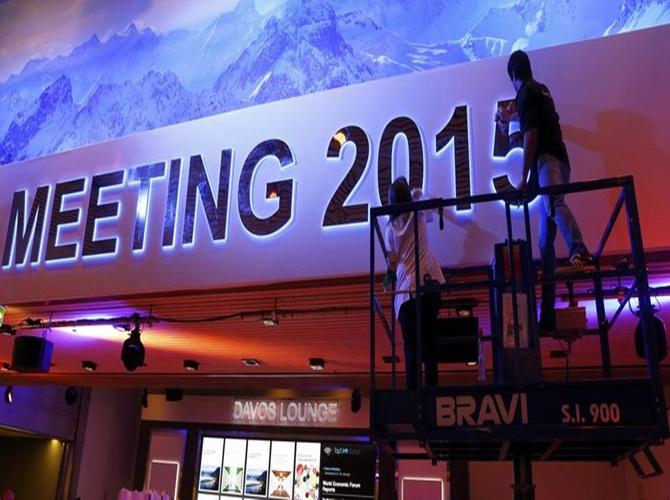 The World Economic Forum's five-day annual Summit began in Davos on Tuesday evening amid hopes of recovery in global economy and a time of renewed terror threats after recent strikes in France and other parts of globe.
The yearly jamboree of the global elite is being attended by over 2,500 political and business leaders, including Union Ministers Arun Jaitley and Piyush Goyal as well as more than 100 industry leaders from India.
The Summit was declared open with presentation of crystal awards to Japanese architect Shigeru Ban, Italian opera singer Andrea Bocelli and Beninois-French singer Angélique Kidjo on Tuesday evening, while hardcore economic sessions will start on Wednesday and would continue for the next four days in this Swiss ski resort town.
Other prominent Indian names include Chief Economic Adviser Arvind Subramanian, as also Chief Ministers of Maharashtra and Andhra Pradesh -- Devendra Fadnavis and Chandrababu Naidu, respectively.
The Annual Meeting of WEF is being attended by 40 heads of states or governments, including German Chancellor Angel Merkel, France's President Francois Hollande, China's Prime Minister Li Keqiang, Pakistan Prime Minister Muhammad Nawaz Sharif and Swiss President Simonetta Sommaruga.
The Summit began on a day when sun was out in its full glory after heavy snowfall for past few days, although temperature still remained near minus 10 degree celsius even during day time.
Meeting against the backdrop of the world economy facing multiple challenges, the 45th WEF Annual Meeting would discuss 'The New Global Context' as this year's theme, while issues like terrorism are likely to hog the limelight in the wake of recent terror attacks including in France.
The WEF said that the meet is being held at a time when the risk of international conflict poses the 'biggest threat' to global stability while likelihood of terrorist attacks has intensified the most since the last year.
Geneva-based WEF, a not-for-profit foundation that describes itself as promoting public-private cooperation, has been holding this high-profile annual summit in this small town on slopes of Alps mountain range since 1971. Only once it has been held outside in New York after the 9/11 terror attack.