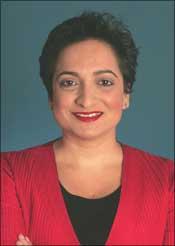 The World Economic Forum last week named former Clinton Administration official, erstwhile Congressional staffer and longtime Democratic Party activist Shamina Singh, 41, as one of its Young Global Leaders for 2010.
Singh, currently chief operating officer of Citigroup's global community relations, was among 197 Young Global Leaders selected by the Forum from 72 countries and various sectors ranging from business, civil society, social entrepreneurs, politics and government, arts and culture, academia and media.
The honor, bestowed each year by the Forum, recognises and acknowledges up to 200 outstanding young leaders from around the world for their professional accomplishments, commitment to society and potential to contribute to shaping the future of the world.
Drawn from a pool of almost 5,000 candidates, the Young Global Leaders 2010 were chosen by a selection committee chaired by Queen Rania Al Abdullah of the Hashemite Kingdom of Jordan and comprised eminent international media leaders.
The list included President Obama speechwriter Jon Favreau, Arizona Congressswoman Gabby Giffords, District of Columbia Public Schools Chancellor Michelle Ree, and Twitter co-founder and CEO, Evan Williams.
It also included tennis superstar Roger Federer of Switzerland, and Indian actress and filmmaker Nandita Das, who was among as many as 12 Indians who made the list along with Minister of State for Rural Development Agatha Sangma and senior vice president and head of enterprise application services, Wipro Technologies Sangita Singh.
Besides Shamina Singh, the two other Indian Americans on the list were Anand Chandrasekeran, director, products, Openwave Systems, Inc, and Sanjay Gupta, senior vice president and advisor to the executive chairman, Abraxis BioScience.
Singh's employer Citigroup was elated by Shamina Singh making the cut and Vikram Pandit, CEO of Citigroup said, "We are exceptionally proud that Shamina has been honored for her leadership skills, professional accomplishments and commitment to service."
Pandit said that "like the World Economic Forum, we know that global challenges require global solutions, and Shamina represents the best ideals of the Young Global Leaders."
"I am confident that she will be a credit to Citi and to the United States as a member of the 2010 YGL class," he predicted.
House Speaker Nancy Pelosi, for whom Singh served as a senior adviser in the late 1990s on issues such as the Budget, Social Security, health and employment, said, "Shamina is an outstanding leader who brought a wealth of experience and knowledge to my office."
Pelosi said that Singh "was a trusted and valuable advisor to me on many issues. I congratulate her on being named to the World Economic Forum's Young Global Leaders Class of 2010."
Singh said that "I am incredibly honored to be selected by the World Economic Forum to join this dynamic group of young leaders."
"As an American born to Indian immigrants, I believe boundaries and borders should never get in the way of innovation and collaboration," she said, and added: "We simply can't afford it."
Singh said that she "looks forward to working with my new colleagues to tackle the challenges we face as global citizens."
Klaus Schwab, founder and executive chairman of WEF, said, "The World Economic Forum is a true multi-stakeholder community of global decision-makers in which the Young Global Leaders represent the voice for the future and the hopes of the next generation."
He said, "The diversity of the YGL community and its commitment to shaping a better future through action-oriented initiatives of public interest is even more important at a time when the world is in need of new energy to solve intractable challenges."
The 2010 honorees will become part of the broader Forum of Young Global Leaders community that currently comprises 660 individuals. The YGL's convene at an annual summit—this year it will be in Dar es Salaam, Tanzania from May 2-7, and this will be the first ever parley in Africa and the largest ever gathering of YGLs, as well as at Forum events and meetings throughout the year.
Schwab said that these events enabled YGLs to build a strong and diverse community, to engender a better understanding of the global and regional agendas and to engage in initiatives to address specific challenges of public interest.
Shamina Singh joined Citigroup in 2004 after spending 15 years in public service, and among her previous positions, she served in the Clinton Administration as the first executive director of White House Initiative of Asian American and Pacific Islanders from 1999 to 2000. Before that she served as Congressional Liaison to then Secretary of Labor in the Clinton Administration, Alexis Herman.
She also served on Capitol Hill as a senior advisor to Pelosi and during the 2004 elections, Singh worked with America Votes, a coalition of the largest grassroots organizations in the US working together to increase participation in electoral politics.
Singh also worked on the political campaigns of former Texas Governor Ann Richards, former Dallas Mayor and Texas Secretary of State and now US Trade Representative Ron Kirk, when he ran unsuccessfully for the US Senate in 2002, and also the Service Employees International Union, one of the largest and most powerful labor unions in the country.
She is a Henry Crown Fellow with the Aspen Institute, serves on the board of the Planned Parenthood Federation of America and was recently appointed to President Obama's Military Diversity Commission.
At Citigroup, working across Citi and with nongovernmental organizations, Singh is responsible for overseeing initiatives that leverage Citi's global depth and breadth to positively impact communities around the world. Issue areas covered by her portfolio have included foreclosure prevention, poverty alleviation, economic development and communications capacity-building within the non-profit sector.
She is an alumnus of Old Dominion University in Norfolk, Virginia, and the University of Texas, from where she received a master's degree in public affairs.
Singh's father, Jagdish Singh, who is retired, was a professor of health sciences at Tidewater Community College in Portsmouth, and her mother Amarjit Singh, is a longtime feisty community and political activist in Democratic Party circles in Virginia and is a member of the Virginia Human Rights Council in Richmond.
In April 2007, Singh affirmed her partnership with Ashley Lynn Bell at a commitment ceremony led by Mata Mandir K Khalsa incorporating Sikh traditions at the Aspen Wye River Conference Center in Queenstown, Maryland.