Sebamed's campaign for its cleansing bar of the same name, released across print, television, digital and outdoor, has also named Santoor, a popular soap brand from Wipro Consumer Care.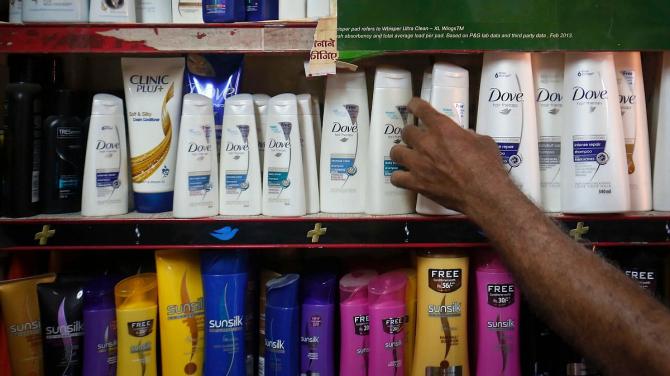 German personal care company Sebamed has targeted rival Hindustan Unilever (HUL) in a new advertising campaign that is likely to escalate into a bigger war between the two.
HUL responded to Sebamed's ad campaign that directly names and shows brands such as Lux, Dove, Rin and Pears.
The latter are HUL brands, which, Sebamed says, are high on pH value.
pH is a measure of how acidic a product is. The lower the pH value, the better it is for the skin.
HUL has used Dove cleansing bar to state in print ads that the latter is the number one brand recommended by dermatologists and is milder and suitable for the most sensitive skin.
Experts see this as the first response by HUL, known to be an aggressive marketer.
"This is a graceful response by HUL. But the war could escalate, if Sebamed persists with its campaign," said KV Sridhar, global chief creative officer, Nihilent Hypercollective.
Sebamed's campaign for its cleansing bar of the same name, released across print, television, digital and outdoor, has also named Santoor, a popular soap brand from Wipro Consumer Care.
In the campaign, Sebamed claims its cleansing bar has a pH value of 5.5, considered safe for the skin.
Apart from naming rival brands, Sebamed also appears to have spoofed Lux commercials, dressing the models like filmstars and showing them lounging around a bathing area.
The campaign ends with a tagline that says: "Filmstars ki nahin, science ki suno" (Don't listen to filmstars, take note of science).
"We are not disparaging a competitor's brands. We are simply stating facts and building awareness that pH 5.5 is perfect for the skin.
"We are prepared to back our claims to the authorities when the need arises," said Shashi Ranjan, country head, Sebamed India.
Regulations by the Advertising Standards Council of India (ASCI) specify that an advertiser cannot openly compare its brand with a competitor's by naming and showing the latter's product or spoof a rival's commercials.
Ranjan says these outcomes were discussed when the campaign was being conceptualised and the company felt this was the best way to convey its message.
An HUL spokesperson, in response to a mail by Business Standard, said that it would take suitable action.
"Our brands are best-in-class and deliver fully on the claims and promises we make to consumers.
"HUL products are backed by technology and underpin science and clinical evidence, enjoying strong brand loyalty. We will take suitable action as we deem fit," the spokesperson said.
In the past, there have been instances of advertisers sparring over claims, counterclaims and spoofs.
Last month, Marico and Dabur had approached ASCI over the issue of purity of honey, following a report by the Centre for Science and Environment (CSE) that said Dabur Honey had failed a foreign adulteration test.
Saffola Honey had cleared the test, CSE said.
What began as an exercise to caution consumers about the high levels of adulteration in honey became a larger war between two fast-moving consumer goods (FMCG) companies, experts tracking the market said.
Other categories that have seen bitter battles earlier include health drinks (Horlicks versus Complan), detergents (Rin versus Tide), and hygiene (Dettol versus Lifebuoy).
More recently, fairness creams saw their fair share of battles between HUL and Emami over trademark infringement.
Experts say categories with two strong incumbents lead to brand wars.
"In Horlicks versus Complan, the fight was over who was more efficacious as a health drink.
In Dettol versus Lifebuoy, the issue was about germ protection and in detergents the point of contention was who was whiter," said Sridhar.
Sebamed has not received a letter from ASCI, Ranjan said, though industry sources indicate it could come this week, since weekends are an off for the regulator.
Photograph: Danish Siddiqui/Reuters