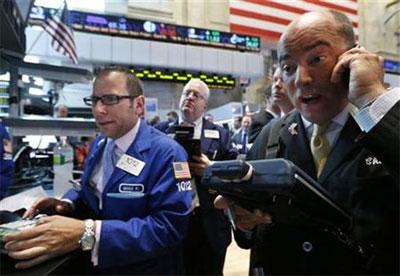 The rout hit all 10 major S&P sectors and pushed the Dow and S&P 500 below their 200-day moving averages
Wall Street suffered its worst session in over a month on Thursday as lower commodity prices weighed on energy and materials stocks and comments by a Federal Reserve policymaker hinted at an approaching interest-rate hike.
The rout hit all 10 major S&P sectors and pushed the Dow and S&P 500 below their 200-day moving averages, which some traders believe portends additional declines.
Investors are keeping a watchful eye on whether the Fed in December will raise rates for the first time in nearly a decade, as is widely expected after recent strong jobs data.
In a speech on Thursday, Fed Chair Janet Yellen did not comment on the economy or the timing of a rate hike.
But New York Fed President William Dudley said "it is quite possible that the conditions the Committee has established to begin to normalize monetary policy could soon be satisfied."
Following rapid gains in October, stock investors still concerned about China's economy and the effects of a US rate hike have been taking money off the table, said Michael Matousek, head trader at US Global Investors Inc in San Antonio, which manages about $1.3 billion.
"Those are the two things one everyone's minds," Matousek said. "That's why you have some of this selloff." The S&P and Dow dipped the most in a day since September 28.
The Dow Jones industrial average fell 1.44 per cent to end at 17,448.07, the S&P 500 lost 1.4 per cent to 2,045.97.
The Nasdaq Composite dropped 1.22 per cent to 5,005.08.
Crude oil prices hit 2-1/2-month lows while copper and other metal prices tumbled to multi-year lows, hurt by a strong dollar, weak Chinese data and concerns of oversupply.
The energy sector sank 2.4 per cent.
Chevron and Exxon Mobil both fell more than 2.5 per cent.
The materials sector lost 2 per cent, hurt by a 1.3 per cent fall in DuPont and a 2.5 per cent drop in Dow Chemical.
Retailers were a bright spot after Kohl's reported better-than-expected quarterly net sales, sending its shares up 6.1 per cent.
But after the bell, Nordstrom reported third-quarter results below its own expectations, blaming softer sales trends, and its shares slumped 16 per cent in extended trade.
Cisco fell 4 per cent in extended trade after it posted its fiscal first-quarter results.
During the regular trading session, PayPal's shares slid 2.1 per cent after the Wall Street Journal reported Apple was in talks with US banks to develop a rival payment service.
Apple lost 0.3 per cent to $115.72.
Declining issues outnumbered advancing ones on the NYSE by 2,521 to 557.
On the Nasdaq, 2,177 issues fell and 629 advanced.
The S&P 500 index showed four new 52-week highs and 19 new lows, while the Nasdaq recorded 34 new highs and 142 new lows.
About 7.1 billion shares changed hands on US exchanges, about the same as the daily average for the past 20 trading days, according to Thomson Reuters data.
Image: A stock trader at Wall Street. Photograph Reuters
(Additional reporting by Abhiram Nandakumar in Bengaluru)
: