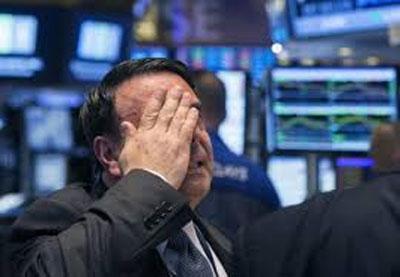 Stock investors were wary after Friday's November employment report intensified expectations that the economy would be strong enough to absorb an interest rate hike
US stocks fell on Monday, led by the S&P energy index's biggest one-day percentage drop since late August as oil prices slid to their lowest point in nearly seven years.
US crude oil futures settled down almost 6 percent while Brent crude fell more than 5.3 percent after OPEC's meeting last week failed to address a growing supply glut.
The S&P energy sector energy index closed down 3.7 per cent after dropping as much as 5 per cent earlier in the session and oil majors Exxon and Chevron were the biggest drags on the S&P, with almost 3 per cent declines.
The major US indexes pared losses late in the session.
"The fast and frenetic selling of the morning finally got exhausted and it seems like everything got too stretched to the downside," said Stephen Massocca, chief investment officer at Wedbush Equity Management LLC in San Francisco.
"Oil is going to be staying at some ridiculously low price for a very long period of time," he added.
Oil's tumble also hurt the S&P materials index which fell 1.8 percent, its steepest drop in over three weeks.
Materials stocks were also hurt by "an overhang from the continuing slowing of the Chinese economy," according to Peter Jankovskis, co-chief investment officer at OakBrook Investments LLC in Lisle, Illinois.
The Dow Jones industrial average fell 117.12 points, or 0.66 per cent, to 17,730.51, the S&P 500 lost 14.62 points, or 0.7 per cent, to 2,077.07 and the Nasdaq Composite dropped 40.46 points, or 0.79 per cent, to 5,101.81.
Stock investors were also wary after Friday's November employment report intensified expectations that the economy would be strong enough to absorb an interest rate hike when the Federal Reserve meets on December 15-16.
"Everybody knows they're going to raise rates and the waiting is often worse than the punishment," said Matt Lloyd, chief investment strategist at Advisors Asset Management in Monument, Colorado.
He noted that hesitation ahead of the Fed meeting also hurt the broader market on Monday.
"If you don't have a lot of depth in buying, any selling pressure will overwhelm the market and move it down."
Falling oil prices helped airline stocks. JetBlue Airways and Delta Airlines were the biggest winners, with gains around 4 per cent.
The S&P 1500 airlines index hit its highest level since January.
Office Depot fell 15.7 per cent to $5.59 after the US Federal Trade Commission sued to block its merger with Staples, which fell 13.8 per cent to $10.66.
About 7.4 billion shares were traded on US exchanges on Monday, compared with the average 6.9 billion shares traded in the last 20 sessions, according Reuters data.
Declining issues outnumbered advancing ones on the NYSE by 2,483 to 611, for a 4.06-to-1 ratio on the downside; on the Nasdaq, 2,186 issues fell and 654 advanced for a 3.34-to-1 ratio favouring decliners.
The S&P 500 posted 17 new 52-week highs and 28 new lows; the Nasdaq recorded 58 new highs and 166 new lows.
The image is used for representational purpose only. Photograph: Reuters
Additional reporting by Marcus E Howard in New York and Tanya Agrawal in Bengaluru