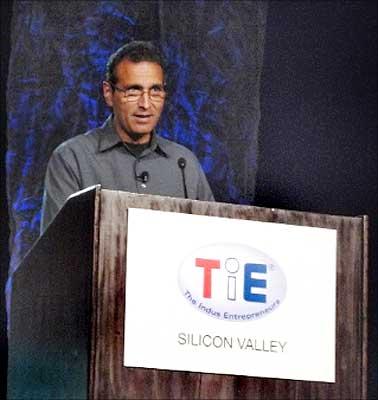 The Indus Entrepreneurs Conference (TiEcon) is an event most entrepreneurs in the United States, and perhaps elsewhere in the world, mark in their calendar as a day to present their ideas, showcases their work and network with like-minded people.
At TiEcon 2008, the energy was high and the buzz started much before the actual event. The event, held at Santa Clara, Silicon Valley, late last month, attracted almost 5,000 people this year. Since almost 50 percent of Silicon Valley firms are run by Indians, Indian Americans and Persons of Indian Origin participate in the event in large numbers.
At TiEcon 2008, Vivek Paul was on the distinguished speakers' panel. He spoke about 'Charging ahead to build global businesses.'
But he began his presentation by looking at the past by recalling his own journey and paralleled it with India's journey of economic growth. "My life in many ways is intersected in many ways with India's economic watershed events. I feel like Forrest Gump on the floor of Indian history."
Prior to joining Texas Pacific Group in 2005, he was vice chairman of Wipro and chief executive of its global information technology, product engineering, and business process services segments. He grew this business from under $150 million in revenue to over $1.4 billion with 50,000 employees, and led its listing on the New York Stock Exchange.
Prior to this role, he was employed at GE for 10 years, where he ran GE's Global CT (computerized tomography) business, reporting directly to the current chairman of GE, Jeff Immelt.
Vivek Paul also served as the CEO of GE's medical equipment joint venture in India, recognized by the Economist as the best joint venture in Asia. Currently, he is a partner at TPG, one of the world's leading investment firms.
The mood was optimistic at TiEcon and certainly reflected in Vivek Paul's speech. "Back in the 1980's India, IT and the word leading didn't go together. Today, we have come a long way."
In the course of his hour-long speech, Paul referred to India as 'We' and 'Us.' He said though he considers himself an American citizen after spending a decade in the United States, India was his motherland and will always be a part of him. "As Ronald Reagan said, 'we might be married, but that doesn't mean we forget our mother.'"
Vivek Paul highlighted several achievements in India's economic growth. However, he said, "It's still difficult to find entrepreneurs in India. India has far fewer tech start-up companies than it should. I am starting a Web 2.0 company and finding a CEO has been extremely difficult."
Speaking to young budding entrepreneurs, he said, "It is funny so many companies prepare for failure with so many contingency plans, but so few prepare for success. It is very important to visualize change. It's important to be unreasonable. To be reasonable is to accept the status quo. You must be unreasonable, you must have an agenda and vision, something that most people will not see or push."
Citing an example from his life and working with GE, he said: "When we started building the Indian outsourcing industry, it was about visualization of big change. It was received with a lot of resistance from the United States. My standpoint was that this will be both good for India and the US. But my other important viewpoint was that when India and China compete with American companies to get US consumers it would be a good thing for the world economy."
"Now is time to watch out for. Indian and Chinese consumers have begun to compete with US consumers for goods and services, and we could go from an era of abundance in virtually everything to shortages in everything."