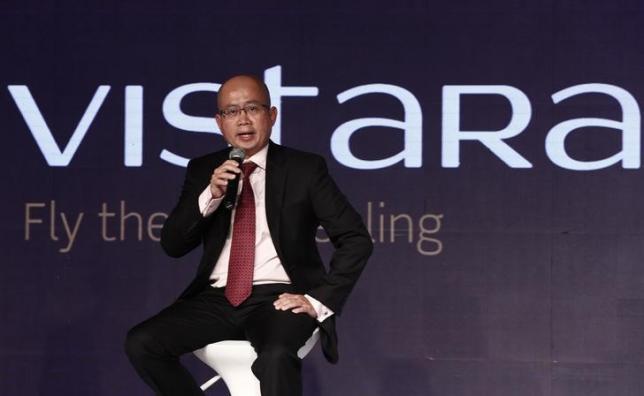 Phee Teik Yeoh, CEO of Vistara airlines, answers a question during an open media session in New Delhi. Photograph: Adnan Abidi/Reuters
India's newest airline, Vistara, plans to expand its fleet size and start flying to overseas destinations within two years, its CEO said on Tuesday, ahead of an expected change in rules that currently restrict carriers from operating abroad.
Vistara, a joint venture of Singapore Airlines and Indian conglomerate Tata Group, is looking to procure an undecided number of new narrowbody and widebody aircraft to increase domestic flights and begin flying to the Gulf and eventually to Europe and the United States, Phee Teik Yeoh said.
"There are lots of opportunities. Suddenly when the 5/20 rule goes away it's a new ball game," he told Reuters in an interview on Tuesday.
Under the existing "5/20" rule, Indian airlines must be up and running for five years or possess 20 planes before they can start flying overseas routes, a restriction the civil aviation ministry has said it is committed to scrap.
"Seventy percent of international traffic that Indians travel is westwards. This is where our focus will be," Yeoh said.
Vistara said last year it will gradually grow the size of its fleet to 20 Airbus A320 aircraft by 2019, all leased from Singapore-based BOC Aviation. (Reporting by Tommy Wilkes;