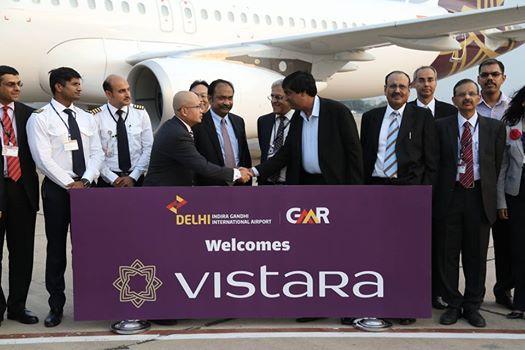 Vistara Chief Executive Officer Phee Teik Yeoh is expected to meet the senior management of BA over the next few days to discuss the partnership.
Vistara is looking to grow its commercial ties with British Airways (BA) as it prepares to launch overseas flights next year.
Enhanced co-operation will help Vistara in securing passengers and brand recognition in the United Kingdom, which it hopes to connect as a part of its international network strategy. The tie-up will enable BA to grow its share in the Indian market.
Government regulations do not allow Vistara to operate international service until it has a minimum 20 aircraft in its fleet. At present, the airline has 13 Airbus A320 aircraft and, according to consultancy CAPA, it is set to order 100 planes, including 50 wide body Boeing 777x.
Sources said that Vistara and BA are discussing code shares and frequent flyer programme co-operation. Vistara Chief Executive Officer Phee Teik Yeoh is expected to meet the senior management of BA over the next few days to discuss the partnership.
A code share with BA will be Vistara's second such commercial agreement. Vistara already has a code share pact with Singapore Airlines, its co-promoter.
A code share is a form of commercial co-operation among airlines which allows them to sell tickets on each others networks while a frequent flyer programme co-operation enables loyalty club members to earn and burn miles on networks of two or more airlines.
"Vistara has a number of interline relationships with various airlines, including British Airways, as well as code-share partnerships with Singapore Airlines and SilkAir. As a full service GDS-based airline, such relationships and partnerships are normal business. We currently have interline agreements with 15 international airlines and are working on several others. We have nothing more to share at this point," a Vistara spokesperson said.
"We do not comment on rumours and speculation," British Airways, for its part, said.
"If Vistara and British Airways decide to enhance their partnership from an interline to codeshare, it will be a win-win for both. A sizeable percent of British Airways capacity (18 per cent) is in premium economy and no airline other than Vistara provides premium economy service in India. Thus, it will help British Airways sell the same class of service on onward routes flown by Vistara," said aviation analyst Ameya Joshi.
Vistara would also get passenger feed for its premium cabins for its shorter routes beyond Delhi to Lucknow, Amritsar, Chandigarh, he said.
Also, the partnership with BA, which has a vast North America network, would help Vistara carry connecting traffic over London. This will improve loads and yields on the India-London route, sources said.
BA is an important member of Oneworld, which is one of three big airline alliances (other being Star Alliance and Sky Team).
While Air India is part of Star Alliance and Jet Airways has close co-operation with Sky Team member airlines, Oneworld has no member in India.
"For Oneworld, the Indian map is blank and Vistara makes for a potential member. However, Singapore Airlines is a Star Alliance member and Vistara would have to strike a fine balance to what level it wants to deepen the relationship with British Airways," an aviation expert said.