We'll monitor progress on each, promises Chief Minister Anandiben, including pushing for approvals from Centre, where needed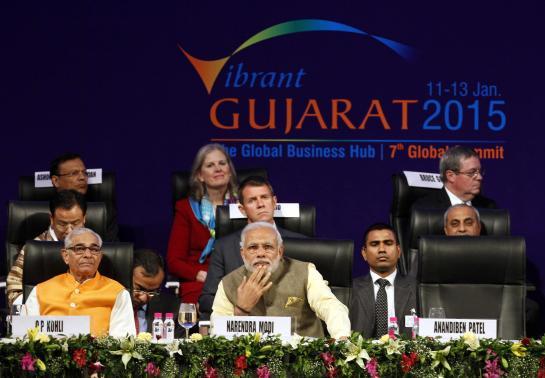 The valedictory session of Vibrant Gujarat Global Summit 2015 ended with the chief minister announcing over 21,000 separate investment intentions have been signed, with 1,250 partnership agreements.
At conclusion, corporates from India and abroad pledged to invest Rs 25 lakh crore (Rs 25 trillion).
Around 25,000 delegates came, from 110 countries.
Also, a trade show held under the Vibrant Gujarat banner attracted a large number of visitors at an exhibition area of 125,000 sq metres.
Congratulating her team, Chief Minister Anandiben Patel said, "It is now the state government's challenge to fulfil the trust the people who have signed the memoranda of understanding (deals) have placed in Gujarat.
"We will be making new policies to help the MoU signers benefit from this summit."
The process, she said, had become so institutionalised that it was on 'auto pilot'. . . "no longer a biennial event but, like a river, a continuous flow of events and processes, making the state Gatisheel (Dynamic) Gujarat)."
Among several initiatives to boost implementation, Patel announced a monitoring team led by the government's chief secretary.
And, that a team of state officials would be pushing for speedy approvals from the Centre.
Patel also announced a CM-led committee to monitor policy and progress of the projects proposed. It would meet every three months, to solve investors' problems.
"Small investors will get emails asking them to meet local district officials to check if the land title is clear or not before buying land for their project," she said.
While no official figures are available, it is estimated that the previous summit, of 2013, had attracted investment worth Rs 10-12 lakh crore (Rs 10-12 trillion).
Image: Prime Minister Narendra Modi at the Vibrant Gujarat 2015 event.